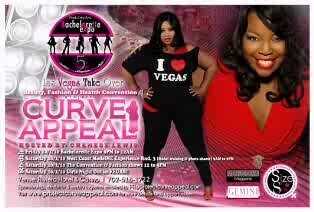 The National Curve Appeal Beauty, Fashion & Health Convention is an event that caters to the needs of full-figured women, sizes 12 to 26, and this year the gorgeous and talented Chenese Lewis will be the host! This is a highly publicized, national convention/expo, fashion show and networking event that attracts sexy, confident, sassy, independent and sophisticated curvaceous woman.
This expo offers a national platform that showcases fabulous and stylish clothes from some of the trendiest plus size designers and retailers. Additionally, it offers vendors that specialize in beauty services and products; fashion; bra fitting, body reshaping, style tips, makeup and hair advice, shoe fitting and most importantly; guidance on how to live a longer, healthier and happier lifestyle. There will also be an abundance of men that love and appreciate plus-sized women.
This affair is truly like no other! Women everywhere are invited to celebrate and join the Project Curve Appeal movement, which will take place at the Riviera Hotel & Casino Monaco Tower, on the world famous Strip in Las Vegas, Nevada on 2nd October, 2010.