Anyone who really knows me, knows that I absolutely love shoes. I am a shoe-aholic and I confess to owning way too many shoes. But hey, everyone has their own weakness right?
Anyone who knows me will probably also know that I have a pretty wide pair of feet, so finding stylish and trendy shoes that fit comfortably is not a stroll in the park for me. That is why I shop in specialized stores, or at least stores which I know carry footwear for women with big feet, like me!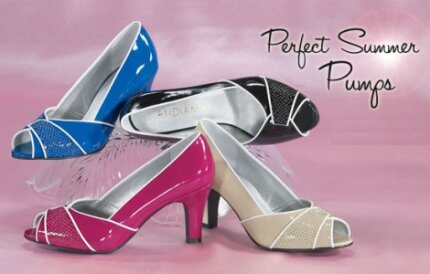 Anyhow, that is a little intro into why I really wanted to share this little discovery of mine with you all. Mason Shoe, which carry a wide variety of quality shoes in a variety of widths, have just added to their collection an extremely stylish shoe, which to me will definitely be this Summer's perfect wide width pump.
It's very fashionable, stylish and can easily be worn with both a skirt and a pair of trousers. Versatility is key in a good pair of shoes you know! You want to have them go with many outfits, not only one. Plus, the Andiamo Women's Symphony Pump is available in four great colors: fuchsia, black, bone and blue.
And the sizes it's available in? You'll be very glad to learn that it's available in sizes 5 to 12, with half sizes available from 5.5 to 9.5. All sizes are available in three different widths: B, D and E2. The price? Just $49.95. It think it's a very fair price for a quality pair of versatile and comfortably fitting wide width shoe.