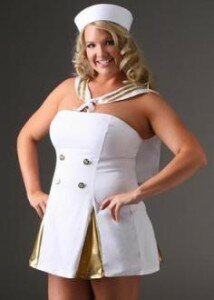 Are you someone who usually enjoys all the activities and going on of the Halloween season, but somehow this year you do not really feel like going out and joining in the festivities? You might feel like just staying in the comfort of your own home this year. Or perhaps you might actually just prefer the comfort of your own bed more than anything else.
That is definitely understandable, as we all get the feeling at time of staying in, all comfy and cuddled up in bed or on the couch. Sometimes quiet nights in are the perfect choice for some well deserved rest and relaxation. But just because you are choosing to stay in this year on Halloween, does not mean you cannot enjoy the night to the full and actually dress up. If you are staying in this year, to relax and spend some quality time with your partner, you can definitely still dress up for Halloween, and have some fun times!
There are several plus size Halloween costume options which you can consider for some 'behind closed doors' dressing up and trick or treating! You can check out your favorite local lingerie store in fact, as these days most of them do stock up on themed sexy costumes and lingerie at this time of the year. Though if you want to stay in the comfort of your own home, and look around many options, I definitely suggest having a look around online. There are various lingerie stores online specializing in plus sizes, and at this time of the year they offer some unique, and very seductive costume and lingerie options, which can definitley help in spicing up your Halloween night in.
A very good place to start looking around in is Hips and Curves. They have a wide range of choice, and they service is top notch. Here are the costumes I recommend this year from Hips and Curves.
Sailor girl
Patent nurse costume
Sexy school girl costume
Eve of seduction
Varsity cheerleader
Though do not stop just there, as you can find a multitude of other options in different stores such as AlwaysForMe and Henry & June Lingerie, so definitely look around and to find the costume which you like best.
So if you have decided to stay indoors this Halloween night, and just feel like cuddling up with your partner, do remember that you can dress up and celebrate Halloween anyway! It just takes a sexy plus size Halloween costume, and a pinch of imagination to organize some spicy and private trick or treating.