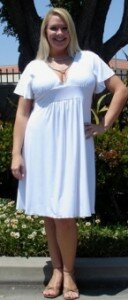 We all know that pretty, flattering plus size clothes can be pretty expensive. And because buying nice items that will look great is an investment, you can't always go crazy and buy as much as you like.
At SWAK Designs, you can. Because their summer clearance is going strong, and they have some seriously cute items for seriously low prices. Like the cute-on-everybody Plus Size Perfect Little Dress, on sale for $34.39. It comes is white and pastels to show off your summer tan. Or the Sheer Chiffon V-Neck Tunic (I love it in black), which is on sale for just $21.99.
Also, don't forget that SWAK Designs offer $5.00 flat-rate shipping and free shipping for orders over $149.