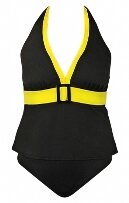 At SwimsuitsForAll, they usually shout about their sales from the rooftops. With thousands of swimsuit styles, they want everybody to know when they have a deal going on.
This sale is a little different… because it's a secret. Until August 31st, you can take 10% off your order, choosing from items throughout their entire online store. How do you get your 10%? Just use the coupon code "PRIVATESALE" at checkout. But use it wisely… and only tell who you have to. (Just kidding!)
If there's a particular item you've been eyeing that just refuses to go on clearance (like this ridiculously cute Mod Squad Two-Piece Plus Size Bikini), now is the time to go for it!