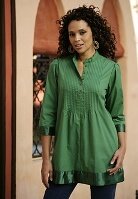 It's time to start thinking about buying some items for Autumn. And while it's sad to think that there's not that much summer left ahead, there's no reason to let it get you down…. especially with the gorgeous new season arrivals coming in all over the net! The latest? Some very cute new pieces at OneStopPlus.
While some of these items are strictly for the cooling weather, plenty of them are great for any season. I know I'm pretty consistent with my love for knee-length, waist-cinched dresses, but I've gotta say it… I love the Chartreuse Trim Shirt Dress with the gorgeous satin waist tie. It'll be perfect at work both for summer and for autumn. I must be on a satin trim kick lately, because I'm also loving the Satin Detailed Pintucked Shirt in emerald green. It's brand new, but it's also on sale: you save $10 when you buy two.
See? Transiting to Autumn doesn't have to be a sad time, after all!