Silhouettes really wants you to check out some of their summer sales and new autumn arrivals. How do I know? Because they're offering some incredible deals that will save you plenty of cash on great items for both summer and autumn.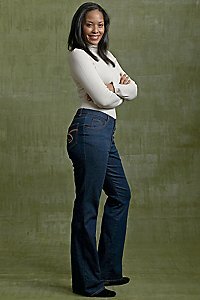 The best one? Until August 31st, you can get 20% off of any $100 (or more) purchase simply by using the coupon code AFF8PC19 at checkout. Plan to pick up a pair of jeans along with the rest of your order? Then you get an extra deal. For a limited time, you'll get a free (but super cute) denim bag with every purchase from Silhouette's Blue Couture jeans collection.
Go check it out. You can never have too many pairs of jeans, and a really great pair, like the lovely tummy-tucking Control Fit Bootcut Jeans, will last you through summer, autumn, and beyond. These are seriously flattering jeans. And don't forget to bring your coupon code along when you shop!