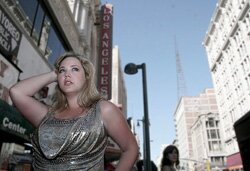 Belle Avenue has taken the word resolution to heart this year! They have started the New Year with a bang, by giving their online store a face lift. And might I say… it is looking great. The store has a much more clean and sleek look and feel to it now, and is quite user friendly. I am sure even the most non techie plus size lady could find her way around the store easily.
They have also added some cool features to the main page. First off clear buttons to different site sections are well placed, to easily get to what you are looking for. Newly added items are listed clearly as well. The have a funky new feature which they have dubbed 'Connect' which includes info on modeling, internships, as well as a featured artist of the week. Very innovative I must say.
Besides the new design, Belle Avenue have already recently added lot of new items to their collection, so do check them out today to look at the new inventory and the new site design. Well done Belle Avenue! Keep up the good stuff.
Oh and I am very glad you know ship to Europe as well. Two thumbs up for that!