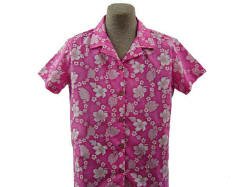 Wave Shoppe Hawaiian Shirts has been on a quest to produce fashionable Hawaiian shirts that slenderize the large and lovely woman, and their goal has finally been achieved.
Wave Shoppe's quest started around a year ago when they received several requests from women who were looking for Hawaiian themes shirts to fit their fuller figure. They received several comments like "I really love the shirts on your website but I need a larger size," or "I am going to a party and can't find a shirt to fit me anywhere". After several such phone calls and emails were received, Charles and Peggy at Wave Shoppe decided to move forward and offer shirts for plus sized women.
First they started working on finding a pattern maker that had experience in making plus size Hawaiian shirts for women. After several lengthy meetings and sifting through test patterns, the perfect combination was chosen and samples were sewn up.
At this time Charles and Peggy had several women who knew they were going to make plus size shirts so they stayed in contact with them and actually sent them the samples created to try out send feedback on. So Wave Shopped sent off their newly created plus size samples to different sized women, who in turn were asked to rate the shirts on comfort and fit, besides other thinks. Charles and Peggy adjusted the selected patterns based on the suggestions received and thanks to the efforts and ideas of the selected women changes to the patterns were incorporated.
The next step was to find the fabrics to make the shirts. They wanted fabrics that were colorful, snappy and fresh. Most of all they wanted fabrics that would breathe well, feel comfortable and make future customers look fashionable.
After all the hard work, the goal was finally achieved! Wave Shoppe today are very excited and proud to announce the addition of their new plus size line of Hawaiian shirts. Their new shirts are colorful, fun and trendy. Do check then out at Wave Shoppe.
Charles and Peggy's story is a wonderful example of online stores listening to customer suggestions and opening up their shop and business to accommodate a wider audience. This I am sure will definitely be appreciated by their potential plus size customers. This story should be an encouraging example to other clothing stores who might be receiving queries from potential customers to widen their selection. Listen to your potential customers!