SwimsuitsForAll.com have just added a brand new feature to their online store, which is bound to revolutionize the way curvy women shop for plus size swim-wear online.
Anyone who has been following the Plus Size Clothing Scoop, knows that SwimsuitsForAll.com carries a large selection of figure flattering plus size swim-wear, from leading brand names. Besides the informative details they provide on the product information page for every piece they, now you can actually watch a small video clip which highlights the features of the swimsuit.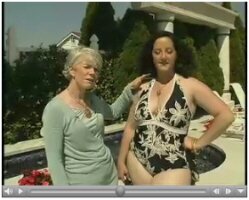 The small video clip showcases a real plus size woman wearing the swimsuit, so you can get a very good idea of what the swimsuit will look like when it is actually worn. You can also listen in to fit expert Suzanne Walker as she describea every feature.
Just browse around the items available at SwimsuitsForAll.com to check out this feature. Unfortunately, this video clip is currently not available for all pieces, but I'm sure more will be added in the coming weeks! To get an idea of what this is all about check out these two styles below:

Liliana Lily One Piece Plus Size V-Neck Halter Swimsuit w/ Matching Cover Up by Your Best Look
Square Grommets Two Piece Plus Size Skirtini Swimsuit by Delta Burke
I truly think this is a great addition to SwimsuitsForAll.com, which will greatly help full figure women who are trying to find the right swimsuit for them. Well done SwimsuitsForAll for adding this excellent feature.
Don't forget that the clearance event of the summer seaon is currently going on at SwimsuitsForAll.com, with 40% to 70% off top brands!