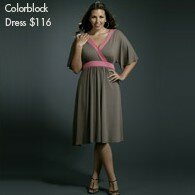 Although a touch of glam is always important, I believe that the summer season is when ladies can create the best looks by keeping is 'au naturel'. What better way to show off your sun-kissed skin, than to dress up in neutral colors, minimizing on the make-up and maximizing on your natural glow.
Kiyonna has this season, put together some very interesting and find pieces which can help plus size women create this natural look. Summer sophistication at Kiyonna begins with bold animal prints, stonewashed neutrals with warm rose accents, breezy silk cotton and comfy jersey.
Here are my favorite combinations, which can give you an idea on what to pick, and how to mix and match the pieces:

Colorblock Dress – Beautifully minimalistic, this dress is synonymous with summer sophistication. Wear this dress to create a chic look, whilst being extremely comfortable.

Modal Epaulet Channeling Tee + Cuffed Shorts – This ensemble proves that basic pieces was be put together to create stylish looks, which are anything but boring! This V-neck top includes clever details such as channeling tie and covered buttons on short cuffed sleeves. Paired up with the cuffed shorts, which are incredibly light, with just the right amount of spandex to ensure a comfortable fit.

Silk Cotton Voile Channeling Blouse - An incredibly unique top, including playful details such as ruffles, and smart details such as a sewn in inset at the deep V-neck. A must see.

Giraffe Print Wrap Tee – One of my favorite pieces, which Kiyonna is offering this season, this top screams out style. The bold giraffe print is both trendy and chic. The wrap style, coupled with astutely positioned princess seams, ensure a figure flattering cut.

Silk Cotton Voile Dress with Channeling – Another beautiful piece, which you have to check out. This dress is very similar to the Silk Cotton Voile Channeling Blouse, though obviously is a lightweight dress, instead of a blouse! Very cute piece.
So remember, keep it looking natural this season for a winning look. Plus Kiyonna is also currently offering free ground shipping on orders of $100 or more.