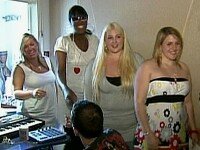 About a month ago, I spoke about how a sizzling new band made up of just plus size women, was set up by curvy UK magazine Just as Beautiful. This band was set up, after the magazine organized a unique and successful contest, where they searched through loads of curves and talent, to make up a one of a kind curvy band, which they dubbed Plus.
Well it looks like the girls at Plus are already making a big impact! An ABC News article published a few days ago recounts how the band was created.
The article also features some further insight, and comments from the girls themselves. One group member, Hannah Lee, told ABC News, "As I am big, I just thought I am never going to properly get into the music industry."
So here's a round up of all the girls who make up the curviest band in the music industry:

Hannah Lee
Rachel Faulkner
Shirley Slaymaker
Kate Newnes
Stacey-Lee Cuddy