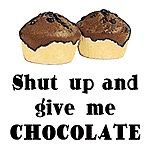 I came across this interesting press release today, which was released by evisionArts.com, an online store which I had never heard about before. evisionArts have been providing print on demand t-shirts, and other accessories, online since 2001. So what was so special about this news? Well evisionArts have just added women's plus sizes to their range of t-shirts. Well done evisionArts, I am always pleased to hear about stores widening their offering, and becoming more curvy friendly.
So I visited evisionArts and I must say I will definitely be back to purchase some of the items, as I have found a couple which are both cute and hilarious!
I'm sure my boyfriend will appreciate me wearing this 'I have mood swings' t-shirt, it would serve as a great warning for the day. And how about the chocolate collection of prints? I especially love the first one… "Shut up and give me CHOCOLATE". I couldn't have said it better myself!
I applaud evisionArts for adding plus sizes to their range! Kudos!