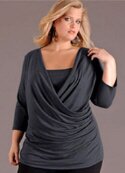 IGIGI, a unique and very chic plus size clothing store, has just added two brand new fall fashion tops to their stock. To get a closer look at these tops do visit the IGIGI website, however here is a little peek at what these new tops looks like…
The Francine Tunic
A beautiful wrap over style top, which does wonders to accentuate the curves and continues to enhance your figure. This top is very versatile as it can be dressed up, or dressed down according to your needs. Imagine wearing this top to work under a dark suit, and then spicing it up for an evening dinner by swapping your court shoes with a pair of sexy high heeled sandals, colored to match the top… obviously ditching your blazer for the special occasion! This top comes in three great colors to suit your tastes: blue, cranberry and gray.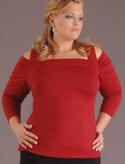 The Allegra Top
This plus size top, which is perfect to the fall/autumn season is perhaps a little more 'youngish' looking. However it still is very much suited for a variety of occasions. Again, you can easily wear this top to work, or to a business meeting; and then again in the evening for a drink at the bar. Wear it with a sexy pencil skirt and make sure your high heeled sandals or mules are at hand. This too is available in three colors: black, blue and red.
These two tops and many more perfect for the upcoming season are available at IGIGI! Visit the IGIGI website to take a much closer look at both these items.