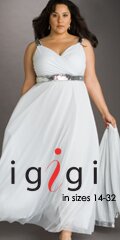 IGIGI invite all full figured women to visit their brand new plus size Bridal Boutique. With dresses available for the bride, the wedding party and also the guests, this new section of IGIGI's store is set to be a hit!
Beautiful gowns and items at excellent prices. The wedding dress of your dreams might as well be waiting for you at IGIGI's new bridal boutique!
Also remember that the Beach Chich Summer Wear contest is running at IGIGI during the month of June. For your chance to be one of the lucky 3 winners of a $100 gift voucher from IGIGI enter the contest today!