Archive for September, 2011
Guest post by Andrea Boley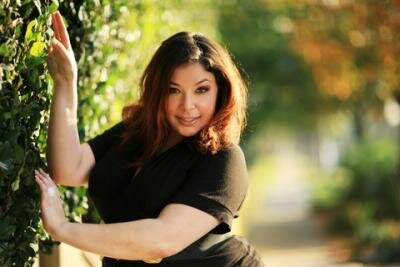 Too often plus sized women hide their bodies beneath what looks more like a tent than an article of clothing. Instead of flattering the voluptuous curves they were given, they choose to cover themselves in large, often black, pieces of flowing fabric which makes them look shapeless. Plus sized clothing can be both beautiful and becoming as long as you dress for your specific body type. Clothes do not fit everyone in a specific size the same way. When it comes to choosing dresses for a plus sized figure, the key is to choose ones that are complimentary to your unique body type. It's time to step away from the black and rock that sexy body.
If you carry most of your weight in your thighs, hips, and butt, you are known as a pear body type. Your womanly figure should be emphasized by adding structure and volume above the waist and keep from drawing eyes to your bottom half. A-line dresses are your friend as they skim right over your hips and keep the attention on your upper half and lower legs. Draw the eyes upward by emphasizing your bust with a slightly lowered neckline. Make sure you avoid tight or stretchy fabric, as they will cling to your hips and make your bottom look larger. Solid colors and large print dresses work well with pear body types, especially the colors teal and pink.
You are an apple body type if your upper body is noticeably larger than your lower body. Ladies with an apple figure often want to hide their bellies and any back bulges they may have from bras and odd-fitting clothing, so it is important to find a dress that highlights your bust and is not too tight around the stomach area. Avoid any belts or waistline embellishments; you don't want to call attention to your trouble areas. Instead, opt for dresses with an empire-cut, wrap style, or a flared hemline. Avoid large print, as it makes one look larger. Dark, bold colors like red, blue, and purple are perfect for an apple shape and will make you feel foxy and confident.
If your figure is bigger up top than your lower half, you have what is called a busty, or strawberry, body type. Bring balance to your body by emphasizing your lower half and avoid drawing extra attention to your shoulders and bust. Aim for dresses that are fitted on top with flared skirts. Avoid any frilly or puffed sleeves as well as off the shoulder dresses. If you are going strapless, opt for an a-line cut and accessorize with a large necklace. Simple designs and light colors work well for strawberry shapes. Go for light blue, off white, or brown colored dresses and show off your inner sex kitten.
Or maybe you have more of an athletic, or rectangle, body type. You may crave more curves, but the right clothing can create that illusion; the key is to add structure. Dresses with a halter top are super flattering on athletic bodied women. While most dresses will look great on your frame, try to avoid straight sheath dresses and ones with a dropped waist. If you've got a bit of a bust, aim for a lower neckline. Otherwise, look for a higher neck and show off some of your other sexy assets like your legs or back. Bright colors like aqua and coral and bold printed dresses will have you turning heads in no time.
Whatever your specific body shape, being a plus sized woman doesn't mean you must hide beneath layers of unflattering clothing. Emphasize the body parts you love most and draw attention away from those areas you don't much care for. Step out of your usual style and try a bright, bold color that will boost your confidence and get the attention of others.
This was a guest post by Andrea Boley who is a writer, blogger and mommy to twin boys. She is always happy to share her passion for life and experiences through her work, and in her spare time works as a freelance writer for Storkie.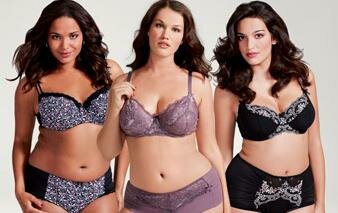 Award-winning plus-size ladies clothing retailer Evans has launched a brand new collection of plus-size lingerie in time for Autumn.
The new arrivals of plus-size lingerie include lace bras and knickers, underwear with pretty embellishment, shapewear and bright new coloured designs as well as everyday t-shirt bras and cotton knickers.
To guarantee that women choose the right plus size lingerie for their shape, Evans has devised an easy-to-use size guide. With more than 85% of the population wearing the incorrect size evans.co.uk now provides a bra-fitting video to make the measuring process really easy to understand. Bras are available from evans in sizes 38-50 and cup sizes B-H with briefs available in sizes 14-32. Shoppers can access the guide by clicking on the top bar features tab on evans.co.uk.
The key new styles of plus-size lingerie Evans has this Autumn are:
Purples: Plus size lingerie in purple suits both light and dark skin tones and this Autumn it takes on a fresh twist with light purple and mauve colours as opposed to deep purple, which is more suited to Winter. Look out for lace bras, cotton bras and lace knickers in this fresh shade.
Lace: Plus size lingerie is getting more interesting this Autumn thanks to a new lovely lacy touch. Look out for floral lace bras, stripe bras with lace trims, support bras with lace detail, lace knickers, and lace shorts. Lace is an easy way to add a feminine touch to your lingerie draw – less scary than experimenting with new colours or prints.
Embroidery: Embroidered lingerie always looks spectacular and this Autumn we've seen some lovely black plus size lingerie embellished with purple – Autumn's fresh new colour. Lingerie embellished with floral designs also look lovely, such as a black bra embroidered with white and pink flowers. Matching an embroidered bra with embroidered knickers should make you look and feel super special as it boosts your confidence when you feel good in your underwear.
Pinks: White used to be the traditional colour for everyday cotton underwear but this season it's time to try pink. You can get plus size briefs in packs of three, featuring different shades of pink from light to mid to dark. Or have some fun with pink polka dot briefs or slogan knickers printed with words like 'Love'. Think pink!
Shapewear: Look out for tummy control knickers, waist cinchers and padded bras, now available in lace designs as well as blacks and nude. It's getting pretty as well as practical.
Evans is a plus size ladies fashion retailer with over 330 evans stores around the UK and Ireland. Shopping online is easy and can be done from the comfort of home, any time of day. There is a great range online exclusives available that you won't find in-store and international delivery to more than 100 countries.
Guest post by Parmeeta Ghoman
Many of the trends seen on the runway for fall/winter 2011/2012 will translate into the plus size market. Silhouettes and color palettes will mix between the two markets as well as inspire new trends.
Glamour Girls from the Seventies
The seventies trend made a comeback for this season with jumpsuits, wide leg pants and leopard print.
Both L.A.M.B by Gwen Stefani and Marc by Marc Jacobs used a color palette including black, browns, dark purples and jewel greens that will cross over to the plus-size market for this particular trend.
Outerwear – Capes and Ponchos
Ponchos and capes were a huge influence within outerwear in Rag & Bone, Michael Kors' and BCBG's fall/winter collection this season. Seen in various colors throughout the collections the easy to wear outerwear style will come in several lengths and fabrics for the plus-size market.
Retro Baby Doll Dresses in Monochrome Black and White
Anna Sui showcased fabulous baby doll dresses this season, in various patterns with a black and white color palette, which will easily be translated into the plus-size market.
Menswear-Inspired Tailoring
Women's suits will be inspired by menswear this season as silhouettes become more fitted than previous years and influence the plus-size market.
Tuxedos are a major influence within womenswear for fall/winter 2011/2012 as seen on the runways of Jason Wu, Dolce & Gabbana and Alexander Wang. The color palette for women's tuxedos are different to men's however as the traditional black and white is left behind and the focus goes towards purples, blues, and oranges.
Trends that flatter the female figure will always be popular and those that make a statement will easily translate from one market to the next.
When looking for trends to follow whether your size is in the plus-size range, the petite or the "average" look for pieces that you feel comfortable in. Pieces that flatter your unique shape and size, and if trying new trends scare you try mixing it up with accessories.
Accessory Trends For Fall/Winter
Structured handbags in all colors are popular this season and look fabulous from day to evening.
Boxed clutches with jewels and tassels come out at night to add sparkle to any outfit.
Beanie style hats were seen in various fabrics and colors, both plain and embellished were seen in collections from Jenni Kayne and Adam.
What will you be wearing this season?
This was a guest post by Parmeeta Ghoman of FashionTrendExperts.com. Fashion Trend Experts provides cutting-edge style tips from the runways and beyond for men and women of all sizes.
This giveaway is now closed. The 2 winners have been announced here.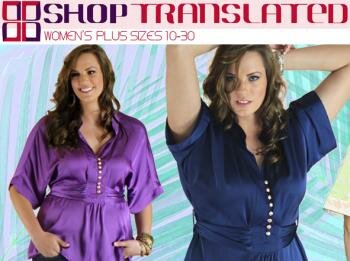 I hope everyone is having a great Monday! I wanted to kick off this week with something extra special, to get you motivated for the week ahead.
Today I'm launching a special giveaway thanks to the lovely people at Shop Translated. If you're not familiar with Shop Translated, give them a visit right now to check out their gorgeous plus size clothing collection, which includes exclusive designs from Charle Marikina and Ines. Their new Fall/Winter collection is set to be released in the coming weeks, and is set to be a hit.
So what's up for grabs?
2 very lucky Pasazz.net readers will each receive 1 free item of their choice from Shop Translated.
How can you enter the giveaway?
Very simple! Head on over to the Shop Translated website, browse around until you find something you absolutely love, and then come back to this blog post and let us know which is your favorite Shop Translated item by commenting on this post. Couldn't be simpler right?
Don't delay ladies! You have to enter the giveaway by Friday 30th September, 2011. The 2 lucky winners will be picked and announced right here on the blog on Saturday, 1st October, 2011.
So head on to Shop Translated today, browse around and then enter the giveaway by commenting below.
Good luck!
(Please note: This giveaway is open to US residents only!)
The Plus Size Style Guide is finally launched!
I'm very excited to share this with you all today; this is something I have been working on for the past few weeks and it's finally ready to be released!
If you've been a Pasazz.net follower for a while, then I'm sure you will know that it is truly my passion to provide plus size women with style tips, sale updates and other tools to help curvy women find stylish clothes that fit… and save some money whilst doing so too!
Today I've decided to take things a step further with the launch of my brand new Plus Size Style Guide.
I've been thinking about this for a while, how to provide curvy women with something they can turn to whenever they are about to choose a dress, a top, or pair of jeans, to help them choose the best style to flatter their figure. And finally, this is exactly what I've done in The Plus Size Style Guide – created a handbook which any plus size woman can turn to, to help her dress to impress!
The Plus Size Style Guide show you how to easily figure out what body shape you are; provides tips on how to dress to flatter your body shape; shows you how to choose a swimsuit (and where to find one), and much more.
Head on to The Plus Size Style guide today to get the full scoop about what this guide includes, and to jump on the very special introductory offer going on to celebrate this launch!
Redondo Beach, CA – 16th September, 2011 – For plus size women, it is sometimes difficult to find sexy, stylish lingerie with the perfect fit. Most stores offer just a sampling of plus size lingerie and sensual apparel, and even fewer offer any kind of variety. But, every woman deserves to feel desirable and the right bustier, babydoll or teddy can make all the difference. This is why plus size women everywhere are turning to AllPlusSizeLingerie.com for all of their lingerie needs.
AllPlusSizeLingerie.com offers a large selection of the latest, hottest and sexiest full figured intimate apparel. Featuring BBW lingerie, the site provides plus size intimate apparel, including but not limited to cami sets, babydolls, bustiers, corsets, teddies, sexy costumes, sleepwear, hosiery, leather, vinyl, panties, bridal lingerie and even jewelry.
AllPlusSizeLingerie.com believes sexy lingerie should not be limited for wear by only stick-thin women. It suggests with the right large women lingerie, a person can not only feel comfortable with their body, but also get the confidence boost they need.
According to the site, "Our lingerie styles will help you show off your curves and bring out the diva in you. Whether it's a flowy and pretty babydoll, or a sexy and provocative leather corset, or a hot and racy teddy, or an exotic and seductive bodystocking, you will be sure to find a perfect style that will make you feel sexy and comfortable."
The site offers high quality intimate apparel at an affordable price. Customers can peruse through the company's large selection of plus size lingerie discreetly and at their leisure. Each piece of intimate apparel provides an informative description and allows customers to zoom in for a more detailed view of the product.
As most plus size women know, it is as important to find the right fit as it is to find the perfect piece of intimate apparel. AllPlusSizeLingerie.com offers sizes 1X to 4X and provides a size chart to allow customers to easily determine the correct selection for them. If someone cannot determine their particular size, AllPlusSizeLingerie.com offers top-notch customer service and is available to answer any questions on the spot.
AllPlusSizeLingerie.com features a live chat function, where customers can simply click on the "live chat" icon at the top of the site to get immediate answers regarding questions, such as sizing, material or shipping.
For more information or to preview the vast selection of plus size lingerie, visit AllPlusSizeLingerie.com.
Wife, working mom, plus size model, Danielle Line adds 'entrepreneur' to her already full plate as she helps promote AdoraOm active wear into the plus size fashion forum. Check out Danielle at http://www.AdoraOm.com
The AdoraOm active wear collection becomes available via an online shopping boutique in October, 2011.
Superstar Plus-Size Model, Danielle Line, known for her girl-next-door good looks and natural beauty, has been contracted as the face of AdoraOm. Danielle's role is as a "Curvy Consultant" for the new plus-size premium active wear brand by My'Om Active, LLC.
After performing as the company's fit model for their breakout collection, AdoraOm chose the award-winning Los Angeles based plus-size model that has graced countless runways, websites, print ads, and catalogues, as well as magazine editorials, including Plus Model Magazine. In addition to her role as Curvy Consultant, Danielle will also oversee the free online personal shopping experience for the AdoraOm community.
"Originally, Danielle was hired to be our fit model. As we got to know her on a more personal level, we realized she embodies what we are exclusively about: empowerment through a healthy and self loving lifestyle. Although seam placement and fit are important to us, more importantly, AdoraOm is about relationships, friendships and elevating one another," explains Jodi Geiger, a founding partner.
Danielle is all too familiar with the challenges plus size women must overcome to be more active, healthy and simply comfortable. According to co-founders Stacey Goldstein and Julie Koenig, "Danielle fits exactly who we are." The company's creed, "There's Room for Every Body," exemplifies Danielle's personal philosophy and further emphasizes the company's goal to, not only dress fuller figures, but also to create a lifelong bond with their customers and their lives. The brand AdoraOm is much more than a clothing company for plus-size women; it is a lifestyle company which encompasses all arenas of healthy living.
Danielle Line is preparing to spark a passion for all plus size women to dress confidently, comfortably, and to incorporate a healthy lifestyle. In her new role as "Curvy Consultant," Danielle will promote the AdoraOm collection, which currently includes active tops, bottoms, capris, jackets and headbands, proudly designed and assembled in the USA. All pieces have been created and fitted for plus-size women, using the finest fabrics and the most appropriate sewing techniques to fit and flatter the fuller figure. As Danielle has learned to use her inner beauty to express her outer beauty, she will focus on empowering others to do the same wearing the new AdoraOm collection.
AdoraOm will be ready to greet online shoppers, October 2011. Visit http://www.adoraom.com to sign up for their newsletter or chat directly with Danielle and learn more about the AdoraOm brand.
For more information, contact Danielle Line via email at [email protected], visit her website: http://www.danielleline.com or call AdoraOm at: 1-800-936-2311.
House of Brides celebrates the opening of the Diva Bridal Boutique in Glen Ellyn, Illinois. The Diva Bridal Boutique is the first salon in the nation dedicated to plus size Brides.
House of Brides introduces its new specialty store, the Diva Plus Size Bridal Boutique. The boutique joins House of Brides' other specialty stores, which include the Occasions & Quinceanera Boutique in Schaumburg, the Occasions Boutique in Glen Ellyn and the recently opened Quinceanera Boutique in Glen Ellyn. Diva Bridal Boutique specializes in plus size wedding dresses sizes 18 – 40.
House of Brides was established in 1929 and has been dressing brides for 82 years. Along with changes in wedding fashions and trends, they have also seen a change in their customers' sizes and shapes. "Nearly fifty-percent of our brides wear size 12 or larger now", states Eva Buziecki, President. "This is a major shift from even a decade ago when our average bride wore a size 8 or 10".
A recent study by the John Hopkins Bloomberg School of Public Health confirms U.S. women ages 20 – 34 are experiencing the fastest increase of overweight and obesity rates among demographic groups. With the average marrying age of 28 for U.S. women, a growing majority of today's brides are considered plus size by bridal industry standards.
House of Brides recognized this early on and modified their sample buying to add larger size wedding dresses to the inventories of their 6 bridal salons. However, president Eva Buziecki knew that having women sized styles wasn't the only concern for this bride. "A plus size bride faces unique challenges when buying a wedding dress. They are discouraged by small samples, limited selection of off-the-rack styles and the overall shopping experience. We created the Diva Bridal Boutique to provide plus size brides the ultimate in selection and service".
The Diva Bridal Boutique is the first store in the country devoted to real size women. The boutique is stocked with designer wedding dress samples in sizes 18 – 40 and "W" sizes only. Brides can try-on samples in their sizes instead of the typical sample sizes of 10s and 12s. The gowns are from leading designer collections and in the latest styles.
House of Brides understands plus size brides tend to shop closer to their wedding dates and often purchase off-the-rack. Diva Bridal offers special order gowns but also a wide selection of immediate delivery dresses. Nearly every wedding dress in the boutique is available to buy off-the-rack. New samples are continually added to keep the inventory stocked and current.
Perhaps the most important feature of Diva Bridal Boutique is the experience. Diva Bridal is a contemporary space with an inviting atmosphere. It has private dressing rooms and stage areas. The wedding dresses and products are specialized to the customer. The expert consultants understand the importance of dressing the plus size silhouette and the trained seamstresses ensure the best in fit. The Diva Bridal Boutique caters to the plus size bride giving her the special shopping experience every bride wants.
The Diva Plus Size Bridal Boutique is a one-of-a-kind store specializing in dressing brides, sizes 18 – 40. The boutique is another example of House of Brides continuing to grow its brand and customer base. Other efforts currently in consideration are the opening of 6 additional stores in Illinois plus stores outside the state and the company going public. Also, House of Brides is exploring options for domestic and international partnerships to advance as a global company.
The Diva Bridal Boutique is open 7 days a week. The boutique is located at 1184 Roosevelt Road, 1 door west of House of Brides in Glen Ellyn. House of Brides' 6 bridal salons also offer a wide selection of plus size wedding dresses. Salons are located in Chicago, Glen Ellyn, Oak Lawn, Aurora, Orland Park and the World's Largest Wedding Store in Schaumburg. Visit http://www.houseofbrides.com for directions and hours.
It's Labor Day Weekend in the USA, and all our favorite plus size stores have launched some great sales to celebrate this holiday. Here is a roundup of what I think are this year's best Labor Day Sales, and how you can take advantage of them.
Happy Labor Day to all my readers in the USA!