Guest post by Andrea Boley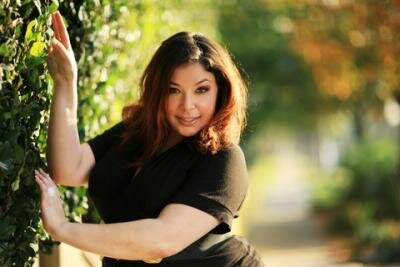 Too often plus sized women hide their bodies beneath what looks more like a tent than an article of clothing. Instead of flattering the voluptuous curves they were given, they choose to cover themselves in large, often black, pieces of flowing fabric which makes them look shapeless. Plus sized clothing can be both beautiful and becoming as long as you dress for your specific body type. Clothes do not fit everyone in a specific size the same way. When it comes to choosing dresses for a plus sized figure, the key is to choose ones that are complimentary to your unique body type. It's time to step away from the black and rock that sexy body.
If you carry most of your weight in your thighs, hips, and butt, you are known as a pear body type. Your womanly figure should be emphasized by adding structure and volume above the waist and keep from drawing eyes to your bottom half. A-line dresses are your friend as they skim right over your hips and keep the attention on your upper half and lower legs. Draw the eyes upward by emphasizing your bust with a slightly lowered neckline. Make sure you avoid tight or stretchy fabric, as they will cling to your hips and make your bottom look larger. Solid colors and large print dresses work well with pear body types, especially the colors teal and pink.
You are an apple body type if your upper body is noticeably larger than your lower body. Ladies with an apple figure often want to hide their bellies and any back bulges they may have from bras and odd-fitting clothing, so it is important to find a dress that highlights your bust and is not too tight around the stomach area. Avoid any belts or waistline embellishments; you don't want to call attention to your trouble areas. Instead, opt for dresses with an empire-cut, wrap style, or a flared hemline. Avoid large print, as it makes one look larger. Dark, bold colors like red, blue, and purple are perfect for an apple shape and will make you feel foxy and confident.
If your figure is bigger up top than your lower half, you have what is called a busty, or strawberry, body type. Bring balance to your body by emphasizing your lower half and avoid drawing extra attention to your shoulders and bust. Aim for dresses that are fitted on top with flared skirts. Avoid any frilly or puffed sleeves as well as off the shoulder dresses. If you are going strapless, opt for an a-line cut and accessorize with a large necklace. Simple designs and light colors work well for strawberry shapes. Go for light blue, off white, or brown colored dresses and show off your inner sex kitten.
Or maybe you have more of an athletic, or rectangle, body type. You may crave more curves, but the right clothing can create that illusion; the key is to add structure. Dresses with a halter top are super flattering on athletic bodied women. While most dresses will look great on your frame, try to avoid straight sheath dresses and ones with a dropped waist. If you've got a bit of a bust, aim for a lower neckline. Otherwise, look for a higher neck and show off some of your other sexy assets like your legs or back. Bright colors like aqua and coral and bold printed dresses will have you turning heads in no time.
Whatever your specific body shape, being a plus sized woman doesn't mean you must hide beneath layers of unflattering clothing. Emphasize the body parts you love most and draw attention away from those areas you don't much care for. Step out of your usual style and try a bright, bold color that will boost your confidence and get the attention of others.
This was a guest post by Andrea Boley who is a writer, blogger and mommy to twin boys. She is always happy to share her passion for life and experiences through her work, and in her spare time works as a freelance writer for Storkie.
Related Tags:
flaunt your figure
I have an apple body shape
Related posts:
Get Access To My Plus Size Style Guide
Would you like to easily figure out what body shape you are, and learn how to dress to flatter your figure? This is exactly what I will teach you in my brand new Plus Size Style Guide and you can get your copy of my guide at a super low price today! Click here to find out more about my brand new Plus Size Style Guide, and grab you copy today!

Grab Your Plus Size Style Guide Today!