Fashion Week Trends that Will Translate Into the Plus Size Market
Guest post by Parmeeta Ghoman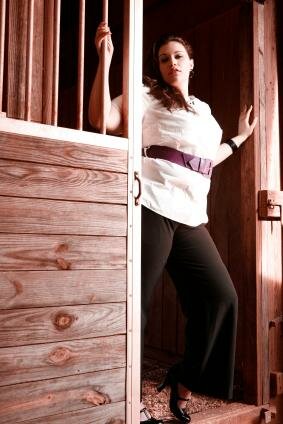 Many of the trends seen on the runway for fall/winter 2011/2012 will translate into the plus size market. Silhouettes and color palettes will mix between the two markets as well as inspire new trends.
Glamour Girls from the Seventies
The seventies trend made a comeback for this season with jumpsuits, wide leg pants and leopard print.
Both L.A.M.B by Gwen Stefani and Marc by Marc Jacobs used a color palette including black, browns, dark purples and jewel greens that will cross over to the plus-size market for this particular trend.
Outerwear – Capes and Ponchos
Ponchos and capes were a huge influence within outerwear in Rag & Bone, Michael Kors' and BCBG's fall/winter collection this season. Seen in various colors throughout the collections the easy to wear outerwear style will come in several lengths and fabrics for the plus-size market.
Retro Baby Doll Dresses in Monochrome Black and White
Anna Sui showcased fabulous baby doll dresses this season, in various patterns with a black and white color palette, which will easily be translated into the plus-size market.
Menswear-Inspired Tailoring
Women's suits will be inspired by menswear this season as silhouettes become more fitted than previous years and influence the plus-size market.
Tuxedos are a major influence within womenswear for fall/winter 2011/2012 as seen on the runways of Jason Wu, Dolce & Gabbana and Alexander Wang. The color palette for women's tuxedos are different to men's however as the traditional black and white is left behind and the focus goes towards purples, blues, and oranges.
Trends that flatter the female figure will always be popular and those that make a statement will easily translate from one market to the next.
When looking for trends to follow whether your size is in the plus-size range, the petite or the "average" look for pieces that you feel comfortable in. Pieces that flatter your unique shape and size, and if trying new trends scare you try mixing it up with accessories.
Accessory Trends For Fall/Winter
Structured handbags in all colors are popular this season and look fabulous from day to evening.
Boxed clutches with jewels and tassels come out at night to add sparkle to any outfit.
Beanie style hats were seen in various fabrics and colors, both plain and embellished were seen in collections from Jenni Kayne and Adam.
What will you be wearing this season?
This was a guest post by Parmeeta Ghoman of FashionTrendExperts.com. Fashion Trend Experts provides cutting-edge style tips from the runways and beyond for men and women of all sizes.