Evans Launches New Collection Of Plus Size Lingerie
By
Sarah
on September 28, 2011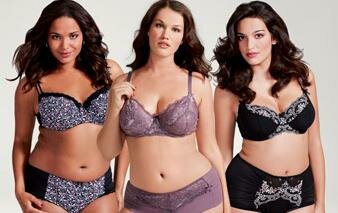 Award-winning plus-size ladies clothing retailer Evans has launched a brand new collection of plus-size lingerie in time for Autumn.
The new arrivals of plus-size lingerie include lace bras and knickers, underwear with pretty embellishment, shapewear and bright new coloured designs as well as everyday t-shirt bras and cotton knickers.
To guarantee that women choose the right plus size lingerie for their shape, Evans has devised an easy-to-use size guide. With more than 85% of the population wearing the incorrect size evans.co.uk now provides a bra-fitting video to make the measuring process really easy to understand. Bras are available from evans in sizes 38-50 and cup sizes B-H with briefs available in sizes 14-32. Shoppers can access the guide by clicking on the top bar features tab on evans.co.uk.
The key new styles of plus-size lingerie Evans has this Autumn are:
Purples: Plus size lingerie in purple suits both light and dark skin tones and this Autumn it takes on a fresh twist with light purple and mauve colours as opposed to deep purple, which is more suited to Winter. Look out for lace bras, cotton bras and lace knickers in this fresh shade.
Lace: Plus size lingerie is getting more interesting this Autumn thanks to a new lovely lacy touch. Look out for floral lace bras, stripe bras with lace trims, support bras with lace detail, lace knickers, and lace shorts. Lace is an easy way to add a feminine touch to your lingerie draw – less scary than experimenting with new colours or prints.
Embroidery: Embroidered lingerie always looks spectacular and this Autumn we've seen some lovely black plus size lingerie embellished with purple – Autumn's fresh new colour. Lingerie embellished with floral designs also look lovely, such as a black bra embroidered with white and pink flowers. Matching an embroidered bra with embroidered knickers should make you look and feel super special as it boosts your confidence when you feel good in your underwear.
Pinks: White used to be the traditional colour for everyday cotton underwear but this season it's time to try pink. You can get plus size briefs in packs of three, featuring different shades of pink from light to mid to dark. Or have some fun with pink polka dot briefs or slogan knickers printed with words like 'Love'. Think pink!
Shapewear: Look out for tummy control knickers, waist cinchers and padded bras, now available in lace designs as well as blacks and nude. It's getting pretty as well as practical.
Evans is a plus size ladies fashion retailer with over 330 evans stores around the UK and Ireland. Shopping online is easy and can be done from the comfort of home, any time of day. There is a great range online exclusives available that you won't find in-store and international delivery to more than 100 countries.