Win With Shop Translated – Curvy Giveaway!
By
Sarah
on September 26, 2011
This giveaway is now closed. The 2 winners have been announced here.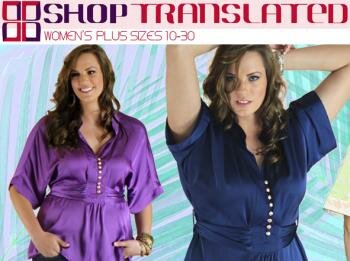 I hope everyone is having a great Monday! I wanted to kick off this week with something extra special, to get you motivated for the week ahead.
Today I'm launching a special giveaway thanks to the lovely people at Shop Translated. If you're not familiar with Shop Translated, give them a visit right now to check out their gorgeous plus size clothing collection, which includes exclusive designs from Charle Marikina and Ines. Their new Fall/Winter collection is set to be released in the coming weeks, and is set to be a hit.
So what's up for grabs?
2 very lucky Pasazz.net readers will each receive 1 free item of their choice from Shop Translated.
How can you enter the giveaway?
Very simple! Head on over to the Shop Translated website, browse around until you find something you absolutely love, and then come back to this blog post and let us know which is your favorite Shop Translated item by commenting on this post. Couldn't be simpler right?
Don't delay ladies! You have to enter the giveaway by Friday 30th September, 2011. The 2 lucky winners will be picked and announced right here on the blog on Saturday, 1st October, 2011.
So head on to Shop Translated today, browse around and then enter the giveaway by commenting below.
Good luck!
(Please note: This giveaway is open to US residents only!)