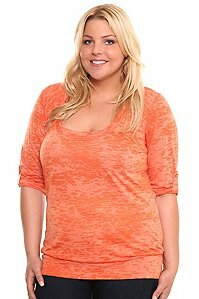 If you are looking for plus size teenage clothing, and also junior plus size clothing, start off by browsing through my list of recommended stores below. Here you will find a vast range of store either specializing in or which carry a vast range of plus size teen clothing, that is anything but boring.
Let us help you find stylish plus size teenage clothing, that are affordable and in your size!
Editor's Choice

City Chic Sizes 14 to 24
City Chic is a unique plus size fashion store that carries sassy, sexy and most of all chic clothing for curvy women. They offer a wide variety of styles, including a large collection of flattering plus size formal wear such as evening dresses. Read our City Chic review.
Recommended Stores
Loop 18 Sizes 13 to 27
Specializing exclusively in plus size teen clothing, at Loop18 you will find a large variety of tops, bottoms and dresses. Though you will also find junior plus size swimwear and other accessories, such as handbags.
Fashion Bug Sizes 6 to 32
Fashion Bug is a well known name in the junior plus sizes scene, and for good reason. They offer latest trends in plus sizes, at great prices. Here you will find a wide variety of items, from tops to dresses, to shoes and accessories.
Lane Bryant Sizes 6 to 32
Although Lane Bryant do not cater only in plus size teen clothing, they do offer a wide range of items which are perfect for teens for a variety of occasions. At Lane Bryant you will find a wide range of apparel including jeans, swimwear, shoes and accessories.
Plus Size Fix Sizes 14 to 24
Plus Size Fix is an LA based family run store specializing in junior plus size fashions in sizes 14 to 24. They have a very wide selection of lovely dresses and tops, at very affordable prices.
Torrid Sizes 12 to 28
Torrid is another very well known brand and is the perfect destination for plus size teens looking for stylish tops, dresses, jeans and accessories. This store adds on new stock on a very regular basis, so you are sure to find the latest trends in your sizes.
Alight Sizes 14 to 32
I like to refer to Alight as the online plus size fashion superstore, so this store also gains a place in the junior plus sizes section! They carry a variety of collections perfect for teens, in sizes up to 32.
Size Appeal Sizes 14 to 32
Here you will find a collection of trendy and yet bold plus size clothes and dresses. The SizeAppeal collection includes jeans, leggings, shoes and accessories, and their stock is updated frequently.
Kristin Miles Sizes 1X to 3X
Kristin Miles is a plus size clothing label located in LA specializing in casual and party plus size tops and dresses. Their designs are unique and fashion forward, but most of all they are crated with the plus size body in mind. Their variety of designs includes styles that are perfect for junior plus sizes.
ViVi's Boutique Sizes 1X to 3X
ViVi's Boutique carry a wide range of trendy plus size fashions, in affordable sizes. Their collection includes tops, blouses, dresses, bottoms and also accessories. Various styles available in the latest trends.
JELLYBEAN of Miami Sizes 8.5 to 18.5
JELLYBEAN of Miami specialize in providing apparel for plus size girls. What they offer is truly unique; if you have a you girl and find it hard to buy appropriate clothes that fit, definitely check out JELLYBEAN of Miami.
Our Top Picks for Plus Size Teen Clothing
| | | |
| --- | --- | --- |
| Plus Size Spanish Flower Belt Red Tube Dress | Plus Size Studded Rouched Collar Top in Silver | Plus Size Unique Polka Dot Bubble Dress |
| Plus Size See Through One Shoulder Bubble Red Top | Plus Size See Though Wooden Buttons Black Top | Plus Size Open Shoulder Zebra Print Tan Top |
| Plus Size Exotic One Shouler Cheetah Black Top | Plus Size Sexy Vintage Leather Hoodie Tan Jacket | Plus Size Knit Bedazzled Shoulders Cropped Black Loose Top |