Review: Kiyonna Scalloped Boudoir Lace Dress
The Plus Size Dress You Should NOT Overlook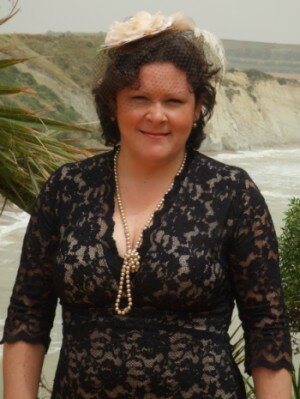 A few months back I finally took the plunge and grabbed myself my very own Kiyonna Scalloped Boudoir Lace Dress, and in this review I wanted to share with you my experiences with this plus size dress.
If you often shop for plus size clothes online, then you are probably familiar with the designer Kiyonna. They have been around since 1996, providing curvy women with sophisticated as well as trendy plus size clothing.
Kiyonna have a number of signature pieces which they have carried and perfected along the years, and one of these best sellers is the Scalloped Boudoir Lace Dress. But anyhow, that's just some background information I wanted to give you. Now let me tell you how and why I came to choose this dress…
I have a few weddings to attend this year, mostly morning weddings, so I was looking for something sassy yet chic and something that will last throughout the years. Something that I can wear over and over, year after year, and still feel like I'm on trend. So I was after a classic piece.
So I searched and search online, and had been eying the Kiyonna Lace Dress for weeks. But somehow I wasn't sure… I don't wear lace very often, in fact I never really wear lace, so the thought of an all round lace dress was a bit daunting. However I read a lot of rave reviews about this particular one, and I could see this dress lasting throughout the years, so I took the plunge and went ahead with it!
Kiyonna's delivery was spot on as usual; this wasn't my first Kiyonna purchase so I expected to get the dress pretty quickly even though I am located in Europe. And in fact the dress arrived within around 5 working days. Fantastic!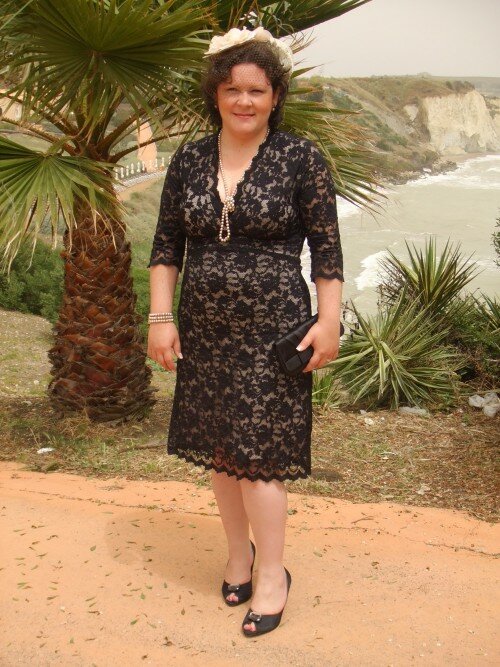 I truly fell in love with the dress as soon as I opened the package. The dress looks amazing just off the hanger, so I was anxious to see how it would look on moi! The fabric feels very silky and soft; although it is a lace dress, it isn't the hard type of lace, so even just running your hand over the fabric feels luxurious.
I tried the dress on, and was glad I got the sizing right again! I always buy the same size from Kiyonna, and so far everything I purchased has fit well. I was worried as some styles tend to run smaller or larger at times, though as yet, this has not been the case with my Kiyonna purchases.
I loved the look of this dress immediately upon wearing it. It gives you a very, very chic and classic look, yet the plunging V-neckline, and the nude lining especially, help give this dress a sassy and sexy feel. Also, the lace scalloped trim throughout the dress is a gorgeous detail. I showed it to my husband and he was wowed! So that was already enough for me.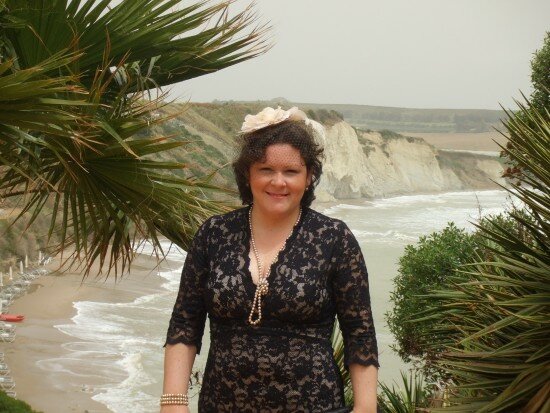 Since this is a pretty hugging dress, I felt more comfortable wearing it with a body-shaper underneath, just to make sure everything it smoothed out as it should be. Once I tried it on with the shaper, it looked even better (although this dress would still look great without a shaper).
I wore this dress the first time round to a friend's morning well. I paired it up with a gold pearl jewelry set, which complemented the nude lining very well. The pearl necklace was pretty long so I tied it up in a way that it sits right on the V-neck line. (You can see in the photos the way I did this.) The V-neck line of this dress is pretty low, so this is a good trick to add some extra coverage in that essential place, in case you're uncomfortable showing off too much skin. I personally did this to shorten the length of the necklace.
As for shoes I opted for my trusty Evans black peep toe high heels shoes, and wore a matching black satin clucth-bag. To add a touch of pasazz to the entire look I found a chic brown birdcage fascinator, adorned with ivory flowers and feathers. I thought that topped the outfit off pretty well! I wore the same ensemble to a wedding I attended last weekend in Sicily, Italy.
Expect to get reactions when you wear this dress. And I mean positive reactions! Truly, I had never received so many compliments ever in my life with any other dress, well expect perhaps my wedding dress! He he 😉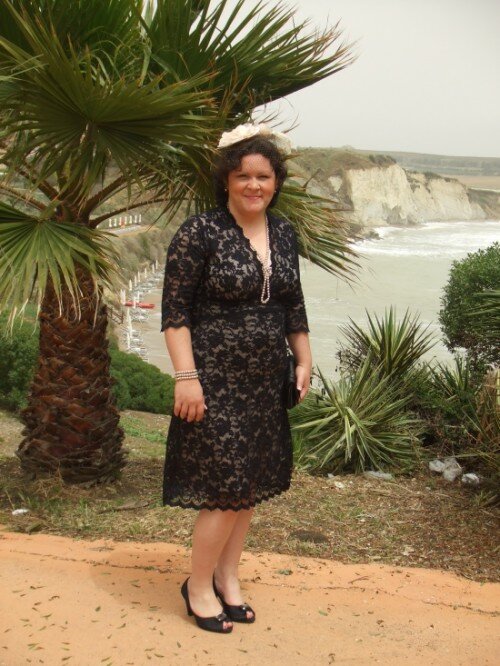 If you are looking for something classic, that you can wear over and over, something that works well both in the morning and evening, plus something with a WOW factor, then you definitely need to consider the Kiyonna Boudoir Lace Dress.
This Scalloped Boudoir Lace Dress is available in sizes 0X to 5X and comes in three different shades… black with nude lining, black with black lining, and chocolate. It retails for $158, which I personally think is a steal for the quality you get in this dress.
Related Tags:
plus size lace dress, Scalloped Boudoir Lace Dress, lace dress, lace dress plus size, kiyonna lace dress