How to Wear a Skirt if You Have Wide Hips
Guest post by Kristie Leong M.D.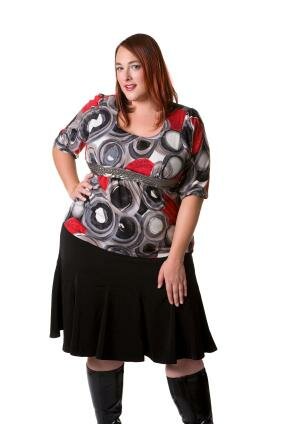 Most people including fashion models and celebrities don't have flawless bodies although it can appear that way when certain camera angles are used to portray their bodies from their best perspective. The world of modeling is all about portraying an illusion. You too can use that principle to your advantage. One way to give the illusion of a well proportioned body is to use fashion to enhance and minimize figure flaws. One figure flaw that many women want to address is the problem of wide hips. One of the best ways to minimize the look of wide hips is to wear a skirt that visually plays down hip size. Here's how to choose and wear a skirt if you have wide hips.
1. Think A-line
Of all the skirt styles available, the a-line skirt is easily one of the most attractive skirt styles for wide hips. When you shop, choose an a-line skirt that gradually widens as it approaches the hem line for maximal figure flattery. Although overly detailed skirts usually don't flatter wide hips, an a-line skirt with soft pleats can be pretty and can actually draw attention away from the hip area.
2. Avoid Bias Cut Skirts
One style to avoid is any skirt that's bias cut. Bias cut skirts have a tendency to cling to the widest part of the hips and make hips look fuller and wider. If you have wide hips, choose a skirt style that allows the bulk of the fabric to drape softly over the hip line.
3. Think Dark on the Bottom and Lighter on the Top
When you wear a skirt in a dark color on the bottom, you visually draw the eye away from the hip area. If you accentuate your upper body with a lighter shade or interesting pattern, you can further de-emphasize wide hips. Choose eye catching tops in lighter shades and bolder patterns to play down the appearance of less than perfect hips. Remember bold patterns and lots of detail accentuate areas while dark, solid colors de-emphasize them.
4. Choose Vertical Stripes and Avoid Horizontal
When you wear a skirt to play down your hips, it's best to avoid busy patterns and bold graphics. One exception would be a skirt with a vertical stripe. Vertical stripes give the visual illusion of a longer, slimmer line and can subtract inches off of hip width. As flattering as a skirt with a vertical stripe can be, a horizontal stripe will only accentuate wide hips. Try wearing a black a-line skirt with vertical pinstripes. Accentuate your upper body with a pretty white blouse and a stunning necklace that catches the eye and your wide hips will be much less obvious.
5. Choose Accessories Wisely
Stay away from accessories that accentuate the hips such as low slung belts. Draw the eye upwards with an unusual statement necklace or bold earrings. When you wear a skirt, choose a shoe with a moderate sized heel. Flat shoes will make you appear shorter and heavier while heels that are too tall may draw too much attention to the lower body. Keep your lines clean and smooth by wearing hosiery or tights that match your skirt and shoes.
If you have wide hips, you don't have to avoid skirts. A carefully chosen skirt worn with the right shoes and accessories can look fabulous on less than ideal hips and you can step out in style.