Plus Size Issues & Size Acceptance
Guest post by Glen Johnson
A year ago I asked the readers of my blog a question "is plus size blogging ethically correct or is it just frustrated whining?" Fast forward to almost the end of 2009 in some ways I am still asking that very question trying to figure out if those of us in the plus size blog community are really making a difference or just shouting to hear ourselves talk.
Part of me says absolutely yes we are making a difference because of the relationships I have forged as well as some of the positive events I have witnessed since starting in the blog world so many years ago. Another part of me is not so confident because of the hatred that I see spewed out in the comment section of blogs as well as within the feed streams on Twitter as well as from some of the posts from my fellow bloggers.
I am going to go out on a limb and say yes what we plus bloggers are doing is positive and for the good of the entire curvy community. Even though blogging can bring out the narcissistic nature in a person which to many can be viewed as negative if the goal is to help others by the spreading of positive information then regardless as to what the Meme Roth's and other critics say about large men and women we have a voice and we are not afraid to use it to protect our rights.
There have been many time over the last five years that I have wanted to quit because at time I like I was beating my head against the wall. In times that I am moments away from hitting the delete button I receive emails like the one below to let me know that my/our voice is very important.
Mr. Johnson,

I would love to be considered for "Beauty of the Week." I've been plus-sized most of my life and have finally realized at the age of 37 that "a little extra" can be quite beautiful. Sexy can be any size and your site is so encouraging! Even if mainstream media hasn't fully accepted the phenomena, there's a growing culture of women who are no longer willing to be ignored and men who can recognize true beauty in all it's many shapes and sizes.
Between emails like this and hearing the words of others stating that the plus size community has a voice that is strong and powerful when used correctly I can stand by my earlier statement that we in the plus size blog community are doing a fantastic job of being advocates for the curvy community. Not only are we addressing our personal needs but helping others out whether we know it or not.
I am grateful for the opportunity to share my voice with the readers of this blog as well as those that frequent Full Figure Plus. Without platforms like the one that Sarah has built as well as my own a section of people will continually be discriminated against but without a written account of the fight to end size discrimination forever.
By the way congratulations to Sarah on starting a new chapter in her life! If you know her or are getting to know her wish her good luck on starting on a new journey of bliss!
Glen is the author of Full Figure Plus a blog that is dedicated to writing about plus size fashion and all things relevant to the plus size community.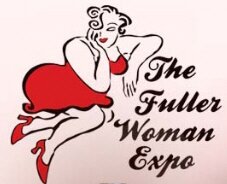 Are you a full figured woman, proud of your curves and assets? Do you live in the Ontario, Canada area? Then I am sure you will want to attend Canada's first ever plus size woman expo, The Fuller Woman Expo. This unique event, the first ever of it's kind in Canada will be held on the 13th and 14th of September, 2008.
The Fuller Woman Expo aims to help fight the stigma that surrounds being a plus size woman. The goals behing the show is to empower, educate and motivate curvy women, in an effort to make them aware of their internal and external beauty.
So what can you expect when visiting the expo? Expect workshops, seminars, fashion shows, talks about food and nutrition, free makeovers and much more.
Why don't you grab a bunch of girlfriends and make a weekend event out of this unique and fun opportunity? Join the curvy revolution, and visit The Fuller Woman Expo if you can. I sure would if I were in the area! The expo will be held at:
The Living Arts Centre
4141 Living Arts Drive
Mississauga, ON
Canada
You can prepay your admission, which is priced at $13.00. Admission at the door is priced at $15.00. For further information visit http://www.thefullerwomanexpo.com.
Related Tags:
full-figured women
fuller figured women
fullfiguerwomen expo in canada
the fuller woman expo
I am a bit ashamed of not having discovered this song earlier, but thank goodness I stumbled on it a few weeks ago online whilst browsing around YouTube.com. Since then this song has been playing in my car constantly.
Let me introduce to you Mika, a singer who was born in Beirut, Lebanon, to a Lebanese mother of Syrian-Lebanese descent and an American father. A lot of you might probably know the song… 'Relax, Take it Eaaaaasy'… well Mika is the man behing that song. And he has recently launched another great single which simply praises big beautiful curvy ladies. The song is aptly name 'Big Girl… You Are Beautiful!'.
Besides loving this song because it is truly about time full figured women get some love in the music scene, the piece is simply up beat and just makes you want to get off your chair, dance and celebrate your curves! Woo hoo! The video is great and the plus size women dancing along look gorgeous and sexy too.
Some snippets from the lyrics of the song, which stand out for me…
You take your girl
And multiply her by four
Now a whole lot of woman
Needs a whole lot more
Right on! And also…
No need to fantasize
Since I was in my braces
A watering hole
With the girls around
And curves in all the right places
Please share this with every curvy lady you know, I am sure it will make her day!