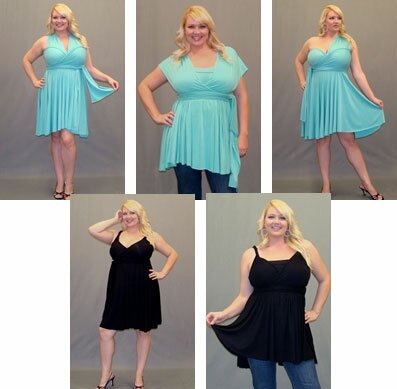 Introducing the Anastasia interchangeable wrap dress from SWAK Designs, a dress made for the plus size figure which you can wear again and again, everytime creating a different and unique dress!
But how is that possible with only one dress? Well the Anastasia wrap dress features two 9 ft long panels of luxury fabric, which you can use to drape around your upper torso in an infinite amount of ways, that way creating different styles of dresses. You can wear this dress as a halter, spaghetti strap, tube, one shoulder, or another other way your desire. Furthermore you can also wear this dress as a top just by moving the waist band up above the bust.
A dress which can fit up to a size 6X (size 34/36), the Anastasia interchangeable wrap dress is a versatile addition to your wardrobe, you don't want to miss out on!
Related Tags:
wrap dress
big size dress
how to dress well
changeable wrap dress
Anastasia Interchangeable Wrap Dress
anastasia dress
plus size dress designs
plus size full panel maternity pants
dresses size plus
how to style a wrap dress pictures
Related posts:
Get a FREE Copy of My Online Plus Size Shopping Manual
Subscribe to the exclusive Loving My Curves newsletter and get a bonus copy of my handy e-book "Online Plus Size Shopping Manual - How To Find Stylish Clothes in YOUR Size Quickly and Easily"! Sign up below...

* I hate spam as much as you do! Your information will never be shared with any third party.