A+ Wardrobe Tips for Curvy College Girls
Guest Post by Carol Montrose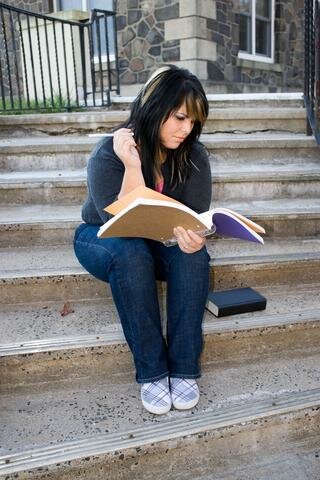 Perhaps you've heard that real women have curves. The truth is that women come in all shapes and sizes, but that doesn't necessarily mean that they receive equal representation when it comes to clothing styles and sizes. The curvy girls out there know that it can be hard to assemble a sensational wardrobe when you're nowhere near a slender size 2 (or even a 10). And when you're getting ready to head to college, you want a closet full of garments that help you look like the serious student and the adult woman that you are. So here are a few tips to help you find the individual pieces that will have you looking your best on campus.
1. Fit Matters
Did you know that wearing baggy, oversized clothes will only hide your curves and make you look bigger? So ditch the boxy t-shirts and sweats that you live in during the lazy days of summer and go for clothing that is both fitted and flattering. Some of the sexiest women around have curves for miles and they're not afraid to show them. Christina Hendricks, Queen Latifah, an Amber Riley (just to name a few) are all proof positive that it is possible to wear fitted outfits that show your curves and make you look fantastic.
2. Jeans
This everyday item may be hard to shop for when you're plus sized (or even just curvy). But with more companies creating "curvy" styles, you may have an easier time of it. Look for versions that have a straight leg or boot cut as well as a mid-rise (rather than a low-rise that could lead to a muffin top, even if you don't have one normally). And always remember that a pair that fits everywhere but the waist can easily be taken in at an alterations shop; for a little extra cost you can have a pair of jeans that's custom fitted.
3. Tops
It's all too easy to reach for a t-shirt when you're late for class, but these shapeless garments will do nothing to help you look like a lady. Instead, seek tops that are still comfortable but offer a little added value. Consider jersey knit as an alternative to regular tees; it's super comfy but drapes better than standard cotton tee material. Look for gathering or a band at the waist to emphasize your narrowest part, with a flare to the hip (no longer or shorter).
4. The LBD
Don't think that you have to squeeze into a smaller size in order to wear the little black dress. Every girl should have one in her closet, and the only requirement is that it makes you feel amazing. Of course, if it makes you look amazing, that's a step in the right direction. So here are a couple of things to look for. The most figure-flattering shape will nip in at your natural waist and then flare out into an A-line skirt, effectively hiding any potential problem areas. You may also want to opt for a V-neck to elongate your neckline, a wide strap for extra support (of the girls) and a hemline that hits at or just above the knee (to accentuate the length of your legs. These are the hallmarks of the perfect LBD. Then class it up with some pumps and a pearl necklace or go casual with flats and a colorful cardigan.
5. Accessories
Don't underestimate the power of a few well-placed accessories to pull a look together. This could include jewelry, hair accessories, bags, shoes, and virtually anything that embellishes your outfit. Just be careful not to go overboard. Follow the old fashion adage; before you leave your dorm room, remove one piece of jewelry.
Carol Montrose writes for tshirtprinting.net where you can design your own custom clothing at affordable prices.