The holiday season is now in full swing, so I wanted to take a moment and have a closer look at the holiday plus size dresses made available to us this year by our favorite curve loving stores.
This top 10 list includes some stunning dresses made for the full figured woman to wear during the Christmas holiday season. Let me not babble too much, but leave you to enjoy the stylish dresses in our list below.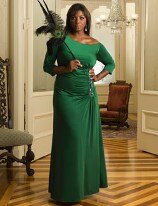 1. Magdalena Asymmetrical Jeweled Gown in Verdant Green by IGIGI
This gorgeous piece from IGIGI is in my opinion this year's all round winner. It's a unique and yet timeless piece which combines a stunning asymmetrical design with ageless, royal jewels. The dress feature an extremely sexy cut, as the asymmetrical design exposes one shoulder. The ruched bodice creates a slimmer waistline, whilst the exclusive hand beaded jeweled inset adds a touch of royal glamor. Perfect for a gala evening during New Year's Eve. Available in sizes 12 to 32.
2. Starlet Halter Dress from Avenue
This beautiful red mesh halter dress is a very sexy and yet elegant choice. It comes with an adjustable tie halter, to ensure a perfect fit. The empire waist with pleated satin cumberbund is perfect for the plus sized figure, as it hugs the tummy. I am so sure wearing this dress would be so much fun! Why? I can just imagine myself wearing it at a party, dancing the night away, with the gorgeous flowing skirt following my every move. It has quite a vintage feel to it as well I think! Anyway, this is definitely one of my favorites. Colorful, and striking. Comes in sizes 14 to 24.
3. Black Chiffon Tiered Tube Dress from Torrid
Create an effortless elegant look with this chiffon dress, which features three ruffled tiers and a gathered satin elastic empire waist. The elastic bust adds comfort, whilst ensuring the chest is well supported. What a gorgeous piece, perfect for a holiday party. Match it up with some classic pearl accessories and black pumps to create a very elegant look. Otherwise you can play this dress up with pairing it up with striking colored pumps, and matching accessories. Think pink or red, or blue! Available in sizes 0 to 4 (10/12 to 26/28).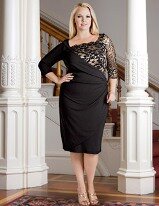 4. Cecille Asymmetrical Lace Dress in Black/Gold from IGIGI
Another one of my favorites this year. If you are a chic curvy fashionista, this one must be your choice. IGIGI always manage to create some exclusive designer dresses, and this lace dress is nothing short of impression. It features an elaborate floral lace, which is accentuated with metallic flakes of gold. This intricately designed dress with an elegant, asymmetrical neckline has definitely been created for the sophisticated woman radiating that extra edge of modern appeal. Available in sizes 12 to 32.
5. Women's Plus Flutter-Sleeve Dresses in Monaco Plum from Old Navy
One of the season's best party dresses is this sumptuously silky dress, featuring fabulously feminine flutter sleeves and a tie-sash that makes it a cinch for glamorous gatherings. The gorgeous Monaco Plum color is a refreshing change from the usual holiday colors we see. This dress is available in sizes 1X to 4X.
6. Flaunt Cocktail Dress from Kiyonna
This curve hugging dress makes a lasting impression from both front and back views! Make an exit that will leave them talking, with the bra-friendly plunging scoop open back designed to show off all of your best assets. Again this dress featured ruching, which is so beneficial for plus size women, as it is a detail which helps create more of a waistline. Available in sizes 0X to 5X (10/12 to 30/32).
7. Tile Accent Dress from Avenue
The shiny tile details are what make this chic knit dress, glamorous. It comed in comfy 3/4 length sleeves and a scoop neckline. The stylish tile accents are placed on the neckline, hem, and sleeves. Available in sizes 14 to 32, I think this is another true winner, a dress which can easily take you from the holiday party to a romantic night out any other time of the wear. So if you're looking for convenience and re-usability, this is it.
8. Teal Twist Bust Banded Bottom Dress from Torrid
This gorgeous striking dress is a Torrid.com online exclusive! So you are sure to be unique, and stand out of the crowd when wearing this silky knit dress. It features a twist detail bust, gathered shoulder straps and a banded hem. The empire waist with back pleat detail is perfect for hiding those imperfect areas, and creating a flattering silhouette. I think this dress is perfect for the young plus size ladies, looking for that perfect dress to celebrate New Year's Eve with friends. Available in sizes 0 to 4 (10/12 to 26/28).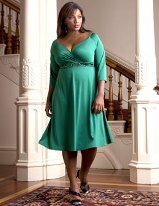 9. Lucia Jeweled Empire-Waist Dress in Verdant Green from IGIGI
IGIGI this year has managed to get 3 beautiful dresses included in our top 10 plus size holiday dresses list. With reason of course! All thee dresses give big beautiful women the change to wear something stylish, and exclusive. If you want to treat yourself to some glitter, then choose the Lucia Jeweled Empire-Waist Dress to celebrate the holidays this year in the season's hottest jeweled look. This dress is completely versatile as it can be worn both on or off-shoulder. The draped bodice and empire waistline create a flattering look, whilst the hand-beaded jeweled belt is also removable, in case you prefer not to wear it. This dress is available in sizes 12 to 32.
10. Tie-Back Chiffon Dress from Jessica London
A stunning flowing crinkled chiffon dress perfect for the holiday season, in this deep red shade. The dress features a crisscross empire waist line which helps create a slimming effect, and also comes with an adjustable tie back for ultimate figure flattery. Perfect for Christmas Eve, or New Year's Eve events. Available in sizes 18W to 24W.
Related Tags:
dresses for plus size women
plus size red dress
igigi dress
red plus size dresses
big sizes dresses
clothes for curvy women
red dress plus size
stunning plus size dresses
red halter dress
plus size dresses for women
Related posts:
Get a FREE Copy of My Online Plus Size Shopping Manual
Subscribe to the exclusive Loving My Curves newsletter and get a bonus copy of my handy e-book "Online Plus Size Shopping Manual - How To Find Stylish Clothes in YOUR Size Quickly and Easily"! Sign up below...

* I hate spam as much as you do! Your information will never be shared with any third party.