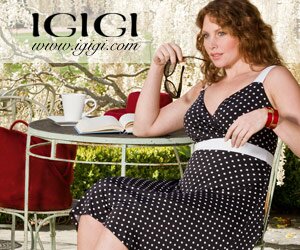 IGIGI has decided to go all-out with this year's summer plus size dress collection. With all the latest trends in the most flattering styles for full figures, this is a collection you have to take a look at. Check out their ultra trendy (and very curve-flattering) high waisted skirt, and their fun and flirty 50's style polka dot dress – one perfect for a cocktail evening, the other fun and fresh for Fourth of July celebrations.
Going to a special party on a warm summer night? You'll fall in love with the light as air Enchanted Nights Jeweled Gown. With chiffon the color of a late dust sky and a jeweled bodice and matching shrug, you'll look like the queen of the evening.
Every single one of these dresses is a flattering fashion statement. The only hard part is figuring out what statement you want to make.