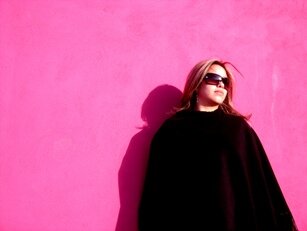 Fashion for plus sized women has come a long way since the dark ages. More companies are meeting the demand for sizes over 12, but are you stifling your own fashion sense by donning black material day after day because you want it to slim you down?
Instead of being grateful for the sudden expansion of plus sized clothing choices, you might be limiting yourself to black because you know it hides the bumps and curves more than other colors do.
Even thinner women often get stuck in black color schemes because they, too, want to look as slender as possible, but all black all the time can be boring! Yes, black does have the slimming effect, but there are other ways you can find the same effect in more colorful clothing options.
Plus sized manufacturers are designing clothes that fit better to accentuate the areas you feel are your best qualities, whether it your legs, décolletage, or your arms. The fit of the clothes, not the color, can help you remain fashionable without having to hide behind fabrics.
Print fabrics can hide problem areas, such as the stomach. And you can find well-fitting clothes for plus sizes in all types of clothing lines, including casual and evening wear, sporting clothes, and even swimsuits!
Check out the different online plus sized stores or catalogs and you'll find a very diverse selection of clothes to suit your needs. You can find clothes for teens, pregnant women and businesswomen.
Adding accessories, such as scarves and jewelry can also help brighten an outfit and possibly hide any area you may not feel comfortable about. Does that mean you should throw away all of those black clothes you have ready on standby for when you're feeling uncomfortable about your body?
You certainly don't have to, but you should add other clothes to your closet that come in all sorts of styles and colors. The next time you go to your closet to pick out an outfit, the only problem you'll have is in deciding which one of the beautiful outfits you want to wear to bring out the color of your eyes or showcase your long legs.
Don't get sucked in by the black trend that leaves you feeling despair if someone gives you a bright yellow sweater for Christmas or a salesperson advises you to try on the exotic leopard print skirt they just got in.


Related posts:
Subscribe to Plus Size Clothing Scoop
Never miss another sale and stay up to date with the latest plus size fashion trends!
1. You can subscribe to the RSS feed to have future articles delivered to your feed reader.
2. Or, you can subscribe via email below, to start receiving updates straight in your inbox: