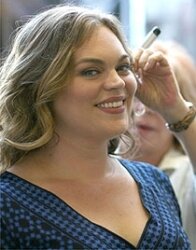 Today I came across a very interesting article on BuddyTV.com which got me thinking. The article itself gives us a closer look into Rebecca Field, the plus size actress who plays the curvy barmaid Janet in the series 'October Road'. More importantly, it gives us a closer look at what issues she holds close to her heart.
Interestingly enough, this article shows some similarities between Rebecca, and the role she plays in 'October Road'. Rebecca in fact has had some real life experience at bar tending, and has also recently took on the responsibility of spokesperson for a non-profit group (Multi-service Eating Disorders Association or MEDA), an issue which is made evident by her role in 'October Road'. Rebecca stresses that:
"In real life beauty comes in all shapes and sizes and the same should be true on television. It's so important to accept and appreciate our bodies and work to keep them healthy. It's not about size or a number on the scale. Slowly, but surely, we can change the way women are viewed, on and off screen."
It is great to see a rising star such as Rebecca keeping true to her principles, deciding to inspire and help other plus size women and men, through her work with MEDA.
Often times we see talented plus size ladies suddenly decide to lose weight and change their appearance once they hit the limelight. Names like Sophie Dahl and Star Jones come to mind when I think about this issue. Although I definitely advocate self acceptance whether you are curvy or thin, it is disappointing to see women who previously seemed to be comfortable in their curves, no longer embracing them. I feel sorry when I see people like Sophie who rise up to stardom with a full figure, and also become an icon and role to plus size women (not to mention teenagers), only to suddenly 'succumb' to it all and lose weight. What a disappointment to all those plus size women who looked up on them; they would now probably be thinking, but why did they feel they had to lose the weight? Anyway, although I guess no one owes anyone anything really, this is something which truly makes me wonder and think.
Ok rant over… going back to Rebecca, it is very refreshing to see a talented plus size actress like her holds a great spot in 'October Road' and advocate self love and self acceptance. Way to go Rebecca.