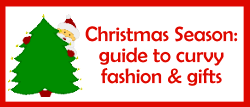 With Christmas soon on the way I couldn't help but already start shopping around to see what holiday styles have already been made available at my favorite plus size clothing stores. I have been shopping around particularly for a formal dress, one to use during the Christmas season, to wear at parties and gatherings. Many beautiful styles and outfits are available already, so I decided to draw up a list of the top 5 plus size dresses which I think are perfect for plus size women during the Christmas holiday season. I am calling this my 'preview list' because I am sure within the coming months plus size clothing stores will bring out and reveal new dresses and styles made especially for the upcoming holiday season.
So take a look at the preview list of top plus size dresses which I recommend full figured women take a look at. This top 5 list will be updated (and also expanded) next month, including newer styles and options.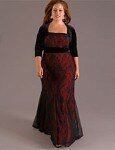 1. Fiorella Lace Gown with Shrug in Red from IGIGI
A true winner from IGIGI., this is my top choice! A beautiful gown, which screams out "Wear me for the Christmas holiday season!" The red color is perfect for the season and the lace make is look chic and warm at the same time. This unique gown created especially by IGIGI creates a feeling of mystery and romance, what wonderful elements to bring to your romantic Christmas Eve dinner. Beautiful stretch lace has an iridescent effect due to a contrasting lining. Details include a skirt that is flared from the knee due to a number of the sheer chiffon godets; empire waist is trimmed with a velvet panel. I love this dress because if also comes with a velvet shrug. I love buying gown that some with simple accessories, as this makes them feel complete, and also save you the added hassle of finding matching shawls and shrugs. IGIGI has taken care of this for us! This dress is currently available in sizes 14 to 32.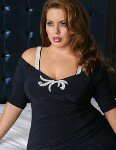 2. Dangerous Beauty Gown in Cobalt from IGIGI
Another beautiful gown from IGIGI; one which I love because of its simplicity and detail which, elicit a sense of sophisticated glamour. A top position contended in out plus size Christmas dresses list, this gown evoked the essence of a seductive Courtesan of the 17th century French Court. Bare shoulders are adorned with the rows of dazzling rhinestone bands in a bra-friendly style, while provocatively plunging neckline showcases hand-made crystal ornament. The rhinestone detail gives this gown that extra special touch and make is stand out from other gowns in its category. Women looking for a special dress for the Christmas holiday season should definitely give this gown from IGIGI a look or two, as it is perfect for both Christmas and New Year's Eve. Sizes currently available are 14 to 32.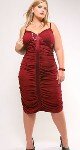 3. "Nikki" Little Red Dress from Monif C
We have included this dress in our top list of recommendations for all those plus size women who want to make an impact and a statement this Christmas. Be sexy! Be daring! Knock them dead in this sexy little number from Monif C. The little red dress comes in the most comfortable rayon jersey fabric, which is ruched to enhance and maximise your womanly curves. Monif C added a dusty purple silk to outline the full figured body and make the most of it. You will look sexy and sophisticated all at once this Christmas if you go for this original and one of a kind outfit. Currently this dress is available in sizes 14 to 24.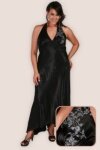 4. Black Sequin And Flower Print Satin Halter Dress from Torrid
I must say I am not a big fan of the color black myself, I love vibrant colors, however I couldn't help but fall in love with this black satin halter dress available from Torrid. It looks beautiful, feels lovely and fits like heaven. Wear this dress this Christmas season to vamp it up with a femme fatal look in this long black satin dress. It has a gorgeous pale flower print, sequins and ruching, giving is sophisticated details. With an elastic back, it is made for curvy comfort. At the moment this dress is available in sizes 14 to 26.
5. Velvet Dress with Brooch from Silhouettes

A classic piece indeed. Beautiful, sultry and feels wonderful to touch. This gorgeous stretch velvet dress from Silhouettes comes with a double v-neck that's shirred in front. In my opinion, the highlight of this dress, besides the beautiful flowing fabric, is the vintage-style brooch which is placed at the lowest point of the v-neck. It adds that touch of class, completing a great dress made to be worn on very special ocassions. Currently, this dress is available in size 12 to 26.
I hope this list gives you a good heads up, as to what is available to plus size women at the moment. Keep a look out at the scoop, as next month the list will be updated and expanded further, to reveal the final list of plus size Christmas holidays dresses recommended!
Related posts:
Subscribe to Plus Size Clothing Scoop
Never miss another sale and stay up to date with the latest plus size fashion trends!
1. You can subscribe to the RSS feed to have future articles delivered to your feed reader.
2. Or, you can subscribe via email below, to start receiving updates straight in your inbox: