Archive for December, 2010
Now until the New Year your can Torrid save 50% OFF all clearance items at Torrid!
No coupon codes required for savings to be made. Simply shop through their clearance section, all items have already been marked down with the extra 50% OFF discount. Hurry though as quantities and sizes are limited, and the sale ends on 1st January, 2010.
That's not all though! Don't forget that until 15th January, 2010 you can save a further 10% OFF your order by using coupon code 12AF10OFF during checkout.
Today I'd like to introduce you to a new plus size designer I stumbled upon on Etsy.com: meet Cassaundra Bourne, owner and designer of Cassaundra's Clothing Boutique. Cassaundra took some time out of her busy schedule to answer a few questions for Pasazz.net, read below to find out more about CC Boutique and how Cassaundra customizes her styles to suit every client's individual needs:
Pasazz.net: Could you tell us a bit more about your collection, the CCB Collection?
Cassaundra: CCB Collection features dresses that have classic lines: sheath, A-line and wrap style made from matte jersey. I chose matte jersey for this collection because it's gorgeous fabric and has a comfortable stretch; it wears beautifully without clinging. What makes my collection unique is that each style has customizable variations (hem and sleeve length and neckline shape). The dresses are made to order and allow each woman to choose details that meet her own personal style. My complete collection is available at http://www.etsy.com/shop/cassaundrasboutique
Pasazz.net: Can you tell us a bit more about yourself?
Cassaundra: I started sewing when I was about 9 years old. Stitch by stitch, I sewed my first shirt by hand and learned how to use a sewing machine a few years later. In my teens I started making clothes for my friends and at age 21, on a dare from a friend, I went on an interview with a top fashion designer in Boston. Much to my surprise, I was hired as his apprentice. The opportunity to hone my craft under the tutelage of such an accomplished designer was both a blessing and an advantage. 5 years later I branched out on my own and opened an Haute Couture Boutique, designing for many of Boston's "Who's Who". In 2006 I closed my business and moved to the south with my husband and two children. After an almost five year leave from the fashion business, I discovered that nothing (work related) was as satisfying as what I now understand is my true passion.
I was ready to design a line of clothing that represented where I was in my life. Celebrating my 40th birthday and memorializing the one year anniversary of losing my father gave me a new perspective on life. I spent my entire career in fashion designing for other people. This collection represents the woman that I am and what I like to wear. I am a plus size woman with a bend towards classic lines; this collection is a peak into my closet. I developed my line and began selling it on ebay. The overwhelming response to my collection has inspired me to develop a CCB store which I have hopes to launch fall of 2011.
Pasazz.net: When did you start designing fashions, and what was your inspiration?
Cassaundra: I started designing for other people as early as my teens. The majority of my career in fashion was spent designing for my clients; my inspiration came from their needs. As I listened to my clients describe what they wanted, design idea's would begin to form. I would have to find the just right fabric first before I could complete the design. My inspiration almost entirely starts with fabric and the design ultimately comes from that point.
Pasazz.net: What was the main inspiration behind the CCB Collection?
Cassaundra: The main inspiration behind my CCB Collection is my love of simple clean lines and great fabric. Beautiful fabric is my muse and that is always where my process starts. This collection is based on the use of matte jersey; I sing its praises because it's so forgiving. One of my biggest (fashion) pet peeves is seeing plus size women wearing clothes that are too big. I think that the most important thing a plus size woman can do (fashion related) is wear clothes that are the correct size. A plus size woman does not need to hide her curves under layers of fabric but present herself with style.
Pasazz.net: Why did you feel you have to expand your collection to include plus sizes?
Cassaundra: I didn't give a second thought to expanding my line to include plus sizes. Most of my line was designed with plus sizes in mind.
Pasazz.net: Do you ship only to the US?
Cassaundra: I offer free shipping to USA & Canada and I ship worldwide for a minimal additional charge.
Pasazz.net: What can we expect in the future from Cassaundra's Clothing Boutique?
Cassaundra: My vision for Cassaundra's Clothing Boutique is to open my own internet store in the fall of 2011. My hope is to expand the customization options to allow woman more control in the design process so they can wear clothes that represent their own style.
Thank you so much Cassaundra for taking the time to answer these questions for us! We wish you all the very best for the future and we cannot wait to see more of your designs and collections in 2011 and beyond.
by Susan M Keenan
Sweater tunics are all the rage this year. What should you know before buying yours?
Fortunately for those women who love to wear sweaters while also having a certain affinity for tunics, sweater tunics have edged onto the winter fashion scene in full style. A few tips can be used to select the right type of sweater tunic to create a sexy and appealing look depending on the woman's age and body shape. This style of tunic can be worn to enhance a woman's best features while minimizing her any features she would like to play down.
Textures
Textured sweaters help to conceal a woman's flaws from wrinkles to a bit too much flab and more. The texture of the sweater acts as camouflage making a woman appear to be thinner than she is. Textured sweater tunics make unsightly bulges less noticeable by not clinging to the body. In order for a textured sweater to provide this feature, both the texture and the sweater should be on the thick side. Cashmere tunics offer a definitive touch of sophistication. Silky woolen sweaters provide a classic look that add that touch of elegance that many women crave to achieve.
Dresses and Tights
Sweater tunics fit nicely and can be worn as dresses. This style of tunic accentuates the bustline while providing a slimming look to the midsection. The legs are left exposed, which is an excellent strategy for those women who have shapely legs. A pair of trendy tights or leggings in
one of the latest patterns or prints can really heat up the outfit for a hot look. For an elegant look, a pair of knee high boots paired with thick tights can be used. For an impish look, younger women can wear thin tights, leg warmers, and a pair of ankle boots. Mature women in their seventies, eighties, and nineties should avoid wearing tunics as dresses and should instead pair their sweater tunics up with a nice pair of straight-legged slacks.
Colors
Older women should select sweater tunics in subdued colors such as browns, grays, blacks, navies, and purples. Younger women can readily wear any bright color including oranges, reds, yellows, pinks, greens, and blues.
Sweater tunics provide a touch of warmth while also providing a touch of class and sophistication to the women who are wearing them. Women looking to keep up with this year's trends should add several sweater tunics to their wardrobes.
If you have a cocktail party coming up this holiday season, and would like something new, curvy flattering, and stylish to wear, check out Kiyonna's outfit suggestions. From luxe lace dresses to floor grazing long dresses, Kiyonna's options will definitely have you celebrating in style!

Outfit Suggestion 1
The Retro Glam Lace Dress is one of Kiyonna's best selling pieces, and for good reason! This winner piece has been the outfit of choice for celebrities such as Kim Coles, another reason why we had to include it our holiday outfit suggestions for this year. For this lacey frock Kiyonna channeled the 1940s for romantic inspiration of a time past. This dress embodies retro stylish with a swingy skirt and a removable satin sash. This is definitely one dress which you really have to take a close look at, so check it out at Kiyonna right away. Stylish this lovely dress is super simple: pair it up with some sexy high heels, some classis accessories, a black clutch back and you're ready to shine!

Outfit Suggestion 2
The Charlotte Cocktail Dress is a new addition to Kiyonna's collection. Available in black and purple this dress captures the season's essence with a modern flair. It features 3/4 length sleeves, a surplice neckline, and a flirty ruffle hem that adds plenty of girlish charm. Add on high heels, matching bag, and bold earrings.

Outfit Suggestion 3
One of my personal favorites, Kiyonna's Alexandra Gathered Dress. I own this dress in purple (it also comes in black, red and emerald) and I can truly say it's an amazing, very well made, comfortable and flattering dress. The Grecian inspired drapes exude sophisitaction and feminine tailoring. Pull this look off with classic yet simple accessories, heels, subtle makeup and you're done.

Outfit Suggestion 4
Expect to turn head at your cocktail party if you plan on wearing Kiyonna's 3/4 Sleeved Scalloped Boudoir Lace Dress. This old Hollywood inspired dress featured delicate scalloped black lace overlay with a subtle nude lining peeking through. This dress can be summed up into two words: subtle sophistication. Combine with a pair of black heels, minimal accessories, and striking makeup.
Just because you're staying home for the holidays, or you have a family gathering coming up, does not mean you should not look your very best! So whether you're dolled up in dresses, or relaxed in separates, smile pretty and look stylish this year for those family holiday photos. Check out Kiyonna's suggestions below for a stylish family gathering.

Outfit Suggestion 1
Check out Kiyonna's Richelle Ruffle Dress: available in plum, black, teal and red, this is a medium weight knit dress that can easily be one of the most feminine dresses of the season! The fun ruffles make this a scene stealing dress.

Outfit Suggestion 2
The Antoinette Allure Sweater is another lovely option, and perhaps more comfortable for family gatherings. Available in black and blue, this is a classic knitwear piece that has been given a contemporary makeover thanks to the off the shoulder neckline and feminine tie. Pair this up with dark skinny jeans, you favorite shoes, and you're done.

Outfit Suggestion 3
The Regent Ruffle Bellini is a super option to consider, as it is a wardrove basic which can help you create a multitude of different looks. This lightweight knit coverup is available in blue, black, purple and mocachino. Simply combine with a pair of slim fitting pants of jeans, comfy boots and a chain shoulder bag for a perfect and casual look.

Outfit Suggestion 4
Wrap up a perfect look with Kiyonna's gorgeous new Parisian Perfect Wrap. Available in plum, chocolate and charcoal, this wrap top features 3/4 length sleeves and a rounded hem, which create a playful flair to this versatile piece. Again pair up this top with slim fitting pants, flats and your favorite bag, and you're all set for a comfy and yet stylish party at home.
This holiday season sparkle and shine in something special, the brand new sequin tank top from Sealed With A Kiss Designs.
This tank top will turn a dull outfit, into a party winner! If you're looking for something that sparkles for the holidays, but something which you can also easily wear all year round, then you must give this lovely new top a closer look. This tank top has a generous cut with wide sraps and a deep scoop neckline. The inside is lined to be soft on your skin, and it also comes with an extra little flap at the back to provide extra coverage over the rear. (Very handy indeed!)
This top is truly versatile: it is perfect for a holiday party or just a girls night out. You can dress it up with high heels and matching accessories, but you can also dress it down by pairing it up with your favorite pair of jeans (or jeggings), a cardigan and some ballet flats.
This plus size sequin tank is available in Black and White, from size 1X to 3X, for under $50! At the time of writing this top is actually on sale for $39.99. Definitely a bargain to check out!
by Deborah Wallace
Save money on holiday apparel by dressing up everyday outfits with inexpensive accessories. This article gives you ideas on how to add sparkle to their wardrobe without breaking the budget.
As you decorate your house or apartment for the holiday season, start thinking about decorating yourself. You don't have to spend a fortune on heavily embellished sweaters or dresses with holiday sparkles. Instead, use accessories to show your Christmas spirit.
Business Casual
This season, choose a couple pieces of sparkling jewelry to add to your work outfits. A dark colored pair of slacks, white blouse, and neutral blazer will come to life with a red necklace or green wreath holiday pin. Layer some colorful bracelets and a pair of earrings to add a festive element to your day.
Tuck a cardigan into your tote for after-work dinner or drinks with friends. Swap your work jewelry for something you made or even a humorous light-up reindeer pin. Once you leave the office, you can sparkle as much as you want without distracting coworkers or worrying about the wrath of the Scrooge-like boss.
Little Black Dress Glitz
The little black dress can be as versatile as you want it to be. Wear it to work with a red blazer and change into a sparkling shrug for an after-work rendezvous with your favorite guy. Bare legs or skin-tone hose work for day, but after you leave the office, you can slip into a pair of black hose with sparkles and a pair of red platform pumps.
Top off your little black dress with sparkling jewelry and scarves for holiday parties. If you normally wear pearls for a classic look, change it up with layers of bright red, green, gold, or silver necklaces. Weave a couple of colorful, thin scarves together, tie them around your neck, and clasp them with a holiday pin.
Boring Basics and Casual Wear
Take your boring basics to the next level and have fun with layered accessories this holiday season. A pair of khaki slacks and an ecru button-up top can look fabulous with a scarf tied around your waist and layers of chunky necklaces. Slip into a matching or contrasting shrug for even more of the layered look, and you'll be spot-on trend this season.
If you are a blue-jeans kind of girl, you don't have to step too far out of your comfort zone to show off your Christmas spirit. Try looping a thin red scarf through your belt loops and tie an off-center bow on your hip. Add a blazer with a Santa pin to the lapel and step into a pair of sequined ballet flats.
A denim jacket is easy to dress up. Add festive holiday button covers from your favorite craft or sewing store to your jacket and a pair of Christmas tree earrings to let everyone know you're in celebration mode. Toss a glittery scarf casually around your neck for effortless holiday style.
Is your annual Holiday office party coming up, and you're still at your wits end about what to wear? Fret not! Effortlessly pull together an ensemble that is both smart and festive with Kiyonna's suggestions below. Follow these suggestions, or simply get inspired by them, and your savvy sense of style will surely make you the talk of the water cooler!

Outfit Suggestion 1
Pair up the Victoria Cardigan a chic number with subtle black lace trim and 3/4 length sleeves, with a white essential stretch camisole (a basic item you will most definitely find handy to have in your closet). Finish off the look with the chic Royale Pencil Skirt, a curve contouring stretch skirt featuring flattering front seams and a playful over-sized satin bow. Accessorize with some classic pearls, top off your outfit with some subtle heels and you're done.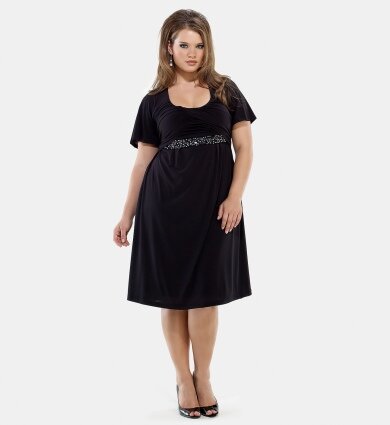 Outfit Suggestion 2
The Ella Ruched dress is a perfect choice if you want something that you can throw on quick, and be ready to go. This timeless dress features feminine gathering detail at the bodice, and the embellished detail below the bust-line gives this classic black piece an opulent finish. Finishing off your look with this dress is simple, pair it up with some stylish heels and you're ready to roll.

Outfit Suggestion 3
If you're a dress kind of gal, have a closer look at another option from Kiyonna: the Tory Cinch Dress a flattering faux wrap dress which simply oozes elegance and chic. The gentle gathering to the one side and cascading ruffle detail create a slimming hourglass figure that is sure to turn head. Simply style with a heavy necklace and matching heels, and you'll be set. This dress is available in purple, navy and black.

Outfit Suggestion 4
Looking for lace, but also for comfort? Than consider Kiyonna's Joelle Lace Sleeve top, a soft knit jersey style which has been given a contemporary feminine remix with lace sleeves and smartly placed tucks. Wear this top with black skinny jeans and a pair of patent platform pumps for a flawless look for your holiday office do!

Outfit Suggestion 5
Create a chic and festive look with the Vivienne Cinch Dress. Featuring simple and yet elegant elements, such as a faux wrap silhouette and 3/4 sleeves, you can find this dress in red, blue and black. Of course for a rocking festive look we suggest opting for the gorgeous red option! With well placed cascading ruffles along this dress, we suggest keeping accessories to a minimum.

Outfit Suggestion 6
If you were thinking of opting for separated for your office holiday party this year, then take a look at the Annabelle Twist top. Available in a variety of tones including plum, black, red and navy this pretty top can easily be worn with a pair of dark blue jean, or black trousers for a winning outfit. Accessorize with some festive jewelry and your favorite pair of heels.
Peggy Lutz Plus have just launched a Holiday Fashion Emergency Quick Remedy Sale, taking from 50% to up to 75% OFF plus size evening dresses and jackets. The new sale prices as marked, so no coupon code required during this sale.
The dresses and jackets collection at Peggy Lutz includes formal, semi-formal, cocktail, as well as mother of the bride styles. But that's not all, you will also find some great basic dresses and extraordinary plus size jackets. You're safe shopping at Peggy Lutz as their terms are as follows: basically, love it or return it, unworn, within 2 weeks unless it was customized for you.
This sale ends 11:59 PM, Sunday, 5th December, 2010.