Is your annual Holiday office party coming up, and you're still at your wits end about what to wear? Fret not! Effortlessly pull together an ensemble that is both smart and festive with Kiyonna's suggestions below. Follow these suggestions, or simply get inspired by them, and your savvy sense of style will surely make you the talk of the water cooler!

Outfit Suggestion 1
Pair up the Victoria Cardigan a chic number with subtle black lace trim and 3/4 length sleeves, with a white essential stretch camisole (a basic item you will most definitely find handy to have in your closet). Finish off the look with the chic Royale Pencil Skirt, a curve contouring stretch skirt featuring flattering front seams and a playful over-sized satin bow. Accessorize with some classic pearls, top off your outfit with some subtle heels and you're done.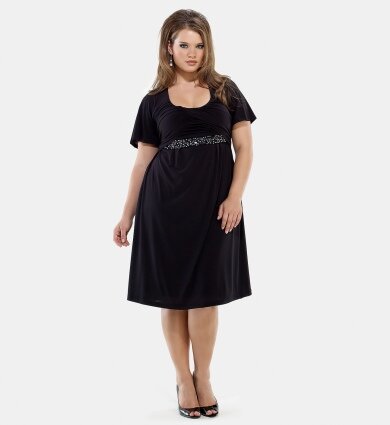 Outfit Suggestion 2
The Ella Ruched dress is a perfect choice if you want something that you can throw on quick, and be ready to go. This timeless dress features feminine gathering detail at the bodice, and the embellished detail below the bust-line gives this classic black piece an opulent finish. Finishing off your look with this dress is simple, pair it up with some stylish heels and you're ready to roll.

Outfit Suggestion 3
If you're a dress kind of gal, have a closer look at another option from Kiyonna: the Tory Cinch Dress a flattering faux wrap dress which simply oozes elegance and chic. The gentle gathering to the one side and cascading ruffle detail create a slimming hourglass figure that is sure to turn head. Simply style with a heavy necklace and matching heels, and you'll be set. This dress is available in purple, navy and black.

Outfit Suggestion 4
Looking for lace, but also for comfort? Than consider Kiyonna's Joelle Lace Sleeve top, a soft knit jersey style which has been given a contemporary feminine remix with lace sleeves and smartly placed tucks. Wear this top with black skinny jeans and a pair of patent platform pumps for a flawless look for your holiday office do!

Outfit Suggestion 5
Create a chic and festive look with the Vivienne Cinch Dress. Featuring simple and yet elegant elements, such as a faux wrap silhouette and 3/4 sleeves, you can find this dress in red, blue and black. Of course for a rocking festive look we suggest opting for the gorgeous red option! With well placed cascading ruffles along this dress, we suggest keeping accessories to a minimum.

Outfit Suggestion 6
If you were thinking of opting for separated for your office holiday party this year, then take a look at the Annabelle Twist top. Available in a variety of tones including plum, black, red and navy this pretty top can easily be worn with a pair of dark blue jean, or black trousers for a winning outfit. Accessorize with some festive jewelry and your favorite pair of heels.
Related posts:
Subscribe to Plus Size Clothing Scoop
Never miss another sale and stay up to date with the latest plus size fashion trends!
1. You can subscribe to the RSS feed to have future articles delivered to your feed reader.
2. Or, you can subscribe via email below, to start receiving updates straight in your inbox: