Archive for October, 2010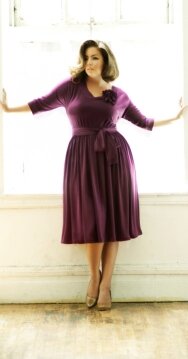 You might recall last Sunday I wrote about one of Eliza Parker's newest dresses, the glamorous Monaco Dress. Now this week, Eliza Parker are back with a gorgeous new dress to tempt us even further: the Savannah Dress.
Available in plum and teal, this dress is ideal for both work and play. Pair it up with sleek accessories for work, and dress it up with glittery jewelry for a night out partying. This dress features a full skirt, handy hidden pockets, a fun flower pin, top stitch scoop neck and a sash.
Special Introductory Offer
To celebrate the launch of this new dress Eliza Parker are running a limited time special offers on it. Buy the Savannah dress and get $30 off the price by using coupon code CHARM30 at checkout. Or, if you buy the Savannah dress in both colors, plum and teal, you can save $100 off your order by using coupon code CHARM100. This offer runs through Monday, 25th October, 2010.
If you've read my blog for a while, you have probably read about my ultimate love for colors, and how I usually do not opt to wear black.
However there are many times when black is just is the perfect color to wear! Whether it is for a morning outing with the girls, or an evening do, black somehow always feels chic and elegant.
However chic and elegant does not necessarily have to come at a steep price. Check out these black essentials found at Yours Clothing, which have just been reduced in price!
> The Black Spot Print Drape Top literally drapes around your curvy figure to create a flatteing silhouette. It features a fun bubble hem, scoop neckline and spot print chiffon which is perfect when teamed up with leggings or trousers.
> The Black Necklace Detail Asymmetric Top on the other hand can make a stylish staple item in your closet! Team it up with some jeans and booties, and it makes a perfect outfit for an afternoon out shopping.
> The Black Studded Longline Vest is a stylish item perfect for a night out clubbing with friends! Again pair this up with a pair of leggings and some heels for a killer outfit. Your Clothing in fact also suggest pairing this up with the lovely Cream Fur Jacket to add a touch of extra pasazz to your outfit.
> This Black Asymmetric Ring Detail Top can be the ideal choice for an office look, or a causal outfit. If you work in a slightly casual environment, pair this top up with some trousers and you're set for a hard day's work.
> Finally the Black Tier Sleeve and Hem Chiffon Tunic from Yours Clothing's Limited Collection is a unique item which will help you create a distinctive look. Again pair this tunic up with a pair of black leggings, some heels, and a wide mubkle belt for a stylish and flattering ensemble.
So there you have it, some affordable options to consider from Yours Clothing, when black is just the only color that will do!
For the past week we have been running a curvy giveaway, thanks to the lovely Cortney at SHOP TRANSLATED, and now the time has come to announce the two lucky winners, who will each receive 1 item from SHOP TRANSLATED!
And the winners are…
Elizabeth
Crina
Congratulations ladies! You will receive an email from me very soon, with details on how your prizes will be sent over to you.
I sincerely would like to thank everyone else for participating in the giveaway! Stay tuned for more fun, and stylish giveaways coming your way from Pasazz.net.
The winners were picked randomly online! (Using this tool to be exact.)
This weekend plus size designer Eliza Parker has added a gorgeous new dress to the already superb collection of Eliza Parker plus size dresses. This new dress is called the Monaco Dress, and ladies this is new style all about classic glamour!
The Monaco Dress is the perfect dress for practically any occasion, be it an evening wedding, a holiday party, or just a night our with the girls, or your partner! This dress features a gorgeous full skirt in black and white print, hidden pockets (very practical!), and a sexy scoop neckline. The Mondao Dress is easy to accessories, and definitely perfect for dancing the night away.
It is available in sizes 10/12 to 26/28. Have a closer look at the Monaco Dress right here!
Looking for a new plus size bra? Check out the vast selection of bars available at Addition Elle which from today until 21st October are available at only $29.99 each, from a regular $49.99 each.
Plus, during this same period, fashion panties will be available at a discount, for only $14.99 from a regular $19.99.
It's also good to not that all throughout the month of October Addition Elle will be donating $5 from the sale of every 2 bras, to the Canadian Breast Cancer Foundation.
This week only, you can save 40% on the INES Collection Chevron-Knitted Crochet Dress, at SHOP TRANSLATED.
It is regularly priced at $79, though with this excellent discount you can grab it at only $47! You will need to use coupon code WEEKLYDEAL at checkout for the savings to be applied.
This is a super flattering dress, as it gently hugs your curves. The simplicity of its design is comfortable as well as versatile. Pair it up with high boots and a simple leather bag! A basic necessity for the Fall season.
Remember this offer runs this week only, so check it out today!
Here's a groovy sale of gorgeous clothes for Fall from Peggy Lutz, who specialize in elegant plus size special occasion ensembles in sizes 12 to 36. Click here to view the selection of fresh and exciting items, all at discounted prices!
Many items within their sale section are limited editions, so snag it now or risk losing it forever (gasp!). This sale lasts through Monday, 18th October, 2010.
Your order will ship right away! Keep if you love; or return, unworn, within ten working days if you don't
It has been a while since I last published an installment of Curvy Conversations. The last interview in fact was with the lovely Kim Camarella-Khanbeigi from Kiyonna, back in August. A new conversations is way overdue!
So here I am today bringing you a Curvy Conversation with the bubbly and fun Sarah Sapora from Sealed With A Kiss Designs. During this interview Sarah talks a little about the background of Sealed With A Kiss Designs, and how this online store came to be. She then goes on to talk about the main mission of Sealed With A Kiss Designs which, besides of course providing stylish clothing at affordable price points, is also to empower women with styles that make them appreciate their curves and help them shine in their true selves. Sarah also talks a bit to us about what's coming up from Sealed With A Kiss Designs in terms of new styles.
This is definitely one Curvy Conversation you do not want to miss out on! So listen in by watching the video below.
Ladies, if you have been looking for a bargain, there is no place to look other than the sale currently running at Sealed With A Kiss Designs. They are having their biggest sale ever, The Pink Hanger Sale!
Summer may be over, but Sealed With A Kiss Design's sale will keep your closet hot with style. You can shop by price point, with the lowest starting at just $10!
Here's an idea of the kind of savings you can make:
Sienna Dress in Red – Was $99.00 – Now $60.00
Alina Dress – Was $78.00 – Now $50.00
Anastasia Interchangeable Plus Size Wrap Dress – Was $78.00 – Now $59.00
Senorita Dress – Was $60.00 – Now $30.00
Gray Soho Plus Size Straight Leg Pants – Was $58.00 – Now $30.00
Blues Clues Plus Size Skinny Jeans – Was $54.00 – Now $25.00
The sale is running now until 18th October, 2010. Though do not linger, as many items are going fast! Shop the Pink Hanger Sale today.
Kiyonna's gorgeous Retro Glam Lace Dress is now available in a new shade! The 'original' Retro Glam Lace Dress comes in black lace with black lining, though Kiyonna have now just added a new version, which comes in black lace and purple lining. Very chic!
So if you've had your eye on this old Hollywood inspired dress, but you're not really an 'all black' kind of gal, you'll be glad to know this dress is now available in a new variation. This lovely dress embodies retro styling with a swingy skirt and removable satin sash. Blending classic and contemporary times, this stretch scalloped lace gently skims over your curves for a delightfully comfortable fit. A surplice neckline and just-the-right-length sleeves gives it just the easy flattering touches it needs. Inspired by the past but made for the modern woman.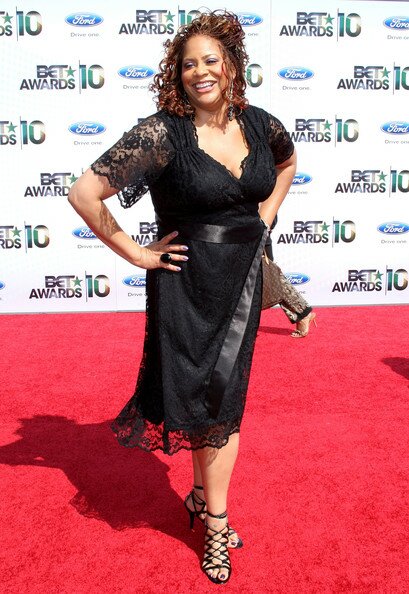 This Retro Glam Dress was the outfit the gorgeous Kim Coles chose to wear this year at the BET Awards, which you can see her wearing above! (You can also see this dress in action in the video below!)
The purple version of the Retro Glam Dress will start shipping on 21st October, 2010, though you can go ahead and reserve it right now! It is available in sizes 0X (10/12) to 5X (30/32). (It's also good to not that the purple shade dress does not come with a brooch.
Go on, check out the Retro Glam Dress in purple!