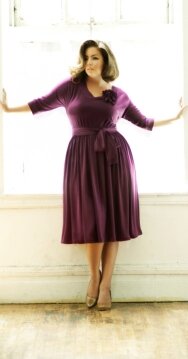 You might recall last Sunday I wrote about one of Eliza Parker's newest dresses, the glamorous Monaco Dress. Now this week, Eliza Parker are back with a gorgeous new dress to tempt us even further: the Savannah Dress.
Available in plum and teal, this dress is ideal for both work and play. Pair it up with sleek accessories for work, and dress it up with glittery jewelry for a night out partying. This dress features a full skirt, handy hidden pockets, a fun flower pin, top stitch scoop neck and a sash.
Special Introductory Offer
To celebrate the launch of this new dress Eliza Parker are running a limited time special offers on it. Buy the Savannah dress and get $30 off the price by using coupon code CHARM30 at checkout. Or, if you buy the Savannah dress in both colors, plum and teal, you can save $100 off your order by using coupon code CHARM100. This offer runs through Monday, 25th October, 2010.
Related posts:
Subscribe to Plus Size Clothing Scoop
Never miss another sale and stay up to date with the latest plus size fashion trends!
1. You can subscribe to the RSS feed to have future articles delivered to your feed reader.
2. Or, you can subscribe via email below, to start receiving updates straight in your inbox: