The following is a guest post by Sara Johnson.
With the holidays rapidly approaching, many are searching for the perfect attire for seasonal parties. Making sure one is function appropriate often proves more difficult than finding a fabulous ensemble. The following definitions cover most of the party attire requirements seen during the holidays and guarantee you'll look fab and function appropriate in whatever you chose.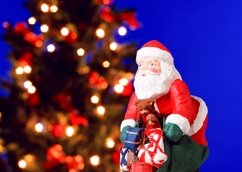 Cocktail attire is a consistent party theme throughout the holidays. It's name is derived quite aptly from the concept of people gathering prior to a formal dinner or event for cocktails. Appropriate attire consists of dresses, ranging from mid-thigh to one inch below the knee. Tailored pants suits are also appropriate, however consider avoiding a business standby, instead add accents in a vibrant color, chose a fitted cut or incorporate a suit created from a unique textile. Silk, Chatung, Brocade, Polyester, Cashmere, Rayon, Velour, Velvet and Velveteen are all appropriate cocktail fabrics and embellishments with beading and sequins are also appropriate.
Every so often, you will find yourself being asked to wear semi formal attire to such events as weddings and award ceremonies. This form of attire gets the most attention, but often because of its universal use. Many associate other forms of dress such as cocktail attire, with semi-formal. However, Semi-formal attire is much more formal than cocktail attire. Pants suits may be worn if refined in construction and dresses ranging from an inch above the knee to two inches above the ankle are appropriate. Taffeta, Chiffon, Silk, Satin, Sateen, Gossamer, Brocade, Rayon, Velour, Velvet, Velveteen are all appropriate semi-formal fabric choices.
Occasionally business formal dress requirements are seen, often in work related or political functions. Business formal is the same as semi formal, however women should chose more tailored dresses or pants suits. Slinky, sexy or revealing attire is generally best suited for a NON-business formal affair.
Black tie, or formal attire requires cocktail, long dresses or dressy evening separates. Pants suits or dress suits are rarely appropriate for formal wear. Dresses rage from knee length to ankle and may vary from a straight sheath to a full skirt and fitted bodice. Sequin and beaded embellishment is appropriate and the fabrics Taffeta, Chiffon, Silk, Satin, Sateen, Gossamer, Brocade, Rayon, Velour, Velvet, Velveteen are all considered the textile norm. Colors vary seasonally, with black remaining a consistent standby favorite.
Following the above guide to the holiday season party circuit is sure to assist you in looking fabulous, and function appropriate. If, or when in doubt, the stylist services at Velvet Siren are happy to provide attire suggestions. Happy Holidays and enjoy!
Who is Sara Johnson?
Sara is the co-owner and product buyer at http://www.velvetsiren.com – A posh plus size clothing boutique for curvy girls. She currently works as a fashion consultant and personal shopper for curvy women worldwide. Come see what everyone is talking about!