Archive for January, 2011
Yours Clothing have been running a great sale over the past week but it has now gotten even better as they have knocked a further 20% OFF all sale items! Though this added discount will last only until the end of today ladies, so do head on over to Yours Clothing right away to check out the bargains.
With coats from £8, dresses from £8, jeans from £8, nightwear from £4, tops from 80p and lingerie from just £2.40, this is definitely a clearance sale you should not miss out on!
I've just run across an super curvy sale on Modnique.com, which is an exclusive private brand name sample sale website. They sell designer apparel, clothes, jewelry and other items at incredibly reduced prices.
Currently they have an IGIGI sample sale running, where you can grab some gorgeous IGIGI pieces at incredibly reduced prices. The sale ends on Thursday 27th January ladies, so hurry visit Modnique today to grab some beautiful IGIGI items at super low prices.
by Susan M Keenan
Tunics add a great deal of versatility to any wardrobe, especially since they can be worn with skirts or slacks. Like most clothing that has been designed with women in mind, tunics are available in just about every imaginable color, fabric, or style.
Tunics have been part of the fashion world for women for at least half a century and with good reason. Offering more versatility than most garments and a great deal of pizzazz, tunics can be worn by females of any age, any body shape, and any background. The tunic is here to stay, simply because it is adorable and versatile. Tossing a tunic on can add a great deal of pizzazz to any outfit.
The tunic is a chic piece of fashion that comes in every color, pattern, fabric, style, and size imaginable. How a woman wears it is up to her. Tunics can be worn over slacks, mini skirts, long skirts, or capris. They can even be worn as a dress, provided the females wearing them have the legs or body shape to pull it off. In general, a tunic that is being worn as a dress looks better on a slim figure.
How Should Tunics Be Worn?
Even though tunics can be worn with almost any piece of clothing from the waist down, it is important to piece the outfit together carefully. As anyone looks from the top of the tunic down to the waist and finally to the feet, the transition should be seamless and pleasant without any sharp surprises. Since tunics are often slightly bulky in appearance, flowing loosely around the trunk of the body, anything worn from the waist down should hug the legs and hips for a cleaner look.
Selecting the proper size and fit is another important consideration when adding tunics into your wardrobe. This is especially true when selecting tunics with a slimming style. If the tunic is too small, extra bulges will appear out of no where. On the other hand, if you select a tunic that is too large, you will add pounds to your figure that don't actually exist.
What Do Tunics Silently Portray?
While tunics shouldn't be worn to define a woman, they can certainly be worn to express a bit of her personality. In fact, the wearing of a tunic can show how she is feeling at the moment. For example, a woman who is feeling coy can put on a tunic with a plunging neckline to draw attention to some of her feminine features.
A woman who wishes to appear seductive can don a cute boat-neck tunic that hangs over her shoulders revealing bare skin in a seductive portrayal that is suggestive yet attractive. For a bit of a flirtatious stance, flirty ruffles or cute ties can add the perfect touch to any outfit.
Tunics can also be worn as part of stylish outfits that are simply attractive without offering any message. They can also be worn to enhance one body feature over another in order to change a woman's appearance to one that she feels more comfortable with.
by Gail Gill
All you need is a black dress and the right accessories to look fabulous no matter where you go. A black dress is so versatile. Choose your dress carefully. Your dress should be plain black with no adornment or lace. Avoid clingy material and buy a dress made from a material that is suitable to team with cardigans, shawls, scarfs, and jackets. Once you have chosen the perfect dress, you are ready to choose the right accessories to transform the look of your dress to suit every occasion.
Dress for a Casual Summer Outing
In warm weather, team your black dress with flat shoes or low-heeled sandals. If your skin-tone is pale, invest in a spray on tan to complement your summer look. Show off beautifully cared for feet with pretty nail polish.
Carry a large casual style bag. Match the color of your bag to the color of your sandals or choose a straw bag and a matching straw wide brim hat. Wear your hair in a casual style such as a ponytail. Do not forget to wear sunglasses. Sunglasses provide a wonderful summer look and give you extra protection against the sun's ultra violet rays.
Complete your look by wearing either a large and brightly patterned watch, or one or two wide bangles. Choose bangles to match the color of your footwear, or choose gold or silver bangles to match your jewellery.
Dress for a Casual Winter Outing
In cold weather, team your black dress with a pair of high boots. Your skirt hem should just touch the top of your boots.
Choose a knitted black cardigan to wear with your winter dress. Add a splash of color by wearing a patterned scarf. A faux animal-skin bag and matching scarf look wonderful in the winter. Alternatively, carry a large leather bag and tie a scarf around the handle to add color to your outfit.
Dress for a Day at the Office
Wear medium-heeled or low-heeled pumps with your black dress. For variety, wear shoes that match the color of your hair or handbag instead of wearing black shoes. Wear a pair of sheer or natural colored stockings to the office.
On cooler days, a tailored black jacket will transform your black dress into a smart business suit. Wear a silk scarf to soften your conservative look and add a touch of color.
Choose simple jewellery to wear at the office. Studs or small drop earrings will complement your black dress. Choose either gold or silver jewellery and do not mix and match the two colors. Gemstone or pearl earrings are suitable for the office as well as for occasions that are more formal. Wear a watch with an easy to read face and a leather or metal band.
Dress for a Special Event
Your choice of shoes will set the scene for a transformation from office to party mode. If you like to wear high heels now is the perfect time. For special occasions, open-toed shoes are suitable in summer and in winter. Black shoes always look smart and attractive. For a slightly different look try pewter, silver or gold toned shoes.
Carry a metallic or black clutch bag to create a feminine look. Be sure that the clasp of your clutch bag matches the color of your jewellery. For example, wear silver jewellery if your bag clasp is silver. You can wear a delicate or diamond studded watchband for special occasions.
In the summer, wear large and shiny earrings or a large intricate patterned pendant or necklace. A fringed shawl or an iridescent scarf completes a winter outfit.
Accessories will easily alter the appearance of your black dress. Once you have purchased your accessories you will always have a fabulous outfit suitable for every occasion. In summer and in winter, wherever you go, you will look stunning.
by Guest Writer
Some women take fashion more seriously than others. There are those who really do not care what they look like. Others will not leave the house unless they are positively sure that they look great and are wearing the latest trends. If fashion is important to you, then you may already be thinking about what you will wear during the winter of 2010/2011. So what fashions for women will be hot when the temperature cools down this year? Suits, pencil skirts, pin stripes, oversized blazers, alluring black dresses, skinny pants, crewneck sweaters, faux fur, long skirts, knee-length socks and grungy layers featured in many of the popular designer collections winter of 2010/2011. There were also many military style coats for both men and women. Some of these military style coats have gorgeous buttons and are reminiscent of the Russian Tsar period of history. However if you want to be really hip when the weather starts to cool off, you should seriously consider investing in a padded aviator jacket.
Aviator jackets are usually made of leather or suede. The aviator jacket is an enjoyable item to wear because the texture of the material is yielding yet rough. Aviator jackets have a faux fur lining and a striking, oversized collar. Popular colors for the coming fall and winter season are nudes, warm browns and beiges. Alternatively you may wish to purchase a black or dark blue aviator jacket. The best aviator jackets for the winter of 2010/2011 are from the Burberry Prorsum collection. However a Burberry Prorsum aviator jacket will set you back several hundred dollars. If you cannot afford to pay for Burberry Prorsum, there are some attractive but less expensive alternatives available in bricks and mortar stores and online.
The aviator jacket is quite a masculine garment, so for women it should ideally be worn with something feminine. It is a good idea to wear your aviator jacket with a womanly dress (as in the picture above), a sexy skirt, long boots or a pair of leggings. Whatever you decide to wear with your aviator jacket, you will feel warm and look stylish. The aviator jacket is definitely the must-have item of clothing for winter of 2010/2011. If you like to look chic and cutting-edge, be sure to purchase yours in time for the cool weather months this year.
Sealed With A Kiss Designs are this week running the fabulous Pink Hanger Sale throughout which you can save big on some of their hottest items. With curvy tops as low as $5 and plus size dresses as low as $14, now is the perfect time to grab those favorites you have been eyeing for months!
No coupon codes required to take advantage of these savings ladies, just shop away at Sealed With A Kiss Designs where you will see all discounted items already clearly marked. This sale won't last forever though (it runs through 17th January, 2011), and quantities are limited so do not linger too much.
I have my eye on a few items myself, in particular the Senorita dress which I have been wanting for a long time, the fun Wisteria wrap dress and also the Signature wrap cardigan which I love cause it looks so extremely versatile. I think I might go and grab these just now!
During the Black Friday sales which ran last November, I just could not help myself, I had to add a couple of new dresses to my closet from plus size designer line IGIGI by Yuliya Raquel. I had not bought an IGIGI piece in a long while, so a great sale was the perfect excuse to grab a couple of styles I had my eye on for a while!
Well I am very glad I went ahead with the order, in fact when I received my order and tried on the clothes, I was trying to rember why I had waited so long to purchase an IGIGI piece – they are truly made to fit a woman's curves and it is obvious each piece is carefully crafted. Luckily IGIGI orders always arrive quickly, usually within less than one week (I am located outside the US), so I did not have to wait too long to get my hands on the new pieces.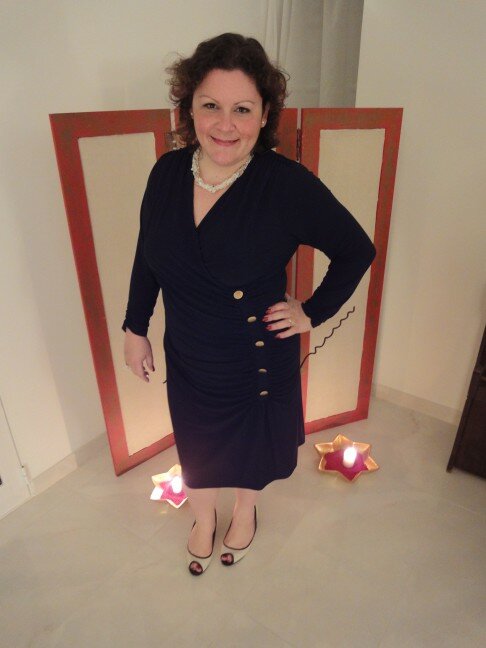 Part of my purchase included the classic Champs Elysees Dress in black, which I had been drooling over ever since it was added to the collection. This dress oozes drama and timeless chic, and to me it stood out from all other styles. The older I grow, the more 'longevity' I look for in my purchases. I admit to quite some impulsive purchases around the year, based on hot trends. Though I am really trying to adding classic pieces to my wardrobe which will last through the years, seasons and trends; pieces which can be easily dressed up or down to fit various occasions; pieces which will still have me looking chic for years to come. The Champs Elysees Dress in black fit that bill.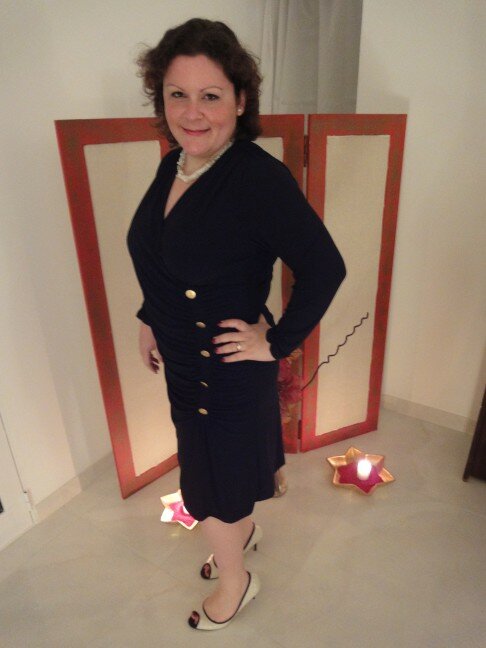 So I could not wait to wear my new favorite dress, and I had the chance to do so on New Year's Eve; that night I paired the Champs Elysees dress up with a beaded cream necklace, pearl stud earrings, cream peep-toe sandals with black piping (online purchase from New Look – these have also become my new favorite pair of shoes lately!) and a cream knee length coat (sorry forgot to take a picture of the coat!). Everything fit perfectly together (…or so I thought! Well my hubby truly approved of the look, so it worked!).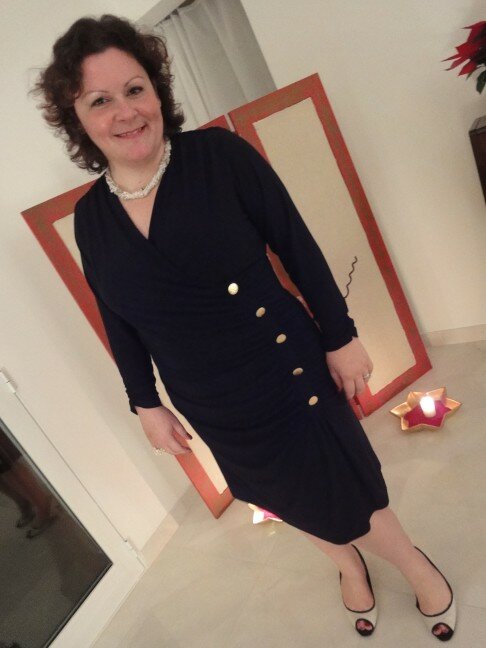 The dress is extremely comfortable and very figure flattering. The wrap style and ruching detail along the front of the dress are very slimming! The dress is slightly cinched at the shoulders and it is also cinched along the middle of the back, again helping to flattering your figure from the back and hide any bumps. Very handy indeed; this feature came to a surprise to me as it is not displayed on the images on IGIGI and it's not mentioned in the item description either, though it's a very lovely touch. The dress includes gold button details on the side, adding a touch of color to an all black piece and glam.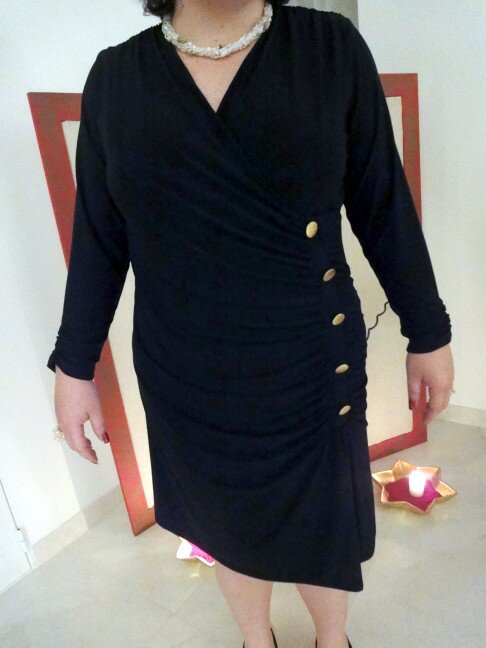 All in all this dress is gorgeous and I am very very happy with my purchase; this has become my new favorite LBD for the winter time. Honestly, I did not expect this dress to look so good on; although I love ruching detail along the waistline and I expected that to be flattering, I was not so sure about the wrap style – it is not a silhouette I wear very often and can say I am comfortable in – though I am now a wrap convert! This dress is a true winner. Thank you Yuliya and IGIGI for creating such a gorgeous and chic dress that fits like a glove.
Kiyonna is back again with another great offer to help us kick off 2011 in style, without breaking the bank.
Starting right now you can shop at Kiyonna and get 20% OFF your order of $150 or more. All you will need to do it use coupon code STYLE20 during checkout.
This sale runs through midnight 5th May, 2011, so you've got ample time to take advantage of these savings.
by Kathy Penney
Fashions come and go over the years. During the teenage years, the speed at which styles change simply adds to the 'buzz' of trend-setting but, in later years, it makes sense to opt for classic clothes that are a little more expensive but will not date, and, with the right maintenance, will last and last.
The chic French do not spend a fortune on clothes, and they do not slavishly follow every new trend that the fashion houses throw up. Instead, they purchase a few key items throughout the year, and ring the changes with their use of accessories. They keep their clothing in good repair so the items they buy last a long time.
It's not long after the designers have finished their fashion week catwalk shows before the cheaper copies of the clothes that have been showcased find their way into the high street. While the designer versions of dresses are extremely expensive, the copies are quite often vastly inferior – fine it you want a dress to last just one season, not so good if you want value for money. It is better to spend more on fewer items, making sure you buy with quality in mind, than to buy lots of cheap versions that will fall apart at the first laundering.
A winter wardrobe needs a lot of thought because it needs to take account of very cold weather as well as the more balmy days that autumn can sometimes bring.
A key item in a winter wardrobe, and one that will not date, is a full-length wool coat. In a neutral colour such as oatmeal, chocolate brown, or pewter grey, it can be dressed up with the addition of a few simple accessories, such as a scarf, a brooch, or a handbag. These needn't match; some great looks are put together using clashing colours. The accessories can be changed each year for very little cost which means that you can change your look without having to go to the expense of purchasing a brand new coat every winter.
If the budget permits, a knee-length coat is very useful, too. This could be a raincoat in the classic beige, which always looks fashionable and, as with the full-length coat, can be enhanced with good accessories.
Footwear is important, too. A good pair of winter boots is essential. Buy a pair that will work equally well with the full-length coat as the knee-length, and this will double their usefulness. A pair of court shoes will be a good investment because they look good with any length of dress or coat.
Once the key items have been purchased, accessories come next and are the ideal way of ringing the changes.
The fashions in hats changes almost with every season but, as they are not as expensive as a new coat, buying – or, indeed, making, if you are handy with the sewing machine, knitting needles, or a crochet hook – one each winter will not break the bank. The same goes for scarves, gloves, brooches, and handbags. All can be purchased cheaply or made at home, and mean that you can vary the changes as often as you choose. A bright hat and scarf will give a neutral-coloured coat a completely different look to that achieved if using pastel colours, and will make it feel like a new outfit.
Buy the best coat, boots, and shoes, that you can afford at the time, and buy them with a view to making them last for many years. Once you have purchased the big-ticket items, the only money you will need to spend to keep yourself 'on trend' will be spent on inexpensive accessories. You will get through the colder winter months looking fashionable but knowing that you have a look that will last.
Over the past few days IGIGI has been running a great end of year sale, where you can take an additional 40% OFF items in their Sale Rack, which means you can save up to an incredible 80%!
You will need to use coupon code WELCOME2011 at checkout for the additional 40% OFF to be applied. This sale ends at 11:59pm PST today 3rd January, 2011 so hurry and grab an IGIGI bargain while you can!