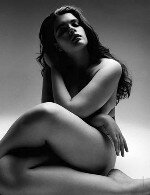 I must say, although Crystal Renn is a familiar face to me, I did not really know who she was, or what she was all about. That was until today: I came across this article at the SundayMirror.co.uk which explains Crystal's journey from being a 7 stone skinny model, to an 11 stone superstar. Crystal now wears a size 16, and has found fame after gaining weight. She has appeared in Vogue and is currently the sensation of fashion house Dolce & Gabbana, as well as designer Jean-Paul Gaultier.
Now this is the kind of news I would like to hear everyday! What enouragement this gives to plus size women, especially teenagers, everywhere. Hopefully stories like Crystal's will become more commonplace and more skinny models will start to gain beautiful curves, as Crystal has.
Read more about Crystal here.
No related posts.
Subscribe to Plus Size Clothing Scoop
Never miss another sale and stay up to date with the latest plus size fashion trends!
1. You can subscribe to the RSS feed to have future articles delivered to your feed reader.
2. Or, you can subscribe via email below, to start receiving updates straight in your inbox: