During the Black Friday sales which ran last November, I just could not help myself, I had to add a couple of new dresses to my closet from plus size designer line IGIGI by Yuliya Raquel. I had not bought an IGIGI piece in a long while, so a great sale was the perfect excuse to grab a couple of styles I had my eye on for a while!
Well I am very glad I went ahead with the order, in fact when I received my order and tried on the clothes, I was trying to rember why I had waited so long to purchase an IGIGI piece – they are truly made to fit a woman's curves and it is obvious each piece is carefully crafted. Luckily IGIGI orders always arrive quickly, usually within less than one week (I am located outside the US), so I did not have to wait too long to get my hands on the new pieces.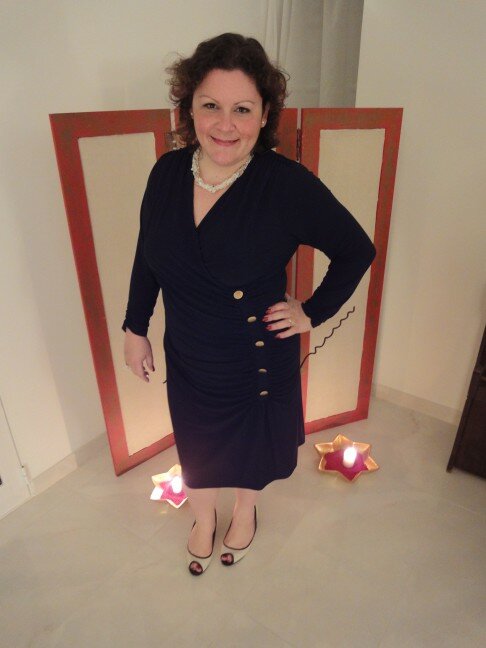 Part of my purchase included the classic Champs Elysees Dress in black, which I had been drooling over ever since it was added to the collection. This dress oozes drama and timeless chic, and to me it stood out from all other styles. The older I grow, the more 'longevity' I look for in my purchases. I admit to quite some impulsive purchases around the year, based on hot trends. Though I am really trying to adding classic pieces to my wardrobe which will last through the years, seasons and trends; pieces which can be easily dressed up or down to fit various occasions; pieces which will still have me looking chic for years to come. The Champs Elysees Dress in black fit that bill.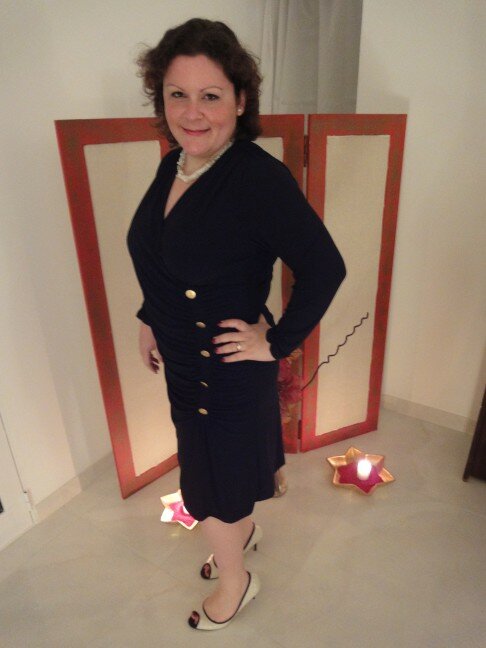 So I could not wait to wear my new favorite dress, and I had the chance to do so on New Year's Eve; that night I paired the Champs Elysees dress up with a beaded cream necklace, pearl stud earrings, cream peep-toe sandals with black piping (online purchase from New Look – these have also become my new favorite pair of shoes lately!) and a cream knee length coat (sorry forgot to take a picture of the coat!). Everything fit perfectly together (…or so I thought! Well my hubby truly approved of the look, so it worked!).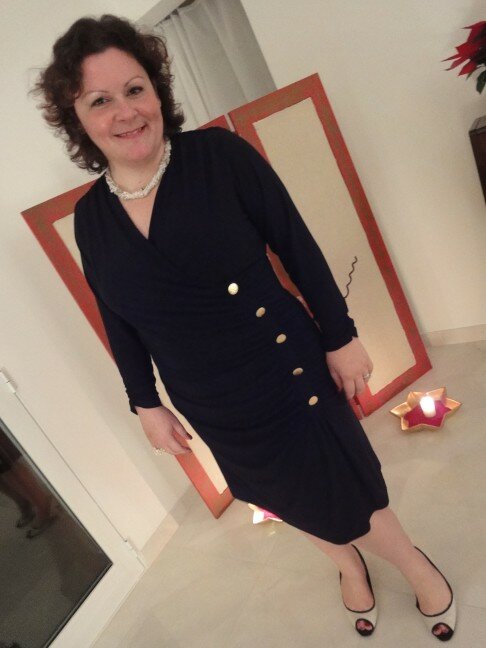 The dress is extremely comfortable and very figure flattering. The wrap style and ruching detail along the front of the dress are very slimming! The dress is slightly cinched at the shoulders and it is also cinched along the middle of the back, again helping to flattering your figure from the back and hide any bumps. Very handy indeed; this feature came to a surprise to me as it is not displayed on the images on IGIGI and it's not mentioned in the item description either, though it's a very lovely touch. The dress includes gold button details on the side, adding a touch of color to an all black piece and glam.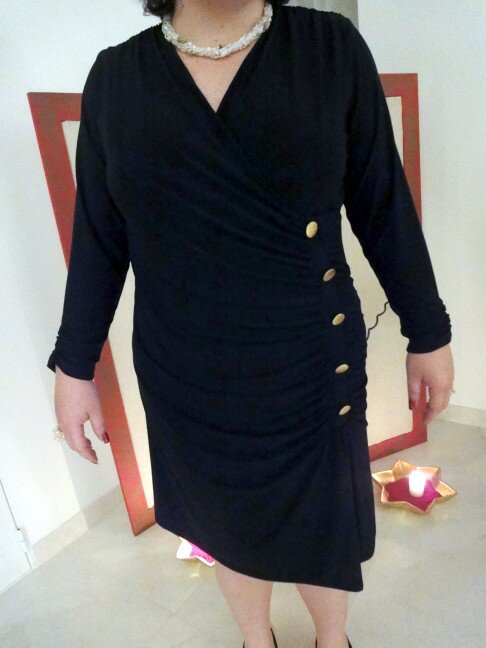 All in all this dress is gorgeous and I am very very happy with my purchase; this has become my new favorite LBD for the winter time. Honestly, I did not expect this dress to look so good on; although I love ruching detail along the waistline and I expected that to be flattering, I was not so sure about the wrap style – it is not a silhouette I wear very often and can say I am comfortable in – though I am now a wrap convert! This dress is a true winner. Thank you Yuliya and IGIGI for creating such a gorgeous and chic dress that fits like a glove.
Related posts:
Subscribe to Plus Size Clothing Scoop
Never miss another sale and stay up to date with the latest plus size fashion trends!
1. You can subscribe to the RSS feed to have future articles delivered to your feed reader.
2. Or, you can subscribe via email below, to start receiving updates straight in your inbox: