Advice for the Perfect Prom Manicure
By
Sarah
on September 4, 2012
by Sunny Adrian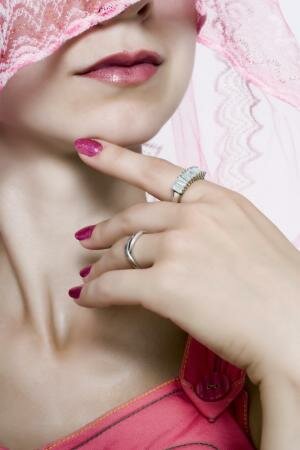 You do not have to pay high salon prices to have a perfect manicure, but you do need to pay attention to what you are doing. These easy tips can help assure your nails look as groovy as the rest of your outfit and do not stick out like a sore thumb.
Do:
File. Filing your nails is a must both before and after the manicure. Unfiled nails can just look sloppy if you paint them. Filing them after the fact finishes off any rough edges and ensures the polish fully reaches the tips. File gently in one direction, using an emery board for best results.
Add a top coat. Top coats work wonders for sheen and protection. Wait until the polish is dry and then add a thin layer of your favorite brand. It also works for sprucing up a manicure after several days as a way to replenish the shine and add another layer of protection.
Warm and soften. Warming and softening applies to the nail polish you are about to use. The softening part also applies to your cuticles. Achieve the former by rapidly rubbing the closed bottle of polish between your palms for at least one minute. Soften your cuticles with a specialized lotion or cuticle oil, but be sure to wipe any residue off your nails before putting on the polish.
Do not:
Let it chip. Fix chips as soon as possible or you can end up with one very tacky look. Touch up the chip with the same color polish and another top coat. You can also remove the polish altogether since no nail polish can look better than chipped off (or chewed off!) polish.
Go gloppy. Thick coats of polish do not dry properly, can look sloppy, and are prone to dents. If your nail polish is gloppy, try warming it in your palms. If it is still too thick to look good, you may want to chuck it and invest in a new bottle.
Cut nails too short. The rule of thumb, so to speak, it to trim nails no shorter than the top edge of the white tip at the end. Cutting them shorter than their white tip can be painful! If you are seeking the perfect manicure, these quick tips can help you nail it! You can even help your friends spruce up their own nails using these tips to give them a hand.
Sunny Adrian is associated with Promgirl.net, an on line retailer of homecoming dresses, prom gowns and eveningwear since 1999. Promgirl.net is located in Philadelphia with a warehouse of over 10,000 square feet supplies dresses and provide fashion advice to high school girls as long as college graduates.