Confidence and Comfort Never Go Out of Style
As true fashion divas, we often find ourselves scouring runway images and fashion magazines and blogs for the next season's trends. Although new fashion forward elements can inspire us and breathe new life into our wardrobes, we should confidently embrace the classic and comfortable staples upon which we build our unique looks.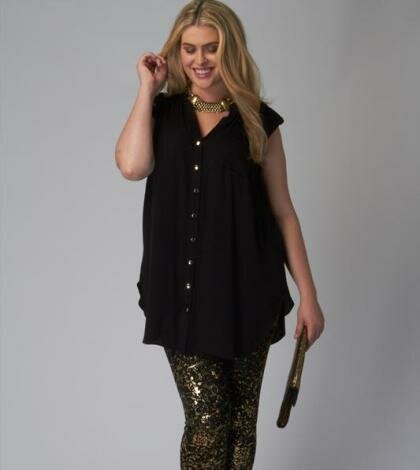 Pieces of clothing become staples when they fit well, accentuate our assets, and provide comfort; my own personal wardrobe staples are a pair of neutral leggings, a 3-button jacket, and a pair of slip on leather shoes.
Layering with Leggings
One of my best features is a pair of thin and toned legs. No matter how much my weight may fluctuate, leggings and footless tights hug my curves, making them an easy wardrobe staple. Bright, textured, and coated leggings and jeggings may be a current fashion trend, but they never leave my closet.
In spring and summer, I can slip on a pair of light weight, pastel or white leggings under a sleeveless silk tunic for a cool, chic casual look. For a night out on the town, paper thin black leggings or footless tights give me a bit of structure and coverage under an animal print or sequined mini skirt.
In fall and winter, leggings and tights provide a layer of cozy warmth. For a hip ensemble, I layer a sweater dress over textured leggings or tights, finished with a trendy belt and necklace and a pair of stylish mid-calf boots. Velvet leggings are luxurious and beautiful, adding a touch of elegance to a holiday ensemble, and the variety of colors, patterns, and fabrics for leggings are virtually endless with this current fashion trend.
Warmth and Structure
A perfect fitting jacket or blazer is a key piece in any woman's wardrobe. Although I do not spend a lot of time at my local tailor's, investing in a tailor-made jacket will ensure durability and excellent fit. Classic lines and attention to your measurements is the key. Since I have been blessed with curves and carry extra weight around my chest and hips, a 3-button jacket provides structure and creates the silhouette I am looking for.
This season my favorite jacket is an upcycled item from my hubby's closet: a deep plum velvet jacket that falls right at my hip. After a bit of attention from my local tailor, this piece has still the straight, androgynous lines that I like, but it now fits my curves. I have rolled the sleeve cuffs to expose the fun white and plum silk lining, and I am warm and confident pairing this jacket with dark wash jeans or leggings and a bohemian tunic, a soft t-shirt, or a simple blouse.
Comfort and Stability
No outfit is complete without a pair of comfortable shoes. Many fashionistas will argue convincingly that the shoe staple of any woman's closet should be a classic neutral heel or pump, but heels and pumps come and go with the seasons. As I age—gracefully and wisely, I might add—I have come to appreciate the versatility and comfort of a well-made leather shoe. Whether you choose a flat or a bit of a platform, invest in a quality shoe with arch support that will cushion your walk and alleviate the pressure of standing, sitting, and walking on your spine and joints.
My favorite pair of shoes is a muted black leather platform with a rounded toe. Thanks to my thin legs, I also have rather narrow ankles, so I choose shoes that have a narrow opening and tighter fit. With black stitching, durable soles, and custom-made arch supports, I can wear these stylish shoes all day with dark denim on casual Fridays or during the weekend and with trousers and wide-legged pants during the week.
No matter what the trends strutting down the catwalk, a few classic and perfect fitting items in your wardrobe will create versatility and encourage confidence. Always dress the reality of your own shape, and you will never be disappointed with the outcome!
Deena Walters is a nurse, a mother of three, and a writer for Uncomfortable Foot. Due to years of walking and standing in bad shoes in hospitals, and thanks to her husband's career as an orthopedic surgeon, she considers it her mission to help people find comfort shoes such as Danskos for every day use.