Shop for Comfortable Full Body Shapewear
Guest Post by Francesca Baylor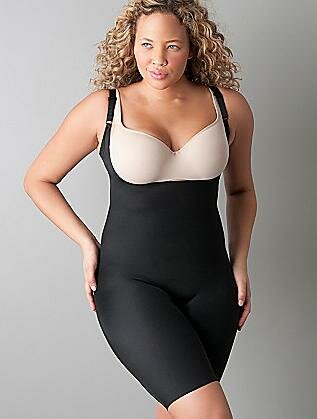 Most women have some aspect of their body that they are unhappy with. For many women, it is the midsection that they would like to be able to slim down but simply have not been able to. For others, it is the area around the legs and thighs that they wish they could tone down. Having these problem areas is common, and while it is important for all women to embrace their bodies and love themselves for who they are, it is also true that feeling self-conscious about these areas of the body can inhibit them from dressing the way they would like to or having the self-confidence that all women should have. Luckily, looking one's best in just about any form-fitting outfit can be as simple as buying the right full body shapewear.
Slimming Down Instantly
Full body shapewear comes in a variety of styles and materials, but is generally made out of a combination of nylon and spandex or some other kind of stretchable material. It is worn under clothing and, similar to a girdle, works to compress areas of excess fat and slim down areas of the body. Specifically, a lot of full body shapewear can slim down thighs and legs while also eliminating inches from the waistline while worn. So for women who have been unable to fit into that dress that is a size or two too small, donning the right shapewear can make it possible to fit into and look great in.
Choosing the Right Garment
The right full body shapewear will be comfortable yet effective in smoothing out any fat rolls and slimming down the body in its most common problem areas. When shopping for full body shapewear, it is important to try on garments before purchasing them. After all, some of them can be rather pricey. One of the most common problems with shapewear is bunching or rolling of the material, especially in cut off areas such as the arms and legs. To avoid these problems, it is best to purchase a more durable and quality brand of the shapewear and to ensure that the correct size is being purchased. After all, these problems are often caused when the garment purchased is a size too small.
When the correct size is purchased, shapewear can make all the difference in a woman's confidence when wearing that little black dress or any other outfit. These garments are designed to produce a flattering hourglass shape, regardless of a woman's natural shape or weight. And perhaps the best part is that it does not require any exercise or working out! Women can simply put the garment on and see instant results as they fit into their clothing more easily. Not to mention, these garments come in a variety of colors such as nude, black, and white to be worn discretely under just about any outfit.
So for women who are serious about slimming down and feeling more confident in even their skimpiest of outfits, buying a great shapewear garment could be the quickest and most effective solution. Be sure to shop around for different types and find the garment that best fits your body type. Good luck!
Francesca Baylor is a freelance writer and avid promoter of control shapewear.