Maternity Pajamas – For A Peaceful Night
By
Sarah
on August 30, 2012
by Lille Upton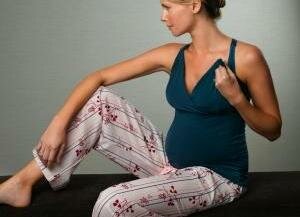 Comfort is extremely important during pregnancy and what can be more comfortable and relaxing than a nice pair of maternity pajamas. Unless one feels at ease during the nights it becomes very difficult to get some sleep. One keeps turning around in the bed along with innumerous trips to the bathroom. A sleepless night is the last thing one would like to face during the pregnancy. So, a nice pair of pajamas is just the right pick for you to have a restful night.
A number of expectant mothers prefer maternity pajamasthat can serve dual purpose i.e. they can serve as a maternity nightwear during your expectant months and once the baby is born they serve as nursing pajamas. While picking up a pajama for you it is necessary that you must get something that you are used to wearing. This will be the most convenient option because it may take you some time to get use to the new style.
One should also consider your body temperature while buying maternity pajamas. It is normal that your body temperature may rise after you are expecting. In this case, one must avoid long pajamas otherwise they will feel even hotter during the nights. Light fabrics would be more comfortable.
Next consider the ease with which you can get in and get out of them. During the last trimesters, innumerous visits to the washroom become a common sight and at that time some complex nightwear would be the last thing one wants to deal with. So prefer pajamas with elastics.
If you are in absolute awe of beauty and style then picking a maternity nightwear does not mean that you have to give up on both of them. There are a numberof designers that offer extremely stylish and gorgeous pajamas. One can either buy independent pajamas or can get some glamorous pajama sets that include a night shirt, pajama and a robe. The pajamas are available in a different number of fabrics and different number of styles. One needs to consider the time they are buying them and a few other things to pick the best amongst the available variety.
There are a few brands that are extremely popular for their maternity pajamas. One such brand is majamas that are known for their soft fabrics. The sets from the brand generally include a short shirt and a long pajama that makes them suitable for both winters and summers. Maternity sleepwear from the Japanese weekend is also quite relaxing offering the ease one requires the most during pregnancy.
Apart from serving as the perfect nightwear, these pajamas can also be used as the perfect gifts for expectant mothers. Irrespective of the fact that you are looking for a gift for the baby shower ceremony or just want to welcome the new child these pajamas would be liked by all as it would not matter if the expecting mother already has one. One more would add to her wardrobe and then she would have a choice to pick from.
This is a guest post by Lille Upton. She writes articles on various topics including maternity pajama, custom dresses, sleepwear and more…