Fancy Dress for Plus Sized Women
By
Sarah
on August 30, 2012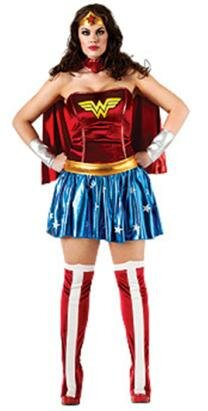 Whether it's for Halloween, a costume party or the boudoir, fancy dress is the perfect excuse to really let your hair down and experiment with outrageous looks you'd never have dared try in everyday life! If you're a plus sized woman who is sick of the idea that fancy dress is restricted to skinny girls in bunny girl costumes and trashy white fishnets, we've got some great plus sized fancy dress inspiration just for you!
The Vamp
Fancy dress is the ideal opportunity to get your sexy on. If you're not comfortable oozing raw sex appeal in everyday life (and, let's face it, the office and the supermarket are not the best places), fancy dress is a great chance to show off your curves. Think corsets which perfectly frame your shape to its very best advantage, lace and cutaways to show off your skin tone and plenty of lipstick too. 2012 has been a big year for the vampy look and it has even crossed over from risqué to high street.
If you have a little bit of a dark side, this gothic style is the perfect fancy dress inspiration – especially when Halloween, a tarts and vicars party or a Rocky Horror show rolls around.
The Escapist
If you're a fancy dress traditionalist, you'll know that sex appeal is not the long and short of it! For many of us escapism and fantasy are the whole point of fancy dress! Ever dreamed of being a mermaid? A medieval princess? Cleopatra? A 1920s gangster? A creature from another dimension? Well for one night only, anything's possible!
The trick is to absolutely go for it. Doing these things by halves really isn't an option. It's not nearly as much fun and doesn't look half as spectacular! Get your costume, plan your accessories and prepare to blow everyone away! Wigs are a great way to radically change your appearance and to feel like a totally different person for just one night. Meanwhile, at the other end of the spectrum, topping your outfit off with some fantasy footwear will ensure you look the part from top to toe (no-one's going to be impressed by a sea-ravaged buccaneer in a pair of old trainers!).
The Reluctant
As fun and sexy as fancy dress can be, not everyone's into it. For some of us the idea of getting dressed up in public is pretty excruciating, yet, if your best friend's got the party of the season planned, you really can't let her down. If you're not a fancy dress fan, there are plenty of costume ideas out there which will ensure you tick the right boxes but keep your cringes to a minimum!
Choosing a particular time period can help you put together an outfit with vintage charm rather than all-out crazy fancy dress madness. Try tassels and flats with a pretty vintage headpiece to evoke 1920s or go for a cinch-waisted floral number and pastel courts to achieve a 50s style. Fancy dress without the silliness, and you still get to look hot – perfect!
Zule offer a huge selection of fancy dress costumes online whatever your dress-up style might be. You'll find hundreds of costumes and accessories in sizes 12-18 in store to help create your fantasy look!