Creating a Timeless Look
Guest Post by Jasmine
Whether you are attending a gala event, planning your wedding or just want to look flawless for a night out, there's no better way to create a classical look than by creating a timeless ensemble. While trends come and go, and fashions are frequently changing, elegance will always be in style. Next time you step out your front door, be proud and confident, with a hint of sophistication in your stride.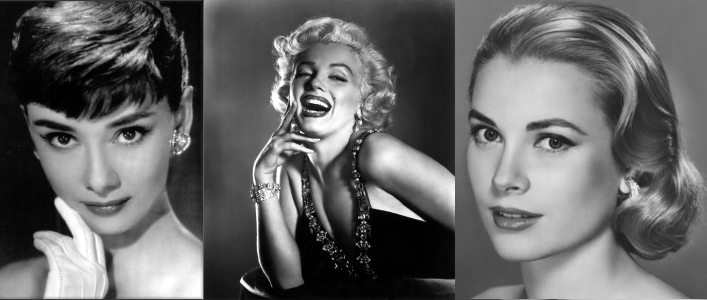 For many, creating a flawless look can be challenging, particularly when there are so many options available to you; however, achieving perfection needn't be hard, when you can be inspired by the likes of Audrey Hepburn, Marilyn Monroe and Grace Kelly. If you're looking for ways to add a touch of class to your wardrobe, check out our style guide below.
Choosing Your Colours
When creating a timeless look, try to keep your colour tones neutral, with just a hint of patterns or vibrancy. Certain colours immediately provide you with a canvas for creating a classical look, such as black, white, pewter, ivory, red and beige. If you prefer to wear bright colours, you can still do so, whilst complimenting your outfit with subtle accessories and elegant shoes.
Accessorizing
Accessorising is the secret to creating a complete and polished outfit. The shoes, handbag and jewellery you choose, can ultimately make or break your look. If you're planning on creating a classical style, try choosing accessories that ooze sophistication and elegance. High heels instantly create a more glamorous style, often enhancing the look of your chosen outfit. Shoes with a lower heel and just a touch of detail, such as a small bow or crystal detailing, can help to finish your look. If you're striving for elegance, try choosing a handbag that is delicate and understated, creating more of a feminine feel for your ensemble.
Evening Elegance
In general, evening elegance is much easier to obtain than sophistication during the day or a casual environment. If you already have a closet of clothes that you adore, you can easily dress-up your outfits to create a whole new look. Evening attire can easily be transformed to become classier, with the addition of a new handbag or heels. Sticking with neutral colours, such as champagne, pewter, silver or ivory can help you to achieve your desired look.
Casual Glam
As mentioned, casual glam can sometimes be more difficult to achieve, in comparison to evening elegance. If you are looking to dress-up your casual wear to give it a new lease on life, try adding classical yet fun colours, such as chocolate, coffee, mulberry, purple or lemon to your outfit. If you're attempting to create a timeless look, during daylight hours, add a nice pair of heels to your jeans and opt for a classy clutch bag, rather than a bulky handbag.
Creating a timeless look needn't be expensive or time consuming, follow our basic hints on how to create elegance in your looks and you'll be on your way to hanging with the celebrities in no time.
Jasmine is a Fashion Designer from Brisbane, Australia. She says that many people overthink fashion when simple is often better. Jasmine is currently working on a new range of evening shoes that will be released in time for the Australian summer.