Making a Jewelry Wish List
Going to work, taking care of the kids, folding laundry, cleaning the house, it never seems to end. We do it all, and we want to do it all, at least many of us do. However, overexerting ourselves can take a toll on us and we often neglect to indulge in some much deserved pampering. That is why every woman, wife, and mother should make herself a wish list!
This wish list should include gifts and surprises that one's spouse or significant other can turn to when in need of ideas for some serious spoiling. Though you cannot put a price on love and appreciation, a beautiful piece of diamond jewelry goes a long way. Jewelry, especially expensive jewelry, is not something you usually buy for yourself. Therefore, it is your job to create a wish list of your dream jewelry so when the time comes, you will not be disappointed. Here are some ideas for some wish-list-worthy jewelry items that will most definitely lift your spirits.
Studs
Every woman should own a pair of studs. Preferably diamond studs, and pearl studs as well. Only, to ensure they are not identical to everyone else's, your list should include colored diamond studs! They come in many colors and are definitely unique. Depending on your budget, your color preference, and your skin color, you can choose the appropriate color diamond stud earrings for you. This could be a pair of fancy yellow diamond studs, pink diamonds studs, or different shades of natural green, blue, or even purple diamond studs.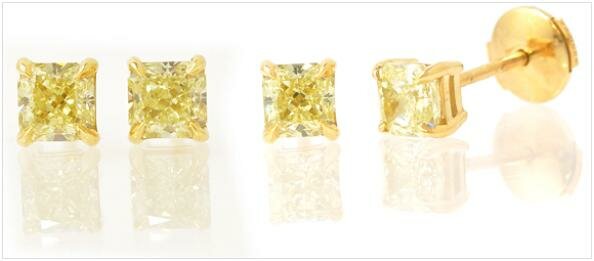 1.02 carat, Fancy Yellow Radiant, diamond stud earrings. They are set in 18K Yellow Gold with Alpa backs.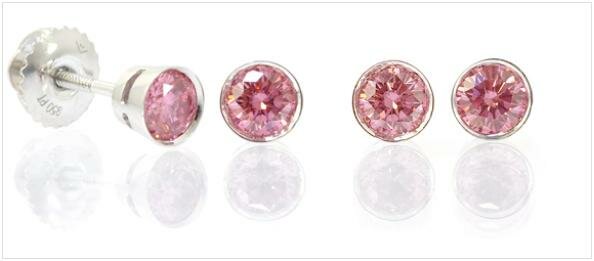 0.48 carats, Fancy Intense Purplish Pink, round brilliant diamonds, mounted in Platinum Bezel studs with screw fittings.
Hoops
Who doesn't own a pair of hoops? Unless you are specifically against wearing hoops for one reason or another, hoops are a must have in every jewelry box. Hoops can be made from an assortment of metals and stones including silver, gold, diamonds, and a variety of gemstones. While hoops can be incredibly simple, cheap, and casual, they can also be super-expensive and extremely chic. A pair of gold hoops, whether white, yellow, or rose gold, combined with the colored diamond of your choice will be a pair of earrings you treasure for ever and pass down to your children. The stones can also always be removed and transformed into another piece of mesmerizing colored diamond jewelry.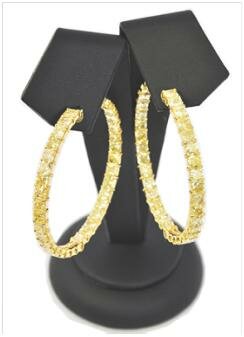 23.63 Carat, Fancy Yellow, Radiant shaped diamond hoop earrings
Pendant Necklaces
When it comes to necklaces, some like them simple and dainty while others prefer clunky and loud. With real gold and diamond jewelry, the chunkier and louder the necklace, the more expensive it is. That is why, if there is ever a time to follow the saying "less is more," it's with colored diamond necklaces. A colored diamond pendant paired with a plain gold chain is sophisticated and elegant. Pendants come in endless styles, shapes, and sizes, and can be combined with many types of colored diamonds.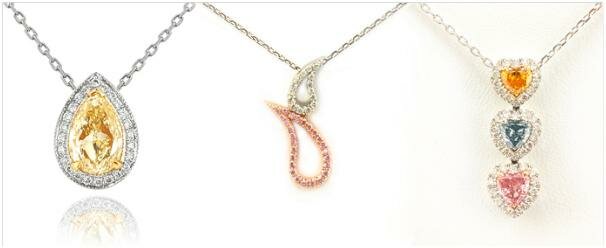 Various styles of Leibish & Co. color diamond pendants
Bracelets
Bracelets are making a huge comeback since they are being worn instead of a necklace. A statement bracelet can be quite the accessory, but unless you have lots of cash to shell out, it won't be that much of a statement. If you are going to go for a colored diamond bracelet, it will have to be combined with a lot of gold and other stones. This will result in a delicate yet sparkling piece of wrist jewelry.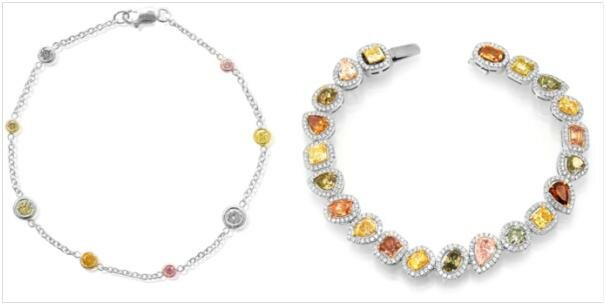 From left to right; 'Les Bonbon' a 0.62 Carat, Fancy Color Candy Round Brilliant Chain Bracelet and a 10.82 Carat, Fancy Intense Color Diamond Collage Halo Bracelet
Brooches
Though some people may think of brooches as being outdated, others find this piece of jewelry to be the perfect addition to a solid color outfit without overdoing it. A colored diamond brooch is something to be cherished, regardless of its size or color.
Drop Earrings
For those with longer hair or who like their earrings to make more of a statement, drop earrings can be quite suitable. Bolder than studs but still modest, drop earrings can combine different stones, including yellow diamonds, or any other color and can be set upon a number of metals such as silver, gold, and platinum. Drop earrings allow you to combine several colored diamonds making them a perfect pair to wear with a range of garments.
From left to right; a 2.55 Carat, Fancy Yellow pair of drop earrings, a 3.89 Carat, Pink-Blue pair of drop earrings, and 2.04 Carat, Fancy Light Yellow Halo Drop Earrings
Rings
Whether you are dreaming of a vibrant cocktail ring or would like a new setting for your engagement ring, rings can be quite the eye catchers, as small as they may be. Make the most of your cocktail ring by dolling it up with some fancy colored diamonds or replace your stone with a beautiful colored diamond. With the right shaped colored diamonds, your ring can be a showstopper.
From left to right: a 1.02 Carat, Fancy Grayish Greenish Yellow Chameleon Round Brilliant Halo Ring | a 2.02 Carat, GIA certified Matching Pair Fancy Yellow Pear Diamond Halo Ring | and 'The Prosperity Pink' a 1.68 Carat, Fancy Vivid Purplish Pink Radiant Diamond Double Halo Ring
Given the high prices of quality jewelry, it would be unreasonable to expect such jewelry on every occasion. However, for those special occasions it is important to get it right. After all, gifts of this caliber are saved for unique and seldom opportunities. So when you are feeling overworked, and just plain worn out, think of your wish list and envision yourself in one of your dream jewelry pieces. It will make all the difference.