My First Ever Anna Scholz Dress: A Review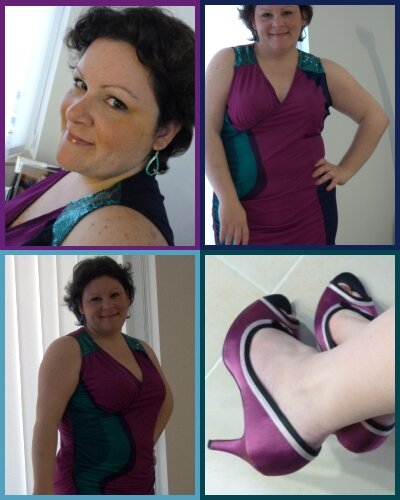 Every plus size fashionista out there knows who Anna Scholz is: one of the best plus size designers out there. I've been following Anna Scholz for a long while now, and have always loved her fashion forward designs. I love her collections in particular because they are never short of one thing: color. Through her wonderful styles it is evident that Anna absolutely loves colors and experimenting with different prints, materials and silhouettes.
Well, although I have been following Anna's work for a while, I had never actually taken the plunge and bought one of her pieces, even though I've always longed to. The major hurdle was the price point I have to admit; Anna's pieces do not come cheap (although now, I know why!). However recently Anna Scholz ran a massive sale, which you can still access right now through Anna's Sales pages, so it was the perfect time to grab a dress I had been eying for a loooooong time: the Print Jersey Gathered Dress.
So a few weeks back, on a Friday afternoon, I hit the order button on this super lovely, extremely sassy (extremely moi!) dress. I managed to grab it at $87.87, from an original $219.67. Since Anna Scholz ships from the UK, I was very happy to find that just on the following Tuesday an lovely package was waiting for me at home.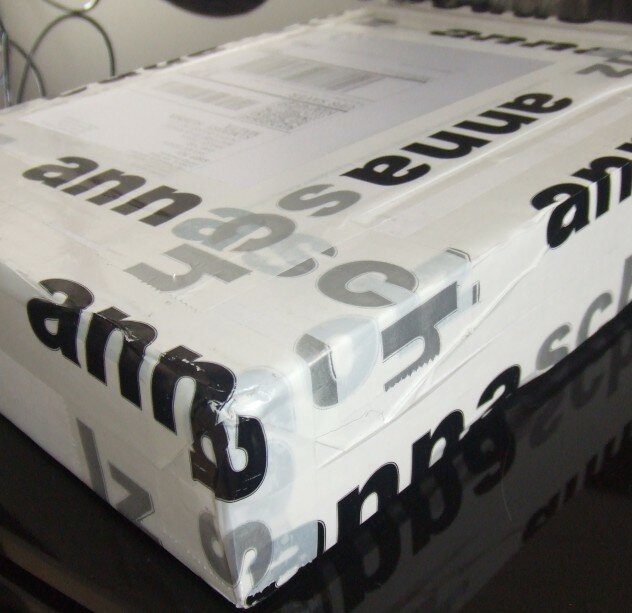 I couldn't wait; I had to try this baby on! I was in particular curious to see if I got the size right. Every designer has their individual size chart, so if you buy size X from designer A, does not mean your size from designer B is necessarily also called X, it might actually be size Y. So I was hoping I got my Anna Scholz dress size right. To give you an idea, I usually buy an IGIGI size 12, though consulting Anna's size chart I had to be 14 (or DE 44). So that was one calculation I was hoping I got right.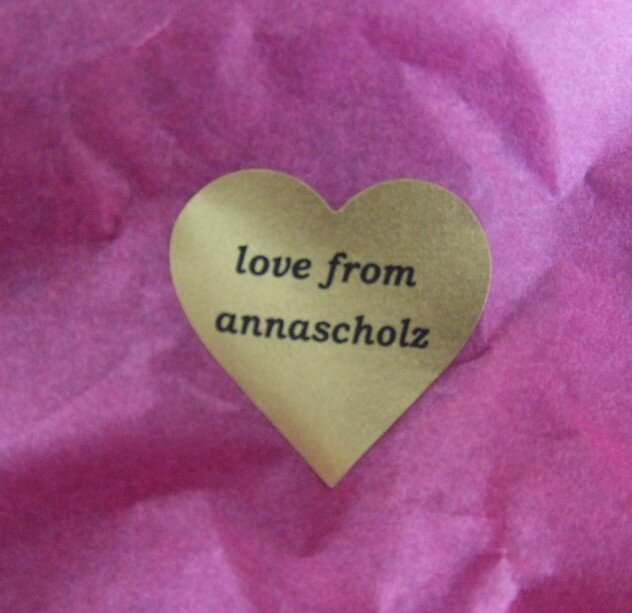 So upon opening the package I just adored the cute golden heart sticker which said 'Love from AnnaScholz'. Simple touches like this are what I think differ one online shopping experience from the next. Very nice touch!
Unfolding the wrapping revealed a dress with beautifully vibrant colors. Upon inspecting the dress the next thing that hit me, and which I was slightly disappointed about, was the fact that this dress was not lined. Especially for the price, I thought the dress would be lined, though this was not such a huge issue.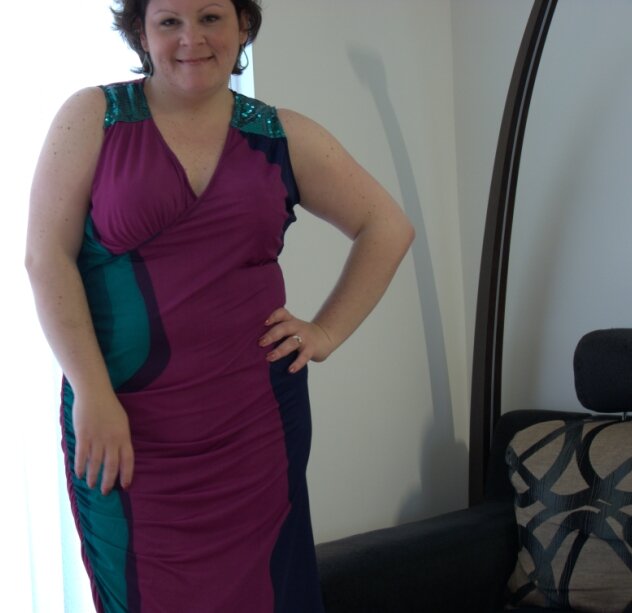 So I rushed off to try on the dress, and well what can I say? Once I tried it on I absolutely loved it, and decided there and then this was definitely NOT going to be my last Anna Scholz purchase.
There are 3, no actually 4, key elements which make me love this dress:
Side Ruching: The ruching and gathering at the side is extremely flattering; it creates an asymmetrical hem and truly makes your rear end look, well, great! The fact the everything gathers at the side works very well for hiding any tummy flaws too.
V Neck: A V neckline is a sexy and flattering cut, one which I love. I think in general V necklines create a slimming effect, as opposed to something like a round neck.
Sequin Shoulders: The teal sequin shoulder detail completes this dress, adds a touch of sparkle and takes this dress on a 'glam' level without overdoing it. Just the right amount of glam.
The Colors: What can I say? If you read the Plus Size Clothing Scoop often you know that I love colors, and these vibrant colors are just the perfect combination.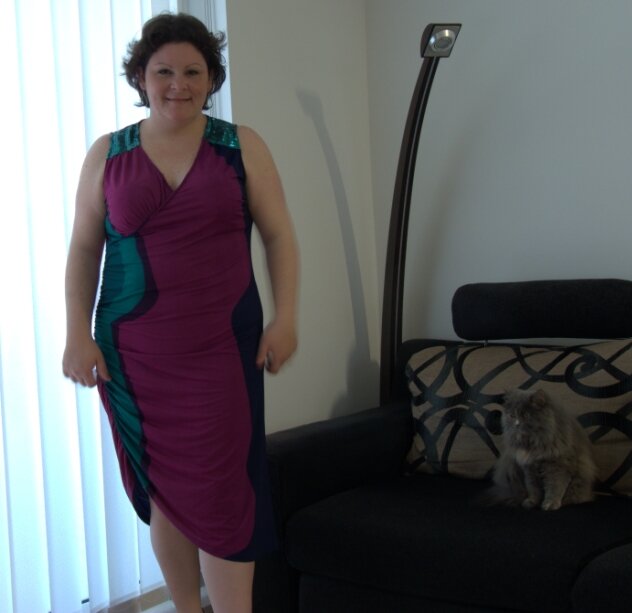 Luckily I already own a pair of pink shoes from Evans, which I bought quite a while back actually, and they match perfectly. I also found some teal, sparkly, dangling earrings which I think match the dress and sequin detail well – they blend quite nicely. What do you think?
I already have some special occasions coming up in the next months where I plan on wearing my brand new Anna Scholz dress, and in all honesty I simply cannot wait! This definitely makes the list of 'my favorite dresses ever', and am overall very glad I purchased it.
Thanks Anna Scholz for creating such a beautiful dress.