I Got Married!
By
Sarah
on February 14, 2010
This is going to a 'personal type' post, so apologies in advance if this doesn't interest you much, but for the regulars around here, I thought of updating you on the biggest event for me in 2009, my wedding! This is quite a long overdue post actually, but better late than never right? I never got round to posting about it due to being extremely busy. But finally, here goes.
So after 4 years of dating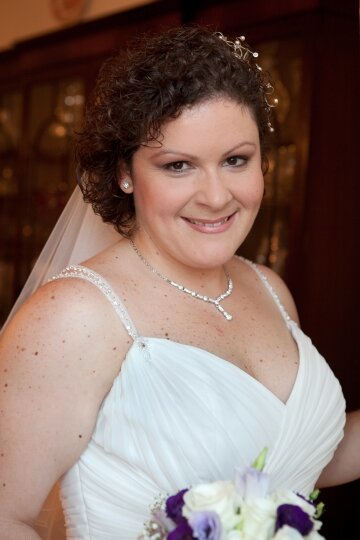 Mr N, we got hitched last October. Many months of preparation led up to a perfect day. We had what some might call a traditional Maltese wedding, though I like to think we added our own personal twist to it. We wanted things to be extra special, bot not too fussy either. We got married in church, then a standing reception followed. The 'traditional' style of wedding here in Malta is a standing reception, although some coupled opt to have have seated weddings too. We opted for a standing reception as we wanted to make the most of mingling around with the guests, and spend as much time as possible dancing away to the great band we had playing.
You're probably asking… did you get your wedding dress online?! Well, although I was seriously considering it, I ended up not getting it online. I spent countless hours online shopping, seeing the different styles available, and selecting my favorites. Then I said, I must go to a local store, just to see what they have, and try different styles out to see what suits me. Well I ended up only going to one store and buying the first dress I tried on! It was like love at first sight. I knew it was for me, and once I like something, I am pretty quick at making decisions and knowing that something is for me. So I knew it was it. I tried on a few dresses after that, but those only made me want the first one more. It had all the qualities I was looking for. I didn't want the usual full ball gown type of dress, I wanted something more fitting, with some sparkle. This dress had beautiful ruching on the top part, which helps soooo much in hiding any tummy flaws. It has straps adorned with Swarovski crystals too, so I got my dose of sparkle there. I was in love with this dress. Still am actually!

The store obviously did not have my size available, so they had to order it from Italy, and have it made to measure. After 4 months of waiting, I went for my first fitting and the dress fit like a glove. I was extremely lucky, as I chose a store with impeccable customer service. They created the dress just for my body, and did not stick to a size chart. So I was very happy with that. Then I had a custom shrug created, as I needed it for church, and it was made beautifully.
What I did get online however, was pretty much everything else! I got the dresses for my bridesmaids and flower girls online, through NetBride from Eden Bridals. Again the service at NetBride was second to none. They answered my questions very quickly prior to making my purchase, and followed up with regular updates for me once I made the purchase. I received the dresses before their expected delivery dates. So thank goodness everything went smoothly. We did have to adjust the hemlines of the dresses, and taken them in slightly at the waist, but otherwise I was very happy with everything.
What else did I get online? I got my headpiece from eBay! It was a bargain, hand made and turned out to be beautiful. I also got the men's ties for Soprano Ties in the UK. I also got the confetti boxes we used for wedding favors from eBay, and the personalized ribbon we used to tie these up was from eBay as well.
Oh and I almost forgot one very essential detail. I got all my invitations from Wedding Paper Divas, which I highly recommend. They processed my order at the speed of light! I actually received my order at home, before I got the actual email from them to advise me that my order had been shipped. Now that's service!
I did not get my shoes online. I happened to be in London a few months before the wedding, so I managed to find something I liked at the Bridal Rouge Gallery. The lady there was so helpful. I told her what size I need and she just got out one pair, after pair, after pair of shoes in my size, until I found the one I liked. I must have tried on over 30 pairs that day, at that store alone.
It was such a perfect day. I admit it was quite a stressful experience, as trying to get everything done in time and making sure everything is near perfect is quite hectic. Though it was all worthwhile in the end. We loved every minute of it, and the day flew by!
I'll leaved you to some photos from the day…