Archive for December, 2011
Plus size clothing retailer Taste-Fully is giving away clothing to encourage others to "Get Free and Give Free" by helping those in their local community.
Taste-Fully.com has just gone live with "Get Free, Give Free" in hopes that women who get free plus size clothing through this arrangement will, in return, give freely of their resources to their community.
When Taste-Fully officially launched its e-commerce website, Taste-Fully.com, in Spring 2010 the retailer had one goal in mind. That was to provide tasteful clothing for the full-figured woman that was easy to afford.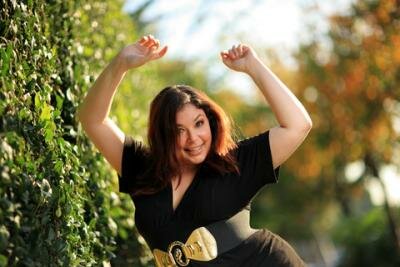 by Andrea Amador
As a plus size woman, living in a thin obsessed society, it's highly likely that you'll often find yourself the target of people's fat phobic ridicule. Whether you've known them forever or just met these trash talkin' diet lovin' plus size body haters recently, it's up to you to teach people how you want to be treated, and remember it's never too late. In this article, I answer a reader's question wanting to know what to do about the seemingly fat phobic new guy she's been dating.
Question: I've been on a few dates with a guy I met on a dating site. We're not exclusive or anything, and he's kind of fun to be with. But almost from the beginning of our relationship, he's been critical of my appearance, particularly my weight. He's always making little comments about how thin people behave or remarking on how much better my clothes would fit if I'd join a gym and shed a few pounds. What's really funny is that he has a bit of a belly and love handles, but I don't mind stuff like that. The other night at dinner, he actually asked if I should be eating a salad instead of hamburger! I really liked him at first, but these comments are getting old fast. Should I stick it out and let him get to know me and see if he'll accept me the way that I am?
Guest post by Michael D Taylor
When you look around the average office Christmas party, you'll see men milling about in red and green sweaters, or perhaps in an ill fitting suit and the same pair of brown leather loafers they wear to work each day. This year, don't be that guy! As I always say, there's nothing wrong with being the best dressed man in the room, regardless of where you are. And with party attire, you have quite a bit of freedom in terms of style and creativity. So use it to insure that you look your best at the Christmas parties you attend this year.
The first factor when considering what to wear is appropriateness. If the party is a black tie event, you wear a tuxedo, no questions asked. If it is semi formal, this is a little more open to interpretation. An evening event will be more formal than a daytime one. A party at a sophisticated candlelit restaurant will be more formal than one at a family style restaurant. Pay attention to the details of the party to figure out how formal it may be.
Guest post by by Jamie Simpson
Every woman knows that the right pair of shoes can make or break an outfit. This is especially true for Christmas parties. Women must dress to impress as there are bound to be countless old friends and acquaintances in attendance. And let's face it, we want other women to envy our style.
There are several factors to keep in mind when selecting a pair of shoes for a holiday party. The first thing to consider is the time of day. Is the party to take place during the day or in the evening? A daytime party is often less formal and may not require the same calibre of attire as would an evening party.
Kiyonna have added a number of new styles for their collection over the past couple of weeks, and I wanted to take a moment today to highlight some of my favorites, which I think are definitely worth a closer look. All of these items are timeless classics – as with all of Kiyonna's items, you can wear these styles for years to women – but still these make especially great Holiday party picks.
So let's take a look at these gorgeous new plus size dresses, tops and also skirts from Kiyonna:

Burlesque Lace Cocktail Party Dress
This is such a unique and gorgeous dress! It features a flattering black sweetheart bodice, and black sheer lace pattern over lining either in a Merlot of Black color, plus lace sleeves. This Burlesque style dress is a must have for any fashionista, and as with all other Kiyonna styles is available up to size 5X (30/32).
Roaman's, a Redcats USA women's apparel brand and fashion leader in the plus-size market, announced an offering of the largest collection of plus-size sweaters, featuring over 60 styles– from basic to contemporary – with something for everyone. These fashionable sweaters are the hot look this season, as well as the ultimate gift, all at prices any budget can afford.
Even better, Roaman's is making holiday shopping easier and more enjoyable by offering free express shipping on any order using coupon code RDSweater between today and January 2, 2012.
Are you looking for a new plus size party dress but are on a tight budget? That sounds like most of us these days! With everything that's going on around the world affecting our lives, the budget left to quench our inner fashionista's thirst isn't what it used to be!
But that doesn't mean we should give up looking stylish, it just means we need to become more shopping savvy! I've always confessed I love a bargain and I use various ways to find out the best deals online. But what I love more than finding a bargain, is sharing my new found steals and deals with you ladies!
So since everyone is pretty much looking for a new party dress these days, with all the parties and events going on, I wanted to share with you some great party dress options all for under $50! So if you've been looking for a brand spanking new plus size party dress for under $50, check out my top 20 recommendations below.

1. Mint Bandage Tube Dress by Torrid
Yours for: $19.96
Available up to size 4X.
The Tarina Gown is one of the newest dresses you can find at IGIGI by Yuliya Raquel. Each week IGIGI launch some gorgeous new styles… the love to tempt me you see

… and today I wanted to highlight one of my favorites from their new arrivals.
This gorgeous gown come in a gorgeous deep grape color and features a sexy plunging neckline and full length pleated skirt. It ships with a lovely detachable hand beaded belt – so you can choose to wear the dress either with or without the skirt. I recommend you try it out with the belt though, as it will help cinch in your waist. Up to a little over a year ago you wouldn't have caught be wearing a belt ever, I though they accentuate by large stomach further, but how wrong I was! I tried on a wide belt with a tunic top from Fashion To Figure once, and I was won over. So if you have a belt phobia, I truly understand! But take the leap and see how you like it.
Back to the Tarina Gown by IGIGI, this dress is available up to size 30/32, and can be worn both on or off the shoulder. IGIGI recommends this dress for the following body shape: triangle, inverted triangle, hourglass, rectangle and figure eight body shape.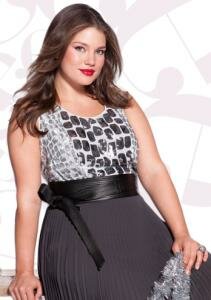 eloquii has all of your holiday must haves. Some of their holiday collection features sequenced tops which can be worn day or night, plus size dresses and blouse with lace and of course that little black dress which every woman should have.
With the holiday season upon us, many people will be preparing for the upcoming festivities and Christmas parties. And many women will be searching for the perfect outfit to wear and eloquii by The Limited will be able to help women with their plus size clothing needs this holiday season.
eloquii by the Limited is an online clothing retailer which carries designer clothing which is geared towards plus sized women who are between 25-35 years old who either yearn for great fashion. This plus size clothing line carries clothing which ranges from size 14 to 24. Each piece in the eloquii by The Limited collection has been designed from start to finish, with attention paid to fit and comfort during the design process. eloquii by The Limited offers an assortment of pieces which are sharp, professional and fashionable classics that have been taken straight from the runway, keeping in mind that everyone woman deserves great fashion .