Maxi dresses are back this Summer, and they are as popular as they were last year, if not more. Now if you think that just because you are a plus size woman, your choices as regards to plus size maxi dresses are limited, you really have to think again!
In fact last Summer I had spoken about how Yours Clothing has one of the largest collections of full figured maxi dresses you can find online, and this year they are back with an even wider and more daring collection of maxis. But you can find plus size maxi dresses at pretty much all the leading plus size clothing stores online like Torrid, SWAK Designs, IGIGI and OneStopPlus.
But here at Pasazz.net I always like to help you out in your shopping, and make it as easy for you as possible to find the items you need, so today I am presenting you 99 of my very favorite plus size maxi dresses which make perfect Summer dresses. Yes you read right, that's 99 plus size maxi dresses for you to shop through!
This massive list of featured plus size maxi dresses includes styles perfect for the day, others perfect for evening parties, and also some styles which are versatile and make ideal day-to-evening pieces.
Let me leave you to indulge in these gorgeous plus size maxi dress styles:
Black Multi Printed Maxi Dress
£30,00
Don't miss this eye catching maxi, featuring a colourful print, spring detail on the straps, a cross over v-neck bust and a tie back for adjustable fit. Team with loud accessories and sandles for stylish look. [Read more]
Animal Print Frill Detail Maxi Dress
£30,00
Our gorgeous animal print maxi is a must this season. Featuring a shirred bust, frill detail and a lining. Team with statement jewellery and a bag for a stylish look. [Read more]
Floral Print Empire Waist Maxi Dress by Roamans
$89.98
Complete the look with our dyed-to-match cardigan, item# 507-46471. Our floral print maxi dress's beautiful sweep and marvelous drape create a lovely silhouette. Rayon challis. Machine wash. Imported. Empire waist dressFloral print maxi dress with… [Read more]
Pink Tropical Shiring Maxi Dress
£30,00
Pink Tropical Shiring Maxi Dress [Read more]
Peasant Style Maxi Dress by Jessica London
$99.98
Sleeveless plus size maxi dress, peasant style with Mandarin collar, button-loop placket and goldtone piping. Polyester. Machine wash. Imported. Empire waist, shirred for fullness. Side zip.54" long. Fully lined. Plus size maxi dress, peasant… [Read more]
Animal Print, Sequin Detail Maxi Dress
£30,00
Our gorgeous animal print maxi is a must this season. Featuring sequin detail, frill detail at the hem and bust and a shirred waist. Team with statement jewellery and a bag for a stylish look. [Read more]
Black Floral Tier Maxi Dress
£30,00
Our black tiered maxi features contrast floral print, vest style bodice and vertical ruffle detail to the chest. Great teamed with sandals for everyday summer wear. [Read more]
Plus Size Halter Maxi Dress by denim 24/7
$44.99
The perfect fitting maxi dress! Plus size maxi dress. Polyester georgette. Machine wash. Imported. Surplice halter top with attached tank beneath Bra-friendly adjustable strapsSmocking at empire waist in front and center back for easy fitRuffle fl… [Read more]
Tie Dye Necklace Detail Maxi Dress
£35,00
Maxi dresses are back this season so why not try our favoratie style! Featuring a detachable necklace, spring detail on the straps, a cross over bust with shirring at the waist and a colourful tye die print. Team with accessories and sandals for a… [Read more]
Black Slinky Maxi Dress
£35,00
Feel gorgous in our slinky maxi, featuring a halter neck, asymmetric hem and gathering under the bust. Team with a clutch and accessories for a stunning evening look. [Read more]
Teal Peacock Print Bandeau Maxi Dress
£35,00
Teal Peacock Print Bandeau Maxi Dress [Read more]
Multi Peacock Feather Print Maxi Dress
£30,00
Our peacock print maxi features wide straps, a tabbed v-neck, gathering under the bust and an elasticated back. Team with accessories and sandals for an on trend look. [Read more]
Faux Wrap Plus Size Maxi Dress by Jessica London
$69.98
Plus size maxi dress. Faux wrap with self tie. Polyester/spandex. Machine wash. Imported. Short cuffed dolman sleeves. Pleating at shoulder seam and under waist seam. 52" long. Plus size maxi dress – plus size dresses, long dresses in sizes 1… [Read more]
Pink Floral Print Maxi Dress
£35,00
Freshly pick florals are back, so why not try our pretty floral maxi, with bandeau bust, gathering under the bust and a tie back. Team with accessories and sandals for an on trend look. [Read more]
Black & White Spring Detail Printed Maxi Dress
£35,00
This flattering maxi dress features an abstract black and white print, metal spring details to the straps and empire silhouette. Perfect for a glamorous summer look. [Read more]
Plus Size Magnificent maxi dress by Woman Within
$26.98
Feel and look like the coolest hostess ever in our beautiful pure cotton print. Our plus size dress is easy, cool & affordable. exclusive wow printknit bodicewoven skirtscoop neckempire waistfull lining52" longwashable pure cotton, import… [Read more]
Multi Printed Bandeau Maxi Dress
£35,00
This flattering halterneck maxi dress features an abstract coral, brown, blue and green print and empire silhouette. Perfect for a glamorous summer look. [Read more]
Plus Size Animal print maxi dress by Woman Within
$29.98
Spotted in all the best places: this season's maxi trend. Our plus size dresses are first for fashion, fit & value. crochet trimmed sweetheart neckline, tank straps & hemeasy sweepknit lininghighest quality plus size dressesfor the price52… [Read more]
Elegant Paisleys Maxi Dress
$49.99
Fashion Bug, also Available in Plus Size. If you add one dress to your collection this season, make it a maxi. This versatile style has a bold paisley medallion print. Surplice v-neckline is always a flattering choice. Bra cup bodice with adjustab… [Read more]
Anastasia Maxi Dress In Cobalt Blue
$89.00
Click Here to see the "how-to-style" instructional video for this amazing dressElegance, thy name is Anastasia! New for Fall, a long-skirted version of our Anastasia Interchangeable Wrap dress. This flattering, long circle skirt has 9 ft… [Read more]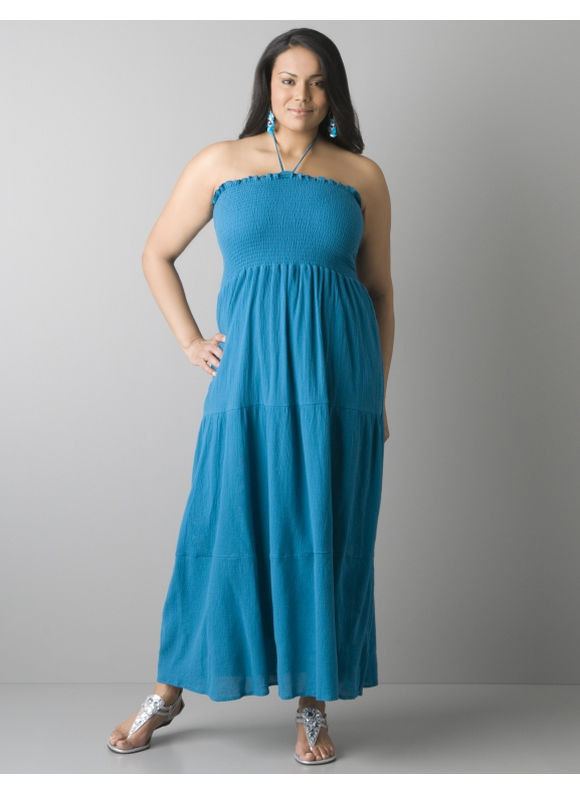 Smocked halter maxi dress
$69.94
Lane Bryant, available in Plus Size. This season's favorite maxi dress features a smocked bodice with a tie halter. Lightweight crinkle fabric makes this a perfect style for warm weather. Lined skirt. Color: Seaport [Read more]
Abstract Print Maxi Dress
$44.99
Fashion Bug, also Available in Plus Size. A fluid abstract print in rich jewel tones highlights this flowing maxi dress. Tank bodice has a deep v-neckline with a twisted detail. Flattering empire waist with tie back. Color: Ceramic Teal [Read more]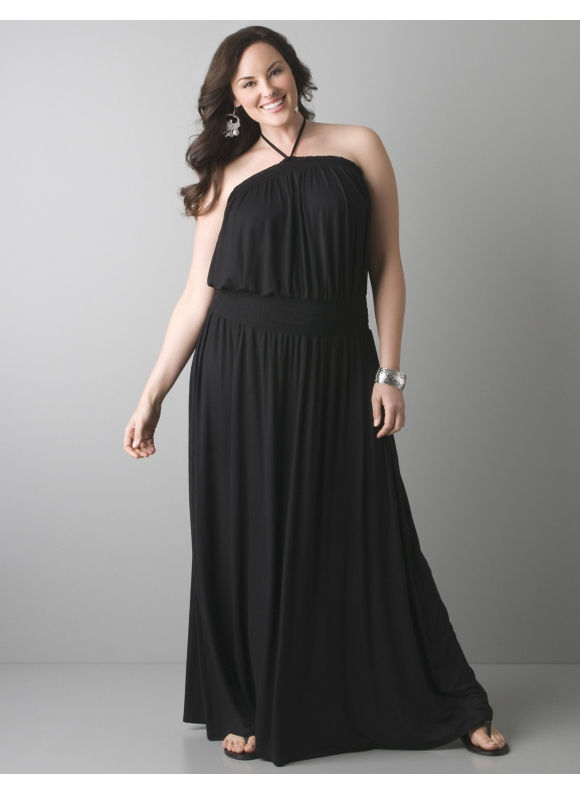 Halter peasant maxi dress by Seven7
$89.94
Lane Bryant, available in Plus Size. A tie halter, smocked peasant top and draped waist make this Seven7 maxi dress a stylish choice for warm weather. Subtle Seven7 logo shines on the back. Color: Black [Read more]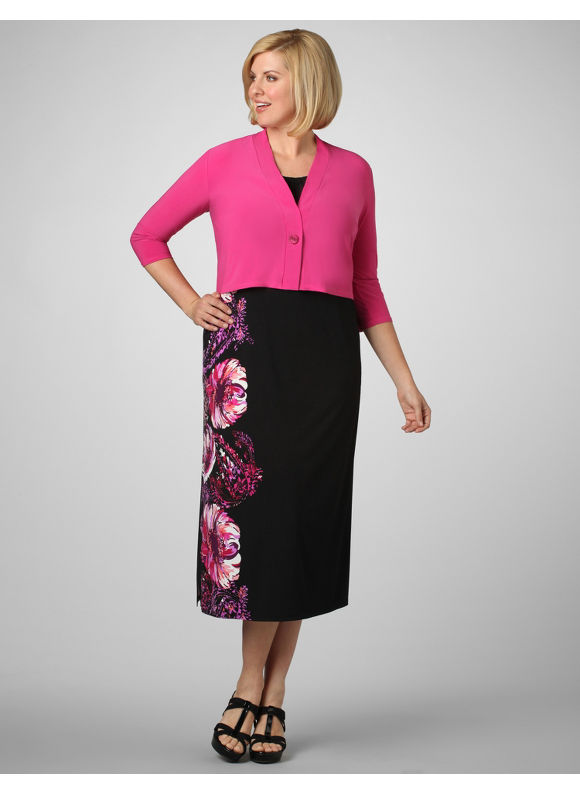 Black & Pink Hollywood Floral Maxi Dress by Catherine's
$82.98
Available in Plus Size. Our dramatic maxi dress is sure to be a winner with a bold floral placement print. Sleeveless, with gathered neckline that yields to a fall of soft folds. Deep side slits. Topped with a contrasting open-front jacket. Elbow-… [Read more]
Leopard Mesh Maxi Dress
$68.50
Work it out, miss thang in this fabulous leopard print mesh maxi dress. Perfect for summer outings, this maxi dress features light-weight drape detail with silicon lining for hold and elastic back for comfort and fit. [Read more]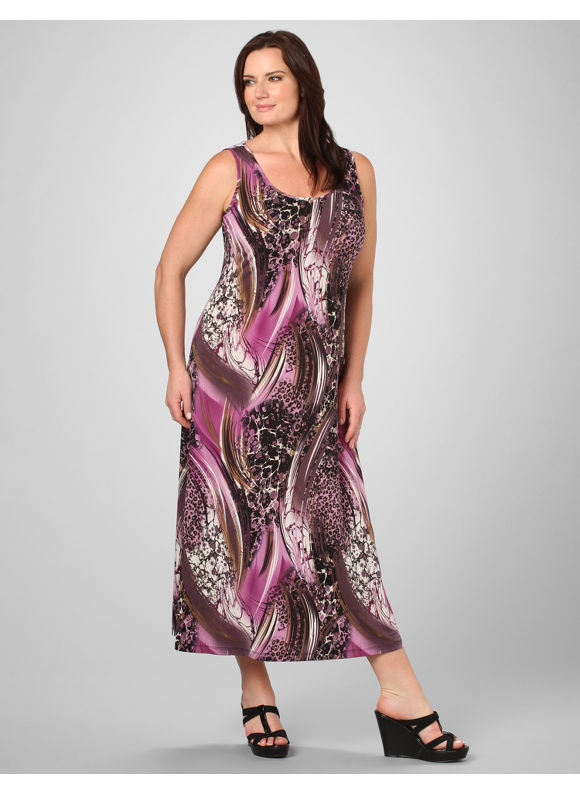 Animal Print Far-Reaching Effects Maxi Dress by Catherine's
$78.00
Available in Plus Size. Mesmerizing swirls of color and animal spots are caught up in the far-reaching effects of this trend-right maxi dress. Ankle-length tank silhouette fashioned of forgiving, travel-ready stretch polyester knit. Wear day or ev… [Read more]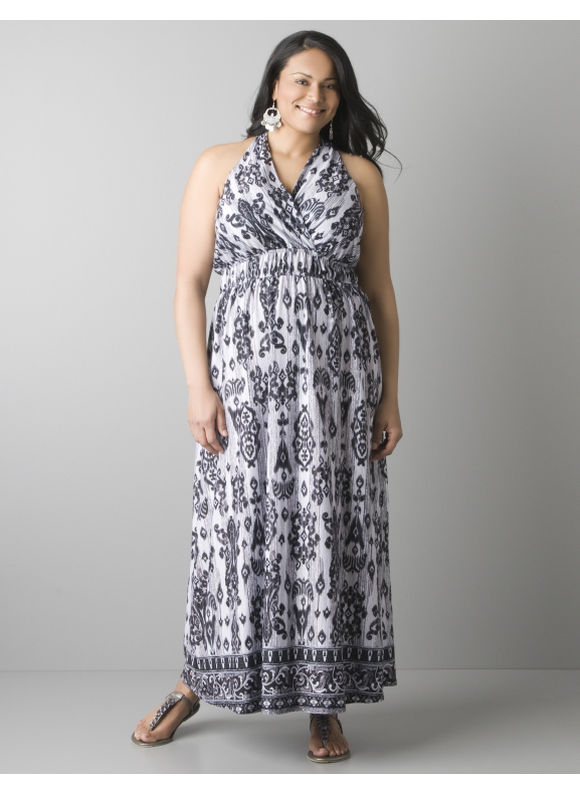 Print maxi dress
$79.94
Lane Bryant, available in Plus Size. You ll love this soft, sexy maxi dress with a stamped print. Surplice neckline offers a bust-enhancing silhouette, with a curve-flattering belt panel to define your waist. Comfortable, pull-on style. Color: Black [Read more]
Grey All-Over Tiger Print Maxi Dress
$54.50
Sashay your way into fierce feline style in this grey all-over tiger print maxi dress. [Read more]
Cream Floral Plait Detail Maxi Dress
£35,00
Our pretty freshly picked floral maxi features, plait detail at the waist and straps, an elasticated back and gathering. Team with sandals and accessories for a stylish on trend look. [Read more]
Black Kimono Maxi Dress
$58.00
Look stunning in this classic soft knit black kimono maxi dress. Features empire waist with flutter sleeves and tie-back string. [Read more]
Black and Grey Skull Maxi Dress
$54.50
Show your bones in this comfortable black maxi tank dress featuring an all-over skull print. [Read more]
Black and Green Floral Print Ruffle Maxi Dress
$49.98
Welcome spring with loving arms in this vibrant and fresh black and green floral print ruffle maxi dress. Empire waist. [Read more]
Stripe Racerback Maxi Dress with Pink Skull
$54.50
Internet exclusive! Exude style and attitude in this black and white stripe maxi. Features pink skulls in front with racerback detail. [Read more]
All-Over Paisley Ditsy Maxi Halter Dress
$78.50
Dress things up in this flirty fun paisley ditsy maxi dress. Features metallic lurex threading with tie-back halter and elastic back. [Read more]
Print Jersey Maxi Dress
£40,00
With flattering empire line with tie detail at bust. Adjustable shoulder straps. Machine washable. Cotton. Length 52in/132cm. Maxi to the ankle [Read more]
Black Maxi Tube Dress
$68.00
Frolic in flirty fun in this playful black maxi tube dress. Features intricate embroidered floral design on center front and hem of dress. [Read more]
Classic Plus Size Maxi Dress in Red
$59.00
Inspired by our best selling Classic Surplice Neckline Dress is the Classic Maxi Dress. This timeless and classic evening gown is in just in time for the season. The surplice neckline and empire waist flatters your curves in just the right places…. [Read more]
V-Neck Maxi Dress
$39.00
Plus size maxi dress Sizes: XL, 1X, 2X, 3X Approximately 50" long Cotton/spandex jersey Washable Imported Go long on style in this effortlessly chic plus size maxi dress. Showcasing a flattering fit with an effortless drape, this plus size V-… [Read more]
Anna Scholz Maxi Dress
£70,00
Body lined. Semi-sheer sleeves. Elasticated underbust band. Embroidery detail to front and back of skirt. Hand wash. Polyester. Lining: Polyester. (Length from 52in/132cm). [Read more]
Long Beaded Maxi Dress
£85,00
Floaty georgette fabric. Side back ties. Dry clean. Polyester. Lining: Polyester. Length from 52in/132cm. [Read more]
Snake Print Maxi Dress
£50,00
Semi sheer georgette dress with wrap over V-neck. Underbust band and back ties. Deep frill tier to hem. Comes with full-length slip. Machine washable. Outer: Polyester, Cami: Polyester. Length 52in/132cm. [Read more]
Pink Floral Jewel Detail Maxi Dress
£30,00
Our gorgeous maxi dress is a must have this season. Featuring shirring at the back, jewel detail and a V neck bust. Team with a bag, jewellery, belt and sandals for an on trend look. [Read more]
Multi Snake & Feather Print Bandeau Maxi Dress
£35,00
Make a statement with our bold animal print maxi, featuring a detachable halter neck tie, bandeau style, gathering and tie back. Team with accessories and sandals for a wild on trend look. [Read more]
Beaded One Shoulder Maxi Dress
£50,00
Beaded one shoulder maxi dress. In a soft georgette fabric with beautiful bead detail on bodice. Fully lined. Dry Clean. Polyester. Lining: Polyester. (Length 52in/132cm). Maxi to the ankles. [Read more]
Black Floral Maxi Dress
£30,00
Black Floral Maxi Dress [Read more]
Green Shirred Maxi Dress
£30,00
Green Shirred Maxi Dress [Read more]
Turquoise Floral Maxi Dress
£30,00
Turquoise Floral Maxi Dress [Read more]
Snake Print Maxi Dress
$49.99
Fashion Bug, also Available in Plus Size. Get noticed in this snake skin print maxi dress. It's a great look that works for dressy events or casual outings. Slip on style is comfortable and easy. Color: Snake [Read more]
Navy Floral Print Chiffon Maxi Dress
£25,00
Our pretty floral print maxi dress is a must have this season. Featuring a an all over print, wide straps and shirred bust. Team with a bag, jewellery and sandals for an on trend look. [Read more]
Carol Watercolor Maxi Dress
$69.00
A versatile plus size dress for every season. Quite possibly one of the most versatile plus size dresses you'll ever find. Our best-selling Goddess Maxi Plus Size Dress in new colors for Summer! Dress it up or dress it down. A casual yet stately s… [Read more]
Black Belted Maxi Dress
£30,00
Black Belted Maxi Dress [Read more]
Purple & Pink Floral Print Chiffon Maxi Dress
£25,00
Our pretty floral print maxi dress is a must have this season. Featuring a an all over print, wide straps and shirred bust. Team with a bag, jewellery and sandals for an on trend look. [Read more]
Multi Zig Zag print Spring Detail Maxi Dress
£30,00
Maxi's are a must have for every woman's wardrobe. Why not try our colourful zig zag maxi. Featuring spring detail on the straps, a v-neck and shirring under the bust. Team with sandals, chunky jewellery and sunglasses. [Read more]
Border Mesh Floral Maxi Dress
$68.00
Dance your way into spring with this lightweight and flirty border mesh floral maxi dress. Elastic back. [Read more]
Black & White Border Print Maxi Dress
£30,00
Our stunning on-trend bandeau maxi features a flattering empire silhouette and black and white print. Perfect for summer days or evenings. [Read more]
Teal Maxi Dress with Flowers
$58.50
Internet exclusive! This carefree chic dress features rose print with rhinestone accents perfect for spring! Empire waist. Interlocking shoulder straps. [Read more]
Blue Blur Print Maxi Dress
£30,00
Our stunning on-trend bandeau maxi features a flattering empire silhouette and abstract blue print. Perfect for summer days or evenings. [Read more]
Black Tiered Bead Trim Maxi Dress
$68.50
Feel the summer breeze in this carefree chic black tiered bead trim maxi dress with gold trim. Empire waist. [Read more]
Black Necklace Detail Maxi Dress
£30,00
Maxi dresses are back this season so why not try our favorite style! Featuring a detachable necklace, spring detail on the straps and a cross over bust with shirring at the waist. Team with accessories and sandals for a stylish look. [Read more]
Blue Satin Feel Embellished Maxi Dress
£30,00
Blue Satin Feel Embellished Maxi Dress [Read more]
Black & Cream Spot Print Chiffon Maxi Dress
£25,00
This polka dot maxi is a wardrobe must, featuring a shirred bust and back, wide straps and a polyester lining with chiffon overlay. Team with sandals and jewellery for a great look this spring/summer. [Read more]
BlackHalter Neck Butterfly Border Maxi Dress
£35,00
Black Butterfly Border Maxi Dress [Read more]
Purple Crochet Back Maxi Dress
$54.50
Look royally elegant in this rockin' purple crochet back maxi dress. Drawstring closure with empire waist. [Read more]
Khaki & Orange Print Chiffon Maxi Dress
£25,00
Khaki & Orange Print Chiffon Maxi Dress [Read more]
Coral Floral Ruched Maxi Dress
£30,00
Our pretty freshly picked floral maxi features, ruching, a halter neck, shirred bust and button detail. Team with sandals and accessories for a stylish on trend look. [Read more]
Gold & Pink Satin Feel Embellished Maxi Dress
£30,00 £20,00
Gold & Pink Satin Feel Embellished Maxi Dress [Read more]
Orange Tropical Shiring Maxi Dress
£30,00
Orange Tropical Shiring Maxi Dress [Read more]
Sienna Couture Leopard Print Maxi Dress by Evans
£38,00 £25,00
Brown strapless empire line leopard print maxi with band down the front. [Read more]
Black & Jade Floral Print Chiffon Maxi Dress
£25,00
Our pretty floral print maxi dress is a must have this season. Featuring a an all over print, wide straps and shirred bust. Team with a bag, jewellery and sandals for an on trend look. [Read more]
Purple Shirred Maxi Dress
£30,00
Purple Shirred Maxi Dress [Read more]
Pretty Paisleys Maxi Dress
$49.99
Fashion Bug, also Available in Plus Size. Kick your style into high gear with this chic maxi dress. Allover playful paisley print in bright colors. Banded surplice v-neckline with adjustable tank straps. Banded empire waist with tie back defines y… [Read more]
Royal Blue & Pink Print Chiffon Maxi Dress
£25,00
Our floral maxi is a must have featuring a polyester lining and chiffon overlay, shirred bust and wide straps it's great for those warm days and when teamed with sandals and accessories you can achieve a stylish on trend look. [Read more]
Scoopneck Animal Zebra Print Maxi Dress
$49.99
Fashion Bug, also Available in Plus Size. Get noticed in this animal print maxi dress. It's a great look that works dressed up or casual. Slip on style is comfortable and easy. Color: Zebra [Read more]
Grey Shirred Maxi Dress
£25,00
Grey Shirred Maxi Dress [Read more]
One-Shoulder Maxi Dress
$59.99
Fashion Bug, also Available in Plus Size. Look and feel like the goddess you are in this draping maxi dress. Sexy one-shoulder styling. A must-have trend for the season. Color: Blue Curacao [Read more]
Black Printed Bandeau Maxi Dress
£35,00
This flattering halterneck maxi dress features an abstract black, white and grey print and empire silhouette. Perfect for a glamorous summer look. [Read more]
Black Rose Print Maxi Dress by Evans
£65,00
Black maxi dress with pink rose print design, wrap style neckline and tie at waist. Short flutter sleeves. [Read more]
Black & White Spot Print Maxi Dress
£35,00
This polka dot dress features a flattering halter neck, gathering at the bust and an asymmetric hem. Try teaming with statement jewellery and a clutch for a gorgeous evening look. [Read more]
Black & Coral Spring Detail Printed Maxi Dress
£35,00
This flattering maxi dress features an abstract black and coral print, metal spring details to the straps and empire silhouette. Perfect for a glamorous summer look. [Read more]
Navy Embroidered Maxi Halter Dress
$68.50
Dive into summer with this cool and chic navy embroidered maxi dress. Features halter tie-back, empire waist with elastic back. [Read more]
Black & Cerise Floral Print Chiffon Maxi Dress
£25,00
Our pretty floral print maxi dress is a must have this season. Featuring a an all over print, wide straps and shirred bust. Team with a bag, jewellery and sandals for an on trend look. [Read more]
Floral Printed Maxi Dress by Evans
£49,50
Evand floral printed sleeveless jersey maxi dress with v shaped neckline and tie at waist. [Read more]
Pink & Green Print Chiffon Maxi Dress
£25,00
Our floral maxi is a must have featuring a polyester lining and chiffon overlay, shirred bust and wide straps it's great for those warm days and when teamed with sandals and accessories you can achieve a stylish on trend look. [Read more]
Tree of Life Zip Jersey Maxi Dress
$69.00 $59.00
The Always For Me Cover Tree of Life Zip Jersey Plus Size Maxi dress #839 is an eye catching piece that will surely make you stand out in a crowd. It is a printed, long version of its sister plus size dress style #539. It features wide tank style … [Read more]
Frill Front Maxi Dress
£24,70
Elasticated ruched back panel. Adjustable straps. [Read more]
Jessica London Plus Size Maxi Dress
$69.98
Plus size maxi dress styled as a t-shirt cover-up in soft jersey. Machine wash. Imported. Polyester/cotton. plus size maxi length.52" long. Plus size maxi dress – plus size dresses in sizes 14 to 28 [Read more]
Roamans Plus Size Denim Empire Waist Maxi Dress
$22.48
Our best selling dress, now in denim! Cotton. Machine wash. Imported. Empire waist dressTank style dress with button front and pleat detailing at bodice Back smocking for comfort and fitInvisible side zipperAbout 52′Plus size dresses- denim empire… [Read more]
Jessica London Plus Size Knit maxi dress by Ellos (DARK NAVY,1X)
$39.99
with wrap bust, adjustable shoulder strap, soft elastic smocking under bust.52′ longWashable stretch cotton/spandex jerseyImportedWomen`s plus sizes dress:M(14W-16W), L(18W-20W), 1X(22W-24W), 2X(26W-28W), 3X(30W-32W), 4X(34W-36W), 5X(38W-40W) [Read more]
Roamans Plus Size Nicole Striped Seersucker Empire Waist Maxi Dress by Denim 24/7
$18.69
Cotton. Machine wash. Imported. By Denim 24/7Empire waistHalter neck stylingFunctional wood-look buttons all the way down the frontPrincess seams and smocked back for added comfortTiered effect with ruffle hemAbout 52"Plus size dresses – nico… [Read more]
Woman Within Plus Size Animal print maxi dress (ANIMAL PRINT,16 W)
$24.98
Spotted in all the best places: this season's maxi trend. Our plus size dresses are first for fashion, fit & value. crochet trimmed sweetheart neckline, tank straps & hemeasy sweepknit lininghighest quality plus size dressesfor the price52… [Read more]
Jessica London Plus Size Maxi Dress With Beading
$104.98
A long and flowing plus size maxi dress with eye-catching bead trim along the curved empire waist. Polyester Georgette. Machine wash. Imported. The shirred bodice is designed to flatter any bustline. Wide bra-friendly straps. Back zip with hook-an… [Read more]
Jessica London Plus Size Sleeveless Maxi Dress
$139.99
Get ready for a lot of compliments. Our sleeveless printed chiffon long maxi dress has a deep v-neck. Finish this special occasion look with our sheer cardigan shrug, sold separately. Lined body. Polyester. Hand wash. Imported. Flowy and fabulous … [Read more]
Avenue Plus Size Must-Have Maxi Dress (BLUE,14/16)
$29.89
This versatile knit plus size maxi dress is true to its name.a definite must-have! Perfect to dress up or down. Get them in more than one color! Tank scoopneck. Darting at bust. Seamed banded empire waist. Stretch knit. Imported. Polyester/Spandex… [Read more]
Black Rose Print Bandeau Maxi Dress 48" – 30-32
£35,00
Black Rose Print Bandeau Maxi Dress 48" [Read more]
Black & Cream, Pink Floral Chiffon Maxi Dress – 30-32
£25,00
This freshly picked maxi is a great buy featuring a floral patchwork print, shirred bust and wide straps. Team with jewellery and a shrug for a stylish look this spring/summer. [Read more]
Teal Peacock Print Bandeau Maxi Dress 48" – 24
£35,00
Teal Peacock Print Bandeau Maxi Dress [Read more]
Cream Shirred Maxi Dress – 30-32
£25,00
Cream Shirred Maxi Dress [Read more]
White Floral Tier Maxi Dress – 30-32
£30,00
Maxi dress are a staple item in any wardrobe and with this floral tier dress you're sure to feel great. Featuring a tie bust and v-neck, shirred back and adjustable straps. Team with accessories and sandals for a stylish summer look. [Read more]
Black & Grey Floral Bandeau Maxi Dress – 30-32
£35,00
Maxi dresses are back this season so why not try our favorite style! Featuring a detachable halter neck tie, a bandeau bust and a pretty floral print. Team with accessories and sandals for a stylish look. [Read more]